Nightcats' Greasy Groove
Posted On August 16, 2017
---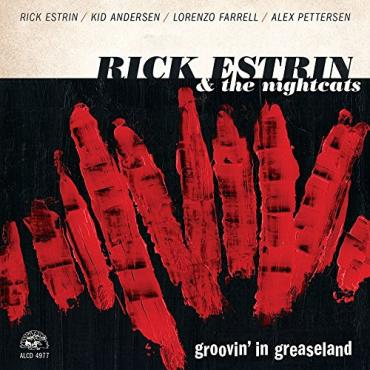 Rick Estrin was born too late. He looks like he stepped out of the 1940s, clad in a zoot suit, sporting a pencil-thin hipster mustache and a big fluffy pompadour piled on top of his head. But Estrin's sound is from a later era, soaked up from his harpman heroes, including Sonny Boy I (John Lee Williamson) and Sonny Boy II (Rice Miller) as well as James Cotton, Big Walter Horton, Junior Wells, and Little Walter, who Estrin honors by naming his band after Walter's first band, the Nightcats. Although Estrin has always been the frontman, the band didn't bear his name till 2008, when former guitarist Little Charlie Baty retired and was replaced by Kid Andersen.
The title of their latest release is not some twisted take on Elvis' mausoleum, but the name of Andersen's recording studio, where all the action took place.
Estrin writes the majority of this stuff, displaying a warped sense of humor reminiscent of the Leiber and Stoller material that fueled the Coasters' hits like "Young Blood," "Yakety Yak," and "Shoppin' For Clothes."
"Lookin' for a woman ain't nothin' new/ I was lookin' for a woman when I met you," Estrin says snidely on "Lookin' For A Woman," punctuating his remarks with some Cotton-mouth harp, Andersen stepping in with some prickly Anson Funderburgh-worthy twang.
Estrin seems to have gotten some input from Chuck Berry's "Come On" for "Dissed Again," with its I-can't-get-no-respect mantra more Berry by way of the Coasters than Dangerfield-inspired.
Estrin takes on a lady whose "shoes cost more than my doggone car"on "Big Money," rollicking New Orleans party music that sounds like a Huey Piano Smith and the Clowns cut from the '50s.
"Hot In Here" gives everybody a chance to strut, Lorenzo Farrell's Wurlitzer burbling frothily behind Estrin's oh-so-cool hipster rap, Andersen trying to unravel the fabric with his barbed pickin' as Estrin tries to swallow some reeds between vocals.
Estrin gets all Slim Harpo on the closer, "So Long (for Jay P)," rainin' in his heart on this swampy instrumental.
It's another solid set from a band that always delivers the goods in a timely fashion, maintaining a just-visiting status when turning back the clock to ensure they're still relevant in the here and now.
---