New Label Bible & Tire Serves Up Newly Minted and Vintage Gospel Soul
Posted On September 18, 2019
---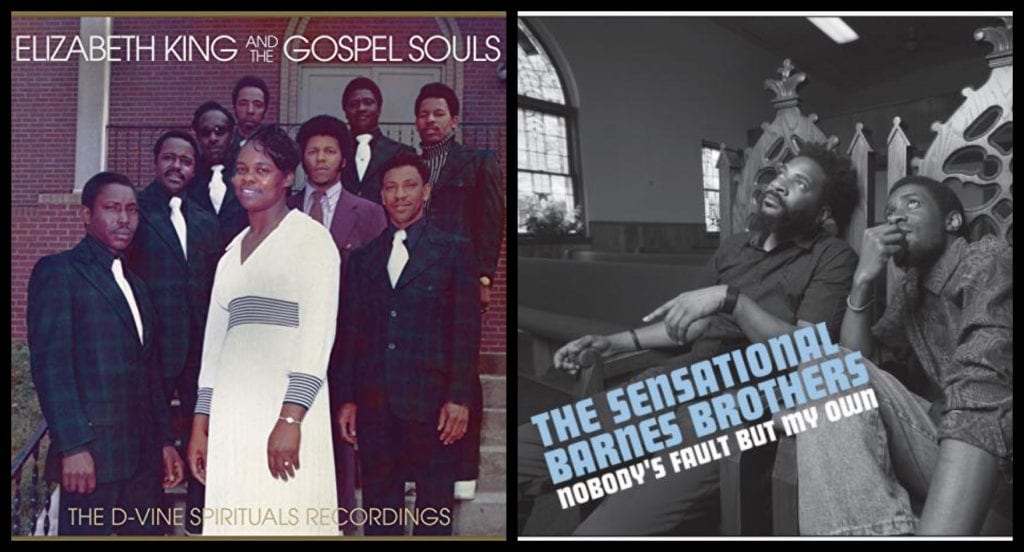 Elizabeth King missed her blastoff. Forty years ago, she was on the launchpad, fueled up and ready to go, but because of circumstances beyond her control she never achieved liftoff. King and the group she fronted, The Gospel Souls, cut a passel of songs for the Memphis-based Designer Records gospel label in the 1970s, but only four were ever released. Fat Possum's Bruce Watson, who has pulled a rootsy collective of artists including The Black Keys, Ann Peebles, Al Green, and Junior Kimbrough into his orbit, also had a craving for black gospel, managing to acquire most of the Designer's tapes and put together an album of King's music for his new label, Bible & Tire.
The newly anointed label debut featuring King's contributions is wonderful stuff. King was fronting a nine-piece outfit, but her voice and the celestial guitar of Lynn Askew dominate for a mix that should have propelled her to gospel stardom. The guitar playing on The D-Vine Spirituals Recordings is of the Howard Carroll (Dixie Hummingbirds) or Blind Boys' Sam Butler/5 Royales' Loman Pauling style, deceptively simple, curling around the edges of the vocal, tickling it with angelic fingers that cradle it gently but have a devilish rhythm lurking just below.
"Wait on the Lord" is the cut that should have sent her heavenward. She's got her Shirley Caesar robe on, filling it out gloriously with gospel fervor, backed by Askew in his Howard Carroll persona running celestial circles around her on a song she wrote after a near fatal car accident she had to be cut out of. "Jesus Is My Captain" is a holy entwining of Sister Rosetta and Aretha Franklin's tonsils floating on a bed of cross-the-aisle gospel funk. "I Found Him" is more Shirley Caesar robe sharing, with King making that garment billow around her like angel wings.
As great as this stuff is, it's only a precursor to what Watson is up to at Bible & Tire. Not content to rely on past glories, he has recruited some young musicians to rejuvenate that '70s gospel sound, keeping the power and glory and soul intact. The Sensational Barnes Brothers, with Watson as producer, is a new release recorded at Delta-Sonic Sound studios in Memphis that recalls the sound of the original Designer studios material.
Barnes Brothers Chris and Courtney come from musical royalty — mama Deborah was a Raelette. But the boys were raised in church, and they bring both worlds together in a aisle-crossing melee on Nobody's Fault But My Own, punching up O'Neal and the Barnes Brothers original "I Am Trying to Go Home," goosing it with saxmen Art Edmaiston and Jim Spake channeling the Memphis horns.
With the help of Liz Brasher's vocals and Jimbo Mathis' organ, "Nobody's Fault But Mine" sounds like Delaney and Bonnie reworking Blind Willie Johnson's 1927 raspy gospel blues classic into a Memphis soul stew.
The Swanee's Quintet's take on "I Won't Have to Cry No More" had lead singer Little Johnny Jones crooning in Sam Cooke's voice. The Barnes Brothers version is funkier, dripping with soul but still   staying in the church, if just barely.
Designer label artists The Fantastic Gospel Travelers' 1974 version of "Try the Lord" gets an extreme makeover, with Kel Kellum's pedal steel giving it a Bakersfield sacred steel feel.
With this auspicious debut, Bible & Tire looks set to deliver plenty of mileage, living up to its newly minted motto: "Retread Your Soul."
---