---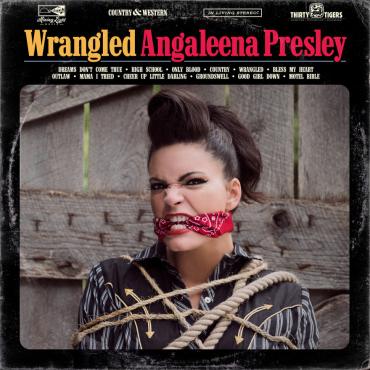 Lots of Americana purists (now how's that for a contradiction in terms?) suspect that everything coming through the Nashville musical pipeline is homogenized, pasteurized cliche.  On Wrangled (out April 21 on Mining Light/Thirty Tigers), Angaleena Presley not only feels your pain, she inflicts plenty of her own.
When she teamed with Miranda Lambert and Ashley Monroe as the Pistol Annies, her profile was lower, but this second solo album showcases her as a firebrand who takes no prisoners. After collaborating with her fellow Annies on the album-opening, sardonically-funny "Dreams Don't Come True," she brings out the heavier artillery on "Only Blood," written with Chris Stapleton, which builds to a fatal climax that recalls the Dixie Chicks' "Goodbye Earl."
She channels "Too Much Monkey Business" through "Subterranean Homesick Blues" on "Country," with its sneering reference to "keepin' it country" and a rap interlude by Yelawolf that slams "country poseurs" and thanks God for Sturgill Simpson. Elsewhere, her songwriting partners range from Wanda Jackson ("Good Girl Down") to Guy Clark (the tender intimacy of "Cheer Up Little Darling").  Yet the album is all about establishing Presley's own identity, fiercely feminist, refusing to be wrangled.
As she sings, "If you say bless my heart, I'll slap your face."
---