Laurel Canyon, UK
Posted On October 12, 2018
---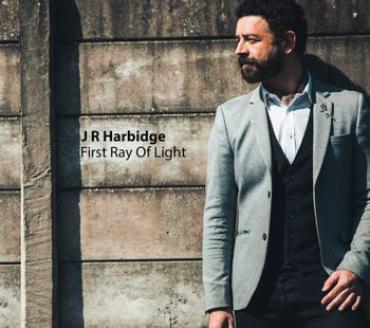 Just released, First Ray Of Light from JR Harbidge delves into themes of everyday experience, hope, loss, love and makes some emphatic political points too. In its broadest sense 'Americana' would best describe how Harbidge conveys this range of emotion but his mastery of melody takes him right back to the West Coast, Laurel Canyon sound of the early 1970s. Without knowing anything about Harbidge you could be forgiven for thinking you'd just unearthed some hidden gem from that era.
First Ray Of Light is Harbidge's solo debut and marks a change of direction in his musical career. Since his teenage years he has been immersed in his home city of Birmingham's musical scene, rather more skewed towards metal than melody. Perhaps a clue lies in the name of his first band, Powderfinger? But from those early days, inspired partly by his dad, through his grunge years he'd always loved Dylan, The Band, CSNY, Jackson Browne and The Eagles. Grunge's loss is Americana's gain.
How? Unlike many influenced by the 'singer/songwriter' style Harbidge doesn't get bogged down in the words. His priority is the melody. Getting that right, with a clear idea of the music/sound he wants seems to set the parameters in which he gets across his message.
Harbidge expresses feelings well. The title track builds from a light guitar riff as Harbidge bears his soul, "I don't want my life on show/I need sunlight/But I don't get what's right". His voice matches his frustrations but he's not without hope. As the title says, "I saw my first ray of light today". He is positive and from that brings hope, "I'll find my feet again/but I just don't know when".
'A Side Of You That Cares' is a look into the insecurities of hope. There is a sense of inevitability as the door into a relationship just won't open. The chorus build-up is in perfect contrast to the more introspective verses. The Pretender isn't too far away.
A similar imbalance runs through 'When You Don't Love Your Man'. A lonely slide guitar opens for Harbidge singing a slow reflection about not wanting to break up but realising that in the end that's what will happen. The harmonies backing the chorus add to the poignancy. 'Learn To Love The Rain' is about loss, not directly, but the love Harbidge shows his wife on her mother's passing. The mellotron reflects that layer of distance when trying to offer comfort. The pace picks up for the brisk 'Older & Sober', a look back on past mistakes. They can't be undone and perhaps that accounts for the tempo. It's as if he can't move on quick enough.
Harbidge puts his sensitivies aside when tackling more political themes. 'Turn the Screw' is an invective against 'institutions' of all types. While not naming names it's quite easy to see who's in his sights. A fast beat, rasping voice, Harbidge asks why play by the rules if you're going to get shafted in the end. Another nod to the early 1970s comes in the harmonica solo. Very Neil Young, another angry man when roused.
'I Won't Support Your Wars' needs no elaboration. Its spare instrumentation adds heft to the message. "You can't break me down with all your might/Strip me of my human right/Still I won't play your game". Harbidge puts his view across with power and logic.
The only co-write is 'Have Mercy'. The harmonies bring CSNY straight to mind. All the backing musicians do a wonderful job throughout but Pete Larkin's accordion really does hit the button here.
'I Know You Know I Know' is the record's longest and darkest track. Prompted by an article he read about child trafficking and pulling on everything at his disposal Harbidge seethes with anguish and revulsion.
Taking such a change of direction looks a bold step. But In First Ray Of Light JR Harbidge has first captured that West Coast sound then added his own contemporary touch. The result feels as if he's been there all the time. Perhaps some corner of the West Midlands has always been Laurel Canyon?
www.jrharbidge.com
---