Kara Grainger Steps Into the Spotlight
---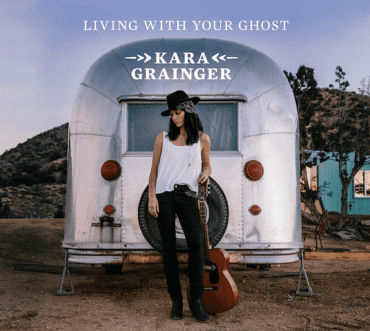 Kara Grainger may have grown up in Australia, but the singer, songwriter and guitarist has a natural feel for blues and American roots music. In addition to three previous studio albums, Grainger's resume includes opening shows for heavyweight acts like Buddy Guy, Johnny Lang and Taj Majal. In 2012, Grainger toured with The Swampers, the legendary Muscle Shoals rhythm section who put the groove into countless hits at FAME Studios. Grainger's weathered voice and blues-drenched slide guitar have naturally drawn comparisons to Bonnie Raitt. Astute listeners may notice that touches of Susan Tedeschi's raw power and Beth Hart's sultry warmth also find their way into Grainger's rich, expressive vocal style.
Recorded in Austin, Texas with Anders Osbourne in the producer's chair and Ian Neville on keyboards, Living with Your Ghost is the perfect showcase for Grainger's range as a performer. The title track and Man of Soul are both energetic pieces of blues rock with catchy choruses and a dose of airplay-ready polish. The grit and mileage in Grainger's voice allow it to cut through the mix. Propelled by crunching guitar chords and a kick ass rhythm section, Favorite Sin is a blistering piece of three chord rock and roll. Groove Train is a track that more than lives up to its name. Neville's keyboards and a guest appearance by the Texas Horns add a healthy dose of southern grease into the mix. The funky rhythm section and free-wheeling guitar solos recall Little Feat at their prime. Like Susan Tedeschi, Grainger uses her deep, dynamic voice to hold her own alongside a crew of seasoned ensemble players.
The stately ballad Nowhere To Be Found is one the album's most powerful tracks. Grainger's beautiful acoustic slide guitar mixes with Neville's delicate piano riffs to create a grand Americana sound that will bring back memories of The Band. As a vocalist, Grainger has the rare ability to make even the most heartfelt performance seem effortless. As she sings the deeply personal lyrics about lost love, it feels as if she's having an intimate conversation with the listener.
From June through September, Grainger has a slew of live dates scheduled in the United States and Canada. She's a talent deserving wider recognition – let's hope that Living With Your Ghost and the upcoming North American tour propel her into the national spotlight.
Living With Your Ghost is available on Station House Records. Check http://www.karagrainger.com for tour dates.
---