Intimate Torch Songs
Posted On October 31, 2016
---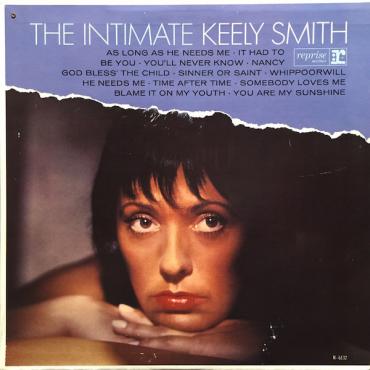 Keely Smith doesn't hit notes — she embraces them. She sidles up to a tune, flicks a tonsil at it, then drapes a velvet cloak over the melody. With her engine purring under the hood, a journey with her is a smooth cruise over any type of musical terrain.
Originally a foil for partner/husband Louis Prima, Smith's stone-faced, buttery-smooth musical rebuttals to Prima's frenzied shouts made her the focal point of the act. The duo's signature tune, "That Ol' Black Magic," won Prima and Smith a '59 Grammy for Best Performance by a Vocal Group or Chorus.
After divorcing Prima in '61, Smith focused on ballads, with one notable exception,'62's wild and wooly collection,Twist With Keely Smith, featuring Smith performing various twist-themed tunes, including "Peppermint Twist," "Lets Twist Again," "When the Saints Go Twistin' In," and a cover of the Isley Brothers' "Shout."
'65's The Intimate Keely Smith showcases Smith doing what she does best, pouring out smoky,torchy ballads. Even if they're not ballads, Smith makes 'em sound like it, even reworking "You Are My Sunshine" into something more suitable for a dimly lit cabaret in the wee hours.
No singer in their right mind would want to follow Smith's performance on "Somebody Loves Me"- but that's just her opener here. The lyrics seem to ooze out of her like a perfumed fog that settles around you, enveloping you in her world, one with no sharp edges, just some just gentle brushes with melancholy that leave bruises but no open wounds.
And if that doesn't do it, Smith follows it up with an acapella rendition of "God Bless The Child" that'll have would-be competitors running for the exits. Billy Holiday owned it, but Smith repossesses it here. Sung in the voice of a little child,, it sounds more like a hymn than a blues standard. It's ethereal, and breathtaking.
Smith also did a bit of acting, playing Robert Mitchum's love interest in '58's Thunder Road.
Mitchum co-wrote and did an excellent Dean Martin impersonation on the version of "Whippoorwill" he recorded for his '67 LP That Man, but Smith sang the version in the movie. Her rendition on this release is classier, with only piano acompaniment as opposed to the syrupy one with strings on used in the movie. Once again, competition should be discouraged for humanitarian reasons.
On that, and everything else she does here, Keely Smith has the final word. You can't, and shouldn't touch this.
---