Harmonizing Duo Adds A Touch of Brass To Their Contrasting Ice Cream & Brandy Vocals
Posted On January 4, 2019
---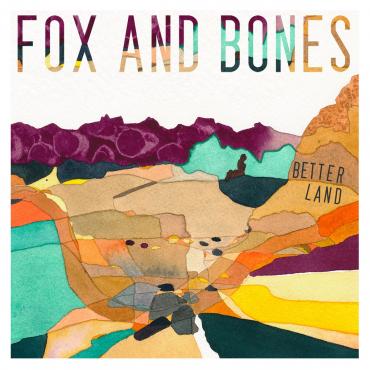 I'm starting the new year with an independent effort by a Portland, Oregon duo Fox and Bones off their new 11-track album Better Land.
The duo has a pleasant diversified approach and at times an excellent combination of harmonies mindful of mid-career Fleetwood Mac that finds singer (Scott Gilmore) and (Sarah Vitort) creating an attractive and solidly unified singing style similar to Stevie Nicks and Lindsay Buckingham. Their sound on this collection is enchanting at best and upbeat. Little touches of brass, in that sharp yet smooth Herb Alpert style of minimal melodic trumpet. A nice brief touch on "Little Animal." Should be more of that.
The heavy percussive "Love Me Like a River," continues closer this time in the mode of the former and effective English pairing of Richard and Linda Thompson. It has sharp edges, dramatic but, in a manner, that if applied to a heavy-handed folk song can and does work, as it does here. The contrasting vocals are what is most appealing. Scott has a tinge of Pearl Jam's Eddie Vedder in his tone and lately since Vedder has come closer to Americana, it's a nice warm approach to have.
"Roots," starts with Sarah and then Scott joins her in this pleasant slow piano-based song. Sarah has a clear deep and attractive vocal style. She doesn't sing like anyone I can think of presently and that may be a good thing. She has a rich original and very mannered singing style. When Scott comes in with his gruff vocal, he touches on the rim of Buddy Miller when Miller sang with his wife Julie. This is a strong song – very well arranged for an independent duo. Excellent choir-powered backing vocals and tight instrumentation throughout. This song is applicable as folk-rock but could easily be played on some alt-country radio stations. The song has soul. Folk music with soul – yeah. This is good stuff.
At some time in their career, this duo should attempt a song and sing in a style similar to Lyme and Cybelle — Lyme was actually the late Warren Zevon in 1966 who had a female singing partner (Violet Santangelo). The song was the ingenious "Follow Me," (YouTube) and I believe this duo has the voices to recreate this wonderful male-female vocalizing art form. In my youth I found this track to be one of the most original and creative I ever heard. I still do. Just a suggestion.
Plaintive acoustic guitar opening "Roads," — a little wordy but the performance over-rides that because the duo has magic in their vocals. The heavy pounding adds the necessary drama and the soft violin is like a steel thread that holds it all together melodically. The heavy percussion is almost like the effect Simon and Garfunkel used so cleverly in "The Boxer" — basically – the same beat structure. The only difference is that S&G used a small amplifier as their drum. Turning the volume up, lifting and dropping the amp on the beat. Like Fox and Bones — their combined vocals are the magic on these songs. And so be it – the human voice is somewhat of a miracle of sound.
Scott starts off gruff and bluesy on "Reckless," and the guitar bleeds just as Sarah displays her own excellent blues-voice. Lyrics are inventive and descriptive and Scott's voice shines with his powerful Otis Taylor type skill. When they sing together the voices unite as one and colorize the heaviness with flashes of brightness. Quite a feat. Sarah doesn't have that blues-voice like the legendary Bessie Smith, Janis Joplin or Candy Givens – but, the authenticity from her effort is there.
I am not an effects aficionado so "Tricky Love," while played well seems weighed down by the type of words they are singing, and it renders this song a little awkward on the ear. Thankfully, it's less than two minutes. Also, lose the hallway or bathroom echo – your voices are too good to be wasted on vocal effects.
Ok, from a misfire to one of their best melodies and performances. The heavy shuffle of the title track "Better Land," goes off like a little roman candle. The singing is inspired, the cool organ sound and delectable percussion and drums is a winner. This is a foot-stomping song, (almost like a prison dirge the Fairfield Four would have done) this has energy and spirit. Love it. Scott's voice is still a little gruff but it's that gruffness that compliments the angelic English folk singer style of Sarah who sounds a bit like Steeleye San's Maddy Prior here. And that – is a compliment because Maddy is a marvel.
Reinforcing my previous assertion of Sarah's well-toned vocal – she sings lead on the open of "Strange," and sounds so convincing. A good little song that is well performed and with lyrics that are powerful. At this juncture, I may say that the group needs to be a little more creative with song titles. All these one-word titles don't show me much creativity even though in the final product — the quality is there. But why would I want to listen to a song called "Strange?"
You have to convince me to want to listen. Sarah says in the song words like: "Pillars of String," and then "We Are Sensitive and Strange," and "Made Up of Things That We Chase," – those lines make me curious and I may want to listen. Other than that, this song is wonderful, and Sarah has asserted herself as a truly wonderful, powerful and poignant female vocalist. Quite a pleasure to listen to.
Scott possesses a voice that suggests a gospel ring and spiritual bent. "Pin Up," is a marvelous song but again I have problems with their titles. It doesn't even hint at the talent and seriousness in the actual song. I would have passed over this one thinking it would be a sugary pop tune. Instead, it's Scott with a very low-fi Sarah vocal under his voice that produces an interesting song with a haunting melody. Titles are as important as the song itself. Give them more thought. It represents the work you do. The first thing people see is the title and they decide whether they will click on it or pass. The lyrics to this track are good. Enforce it.
Scott returns with "Any of It with You," and when Sarah joins in it has a nice classic sound. This is one of their best songs. It has a rich Motown soul feel to it and the little brass inflections support it all – the vocalizing of this pair makes it endearing. Then, the band goes off on a little soul detour for an instance – at first jarring – but, the return to the melody makes it lovelier. The backup vocals make even more soulful until the brass takes returns for a few seconds. That would be only the misstep here.
Let the band reach out at the conclusion of this song with their soulful horns to bring it on home as they used to say. Let the soulful backup singers come in after a few bars to close out. It would be far more dramatic and powerful. It's as if they are left to carry the tune as you both exit the stage. It's showmanship. And it could be a show stopper. Encore anyone?
The final track — is a pleasant Fleetwood Mac-oriented acoustic melody and the singing consistent and good. "Welcome Home," is different from the other songs. A little Australian-African feel with the repetitious acoustic guitar and backup singers. Scott's vocal is so durable and fine on this song. Sarah, of course, compliments his voice as she sings along. But on this, that backup vocalizing is the frame around their painting. This shows the duos seriousness, their poignancy, and art. This is worth the wait after ten tracks. Lovely. I could listen to stuff like this all day.
The 40-minute album was Produced by Dominik Lukas Schmidt and recorded in Portland, Oregon at the Rye Room. There is an army of featured singers and musicians listed on the inside cover. The album cover art was created by Hattie Sloane and designed by Scott Gilmore.
The CD is a four-panel die cut fold out with color art, no pictures of the duo, and though the name of the duo is Fox and Bones, it took a while for me to determine they are Scott and Sarah. So, next time, try and prominently put your name where people will know who's who and what you play. If budget allows, I believe your lyrics are worth reading so try and print those as well.
Website: https://www.foxandbones.com/home
Facebook: https://www.facebook.com/FoxandBones
SoundCloud: https://soundcloud.com/FoxandBones
Disclaimer: The opinions expressed in this review/commentary are those of the author and do not necessarily reflect the official position of No Depression. All photography is owned by the respective photographers and is their copyrighted image; credited where photographer's name was known & being used here solely as a reference and will be removed on request. YouTube images are standard YouTube license.
John Apice / No Depression / January 2019
---