Hard Times and Mississippi Homeland Come Through on Jimmy 'Duck' Holmes' 'Cypress Grove'
Posted On October 17, 2019
---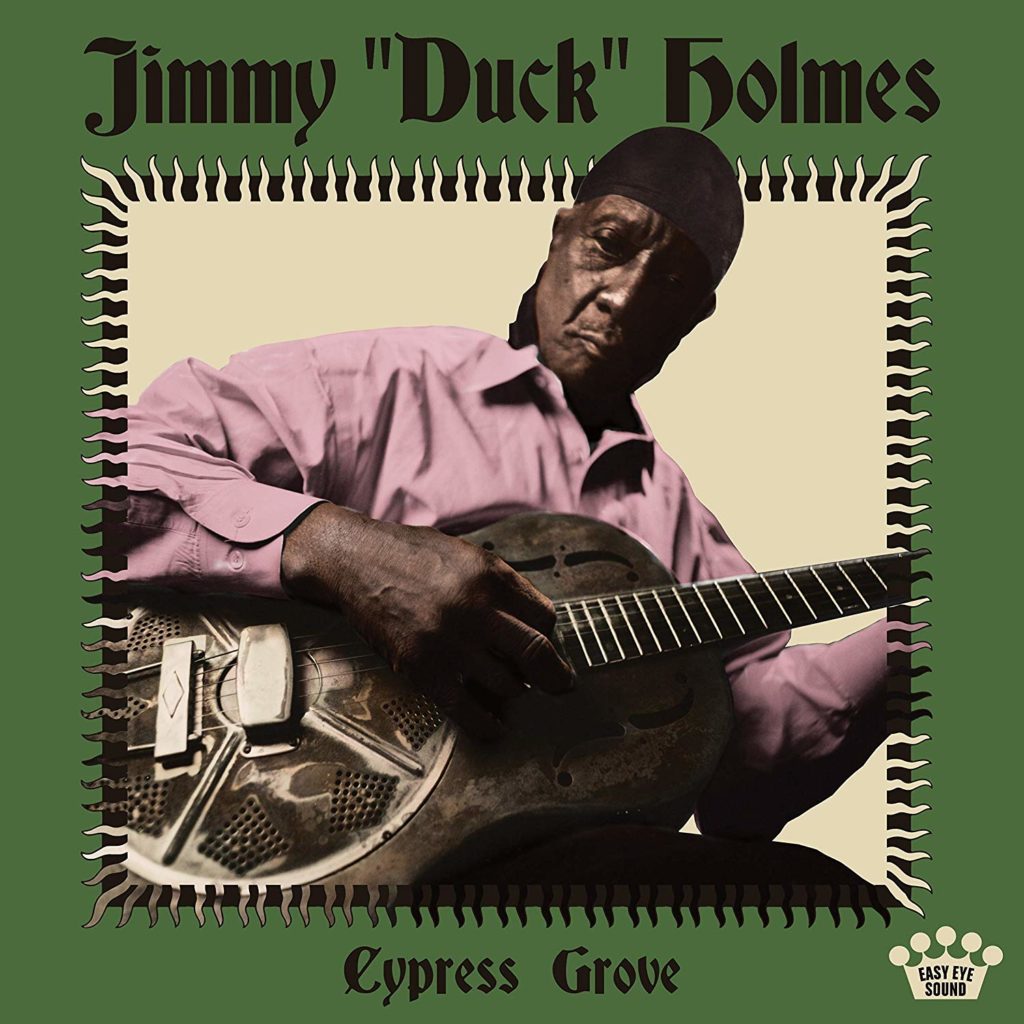 When Jimmy "Duck" Holmes sings about hard times, you know he's been there. It's in his hands and his voice, his guitar in an open minor tuning in D or E and his voice a raspy, mournful, weary narrative from a Mississippi juke joint.
Holmes' usual setting is, in fact, a juke joint, The Blue Front Cafe, a family-owned venture in his hometown of Bentonia, Mississippi, that Holmes took over from his parents in 1970. Holmes' last release, 2016's It Is What It Is, recorded on his own label, Blue Front Records, was a solo effort recorded in the Cafe with just his voice, guitar, and harp. For Cypress Grove, Holmes allowed Black Keys guitarist/vocalist Dan Auerbach to record him in Auerbach's Easy Eye Sound Studio in Nashville. Auerbach recruited an eclectic mix of musicians for the session. Drummer Sam Bacco is the principal percussionist for the Nashville Symphony Orchestra whose session credits include Neil Diamond, Amy Grant, Johnny Cash, Steve Winwood, and Dolly Parton. Guitarist Marcus King was mentored by Warren Haynes and signed to his Evil Teen Records label while still in his teens. North Carolina native Eric Deaton moved to Mississippi after high school to play bass with Junior Kimbrough and R.L. Burnside, touring with the Fat Possum Juke Joint Caravan, backing up T-Model Ford and Paul Wine Jones. The musicians complement Holmes without getting in the way or hijacking his sound. It's still Holmes' record, a true representation of his sound.
Holmes sets the tone and the timbre for the project on the opener, Skip James' "Hard Times," with just his Hill Country droning vocals and string-popping guitar accompaniment.
Holmes goes to James once again for the title cut, bringing in King and Bacco for a short (2:09) but effective run that's more like a mud-caked slog through the Delta than James' original, which is more fluid and melodic but just as gloomy.
Robert Petway's "Catfish Blues" has been reconstituted and transmogrified since its 1941 inception by a slew of artists, including Muddy Waters, ZZ Top, Gary Clark Jr., and Gov't Mule, and it is said to be the inspiration for Jimi Hendrix' "Voodoo Chile." Electrified and thumped up a bit, Holmes' version is John Lee Hookerish, boosted but not interfered with by Auerbach's Hendrix-influenced fuzz tone solo in the middle.
Holmes once again comes down with a case of John Lee Hooker's endless boogie syndrome on "Gonna Get Old Someday," a Hill Country drone with Delta dirt clingin' to its muddy roots.
"Little Red Rooster" is virtually unrecognizable instrumentally, Deaton's bass undercutting the melody with a sense of encroaching doom as if this rooster is gonna get his head chopped off for getting everything in the barnyard upset in every way.
King steps in on guitar for Muddy's "Rock Me," lighting up the creek bank with some searing slide licks.
"All Night Long" sounds like Hooker with a hitch in his git-along, a syncopated Samba-like trot with King once again painting the walls with greasy, swampy slide.
Cypress Grove is about as close as you can get to one of the last authentic juke joints without being there, a heartfelt tribute to one of the last gatekeepers of the Bentonia sound.
---