Grammy Award Winning Duo Offers Universal Original Seasonal Collection of Songs
Posted On December 20, 2018
---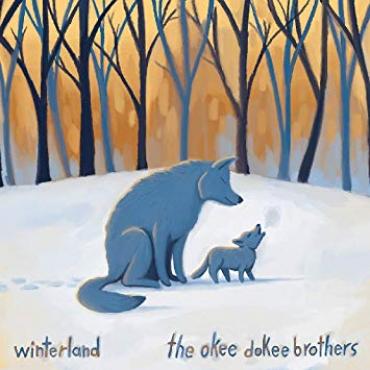 Another late entry seasonal collection is the upbeat, rollicking fourth album Winterland from the Grammy Award-winning group The Okee Dokee Brothers. Alright…it's a Christmas inspired 16-track album, but the music is solid and could be appreciated at any time. But it is Christmas, it is the holidays, and these are about as refreshing as hot chocolate with marshmallows and hot apple cider with cinnamon sticks.
The first song "Blankets of Snow," kicks off with harmonica, guitars, and piano with singing that has everything needed for a deep folk-rock seasonal tantalizing melody.
Unified singing, typical of happy saloon quartets, and a pinch of The Pogues' or Dubliners sets the scene for "Welcome Home." Some retro guitar, hot fiddling, and steady beat settle into weary bones and once it establishes itself in your skin you'll be dancing. Very Irish-Scottish in tradition this is one happy melody. Excellent for welcoming a soldier home during the holidays.
Laid back and sounding like more in the tradition of the old English 60's band Mungo Jerry ("In the Summertime") – it has what sounds like a kazoo and some other percussive implements. "Ice Fishin' Shack," is a bit novelty but it's fun and that's what the holidays are all about. After a few moments an array of bottles, old horns, probably a bent saw, and a washboard comes into play. Not to everyone's liking but it does have charm. The singing is always excellent and the guitar plucking really "fancifies" the tune.
The next track is in a New Orleans zydeco tradition – "Keep Me Warm," and comes on like a runaway sled. The instrumentation is top of the line. Lots of attractive sounds seep from this barrel of music. I absolutely love an accordion as the lead instrument for a Christmas song. This is a finger-snapping rocker and the brass that's stuck in here is colorful. This is a great singalong. "Snug as a bug in the rug…" Indeed.
For the most part, the brothers — a duo from Minneapolis, perform bluegrass, American roots and, children's music. They mix up their showcase with variable sounds and their arrangements are quite clever and tight. Their 2012 release Can You Canoe? won a Grammy Award for Best Children's Album at the 55th award ceremonies.
I'm not a big fan of novelty songs, but I do have a soft spot for good children's songs and The Okee Dokee Brothers are at the top of that heap. They fill that void left by Sharon, Lois, and Bram who are still at it, but the brothers seem to be a level or two up for older little kids. I could see these guys play with the likes of Sharon, Lois, and Bram. However, I do like when the brothers shuffle over into an area where the older kids (us) can appreciate their talent most. "You, You, You," is such a melody. Very enjoyable.
Joe Mailander and Justin Lansing are the Okee Dokees – they are childhood friends from Denver, Colorado. Aside from their children's efforts, they produce brilliant songs like "Candles," which is applicable at any time of year. A wonderful ballad, with banjo, bright vocals and an easy to like melody. I like the way the backup singing comes in with a modern-day style of doo-wop and the insertion of the classic lines from an ancient folk song ("This Little Light of Mine") toward the conclusion connects wonderfully.
Journeying into the land of big Jimmy Dean ("Big Bad John") and Johnny Horton ("The Ballad of New Orleans") the Okee Dokees sing a bit acapella in "Slumberjack," until the music slides into position and the song comes alive with their voices. "Ukulele in the Snowstorm," is a silly song that children will obviously enjoy. It has that attraction. And with the addition of a female singer on some lines (Paula Fuga), the tune becomes a ditty and it's short and sweet. That is until the radiating "Howl," comes pounding in with acoustics and drum. Lots of creative howling on this song and it's a…a hoot. If you want a fun song – this is the one.
While "Snowpeople," has whistling, deep playful brass and is quite short – the duo continues with its children-friendly vocalizing. Every tune seems to be tailored to easily be sung along by children if they HAD THE LYRICS. There were no lyric inserts in my CD – and though the CD package was brilliantly conceived with a little children's storybook stitched in – the child in me was looking for the words to the songs. Well, maybe next time.
The duo is a four-time Parents' Choice Award winner who has garnered praise from NPR's All Things Considered and USA Today. This duo is providing something we need. There aren't enough children's singers (entertainers) and good music. Rolf Harris in the '60s performed this in Australia and managed a hit with "Tie Me Kangaroo Down Sport," a clever piece with its lead instrument — a bent sheet of cardboard for the waffling effect. Rock singer-songwriter, the late Harry Nilsson recorded an album and made an animation feature called– The Point, which was incredible for its time. But there are no folk singers who are releasing children albums that I know of-of consequence the way Pete Seeger and Burl Ives did.
Some lyrics and chords are posted on their website that contains the music. Track 12 is a smoky trombone-led jazzy tune with excellent male/female vocals on "Lazy Day." This is more inclined toward adults and has a thickness to it like molasses. It is warm, has a good groove and pristine performance. An energetic banjo song much the same as the children efforts of the late, legendary Pete Seeger often did. "North Country Dance Band," is a fiery folk-dance number. Nothing for the mind to grasp – just a good hokum foot stomper.
An acoustic guitar intro begins a pleasant warm ballad "Great Grandmother Tree," a serious, and intense lyrics and story. One of the more reflective tunes on the album. What is cool is that the Okee Dokee Brothers offer a multitude of original new songs for children to sing – they don't have to rely solely on songs that are 70 years old.
"New Year," comes on like another serious folk-ballad that is sung quite well and played on a low flame. It simmers nicely in the ears. Justin Lansing played banjo and sang, Joe Mailander strummed the guitar, ukulele and sang. Jed Andersen – percussion, vocals, and Yeti. Producer Dean Jones played several instruments throughout.
The 16th and final song is "Signs of Spring," and this ends on a bright, upbeat note. There are 16-tracks because many of them are short: they get in, tell their tale and get out. The way children like it. This song is sung playfully, and Dean adds some nice brass for shading to the strut. This is reminiscent of the old English band Stackridge who also sang similar songs in a humorous, light-hearted fashion. "Do the Stanley," "Dora the Female Explorer," and "No One's More Important Than the Earthworm," come to mind, among others.
There were several proficient musicians involved with this project and their names are all listed on the stitched insert of the CD on the back inner two pages. Next time include lyrics.
The 45-minute CD was produced by Dean Jones with all songs written by Justin Lansing and Joe Mailander. The album was recorded in Rosendale, New York at No Parking Studios. The album illustration and design: by Brandon Reese with consultation with Lucy Michell.
Website: https://www.okeedokee.org/
Facebook: https://www.facebook.com/okeedokeebros
Spotify: https://www.okeedokee.org/music/
Disclaimer: The opinions expressed in this review/commentary are those of the author and do not necessarily reflect the official position of No Depression. All photography is owned by the respective photographers and is their copyrighted image; credited where photographer's name was known & being used here solely as a reference and will be removed on request. YouTube images are standard YouTube license.
John Apice / No Depression / December 2018
---