Fink, Marxer, and Gleaves Exude Joy on 'Shout and Shine'
---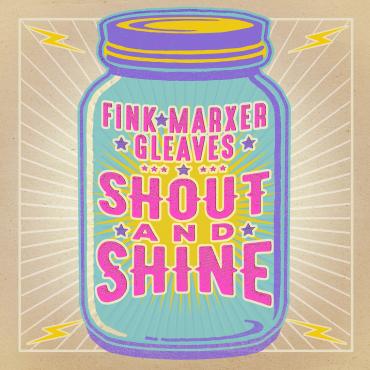 Bluegrass rising star Sam Gleaves links up with genre veterans Cathy Fink and Marcy Marxer to span generations on the uplifting and vibrant Shout and Shine.
Gleaves, 25, is a Southwest Virginia native who received positive coverage for his debut, 2015's Ain't We Brothers. Fink, 64, produced that album. She and Marxer, 62, are Grammy winners who began recording together in the late 1980s.
The three performers met at a Maryland music festival and hit it off. From rich instrumental flourishes to stirring vocal moments, their shared joy is palpable throughout the record.
"I think that the whole 'Shout and Shine' idea says that art really is a valuable way to make a happy life for yourself," Gleaves says in the press materials.
"Hot Pink House Trailer" tells of modest aspirations: surviving the nine-to-five, finding a simple abode and locating love. "I ain't paying no rent to the 1 percent, and without 'em I could do just fine," Gleaves sings on top of an upbeat instrumental backing. "A little hot pink house trailer, less troubles upon my mind."
Next up, a cover of Tom Paxton's "If the Poor Don't Matter" starts strong with a compelling social justice theme, marked by striking imagery of the homeless. "If they're living in a Chevy, as the world walks by," the tune goes, "if the poor don't matter, neither do I." Here, the song's spoken word section feels like an awkward detour, well intentioned but sonically grating.
Fortunately, this over-the-top case is a rarity on a record that excels most on the quieter, understated songs. Elizabeth Cotten's "Oh Babe It Ain't No Lie" and the traditional tune "If I Were a Blackbird" are two mellow moments on Shout and Shine. They are more subdued and more nuanced. For the keen observer, they are bluegrass gold.
Elsewhere, the jaunty spiritual "Welcome Table" is a real toe-tapper, with all three of these singers reaching deep. And "I'm Happy Every Day I Live" is a joyous expression of life's beauty.
"I've got the world by the tail, and a rainbow 'round my shoulder," Fink, Marxer, and Gleaves sing on this track, expressing a message that is grounded in contentment with hard work, simple living, and selfless kindness. These are basic values that the trio intentionally weaves throughout the album.
"I hope that folks might hear the record and want to sing and play some of the songs, take a class, or even be inspired to write a song themselves," Gleaves says in the press materials. "Anything to work music into their own life. It's been such a blessing to me."
---