Even in Front of Her Big Band, Ruthie Foster Stands as Singular Voice
---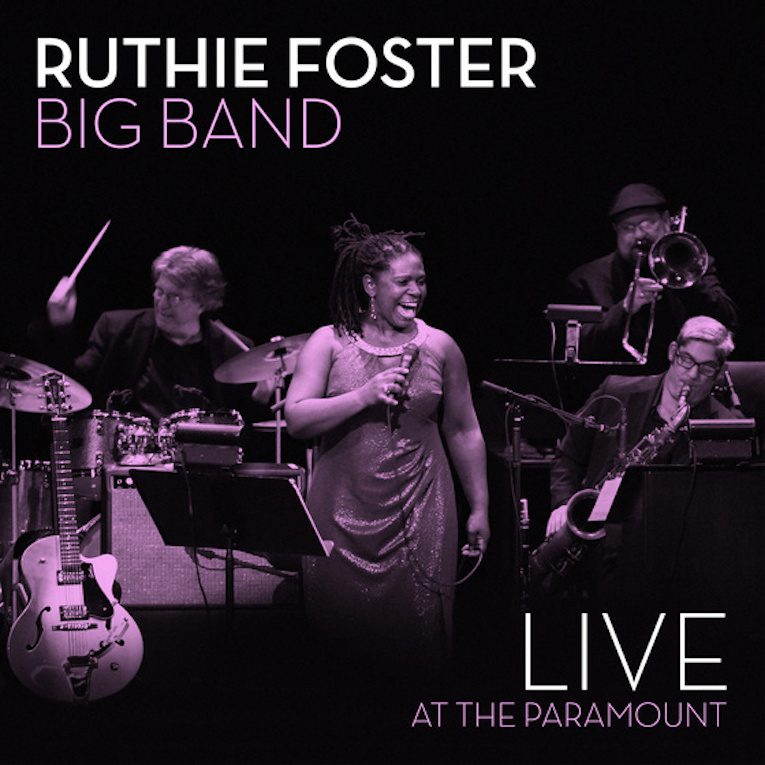 It's billed as Ruthie Foster's Big Band, but as usual, the biggest thing on Live at the Paramount is Foster's incredible voice. That's not a swipe at the band. The 14-piece ensemble, which features a 10-piece brass section and three backup singers, is magnificent, but with Foster soaring majestically overhead they're relegated to backseat drivers.
Recorded live at Austin's Paramount Theatre, the songs are a mix of old and new, but with Foster's presentation the material never gets old. Her reworking of June Carter Cash and Merle Kilgore's "Ring of Fire" transcends Johnny Cash's version. It was impressive enough in its original appearance on 2012's Let It Burn, backed by the Funky Meters rhythm section, drummer Russell Batiste, and bassist George Porter Jr., but here, with a more lush background, it's even more effective, sounding like a soulful Motown session with the Funk Brothers.
In concert, it seems like the music just bubbles up out of Foster, contained inside under so much pressure she can't wait to let it go. But she says she was a shy kid who had to grow into learning how to be comfortable in her own skin, with that voice to light the way. Mahalia Jackson and Aretha Franklin held up lanterns for her to bask in the glow, but Ella Fitzgerald's spotlight drew her as well, as evidenced in Foster's rendition of "Mack the Knife." Introducing the song, Foster relates a tale of woe from her early years, when she'd moved to New Jersey in December, scraping up enough money to turn on the heat before discovering that Fitzgerald was playing at Radio City Music Hall. "What would you do?" she asked the audience, before confessing that she did the right thing: "I had a beautiful night, came back to a cold house, and I was fine with it." She seems to glide along a few feet off the ground on her rendition, little scats sneakin' in every few bars as she heats up the joint, getting brassier and Satchmo-ier as the song progresses. It's the closer, naturally, 'cause nobody, not even her, could follow this one.
But by this time she gets there she's already mesmerized the crowd with a buttery smooth rendition of "Fly Me to the Moon" that's as rocky and soulful as it is torchy.
Maya Angelou's "Phenomenal Woman" always lives up to its title, Foster flinging buckets of Aretha-flavored gospel soul all over the stage. And she puts some Big Easy strut into "Joy Comes Back," funkin' around to some high-stepping second-line gospelizing.
No matter what you put Ruthie Foster in front of, she's gonna shine brighter. But nobody ever minds. As her accompanists figured out a long time ago, watching her light up the stage is always worth standing behind her.
---