Elvin Bishop and Charlie Musselwhite Offer a Tour Through Their '100 Years of Blues'
Posted On September 23, 2020
---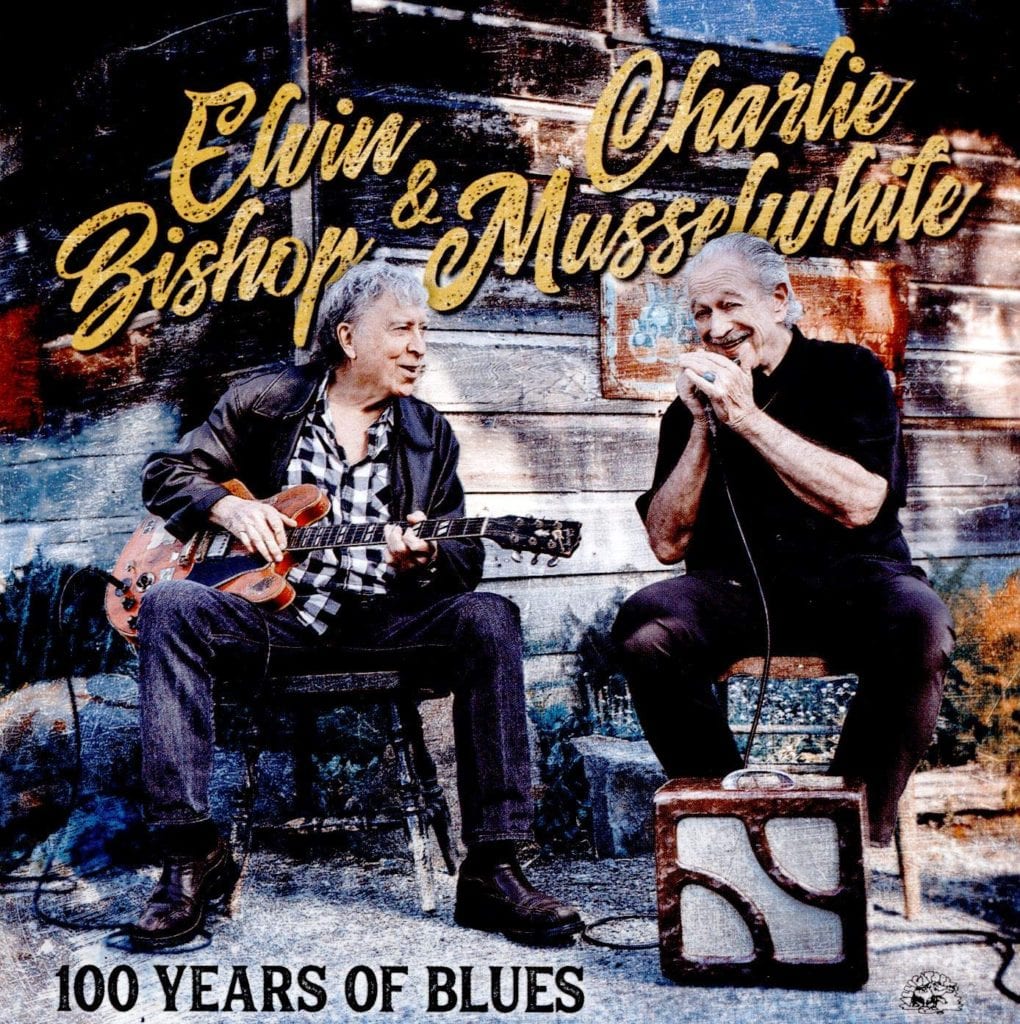 You can't call this stuff unplugged. It's stripped down, but there's too much electricity crackling around the pairing of Elvin Bishop and Charlie Musselwhite to contain in an acoustic environment.
For 100 Years of Blues, their first studio pairing, Bishop and Musselwhite left the bulk of their musical accomplices behind, utilizing only the talents of Greaseland Studios' owner/guitarist Kid Andersen (Rick Estrin and the Nightcats) on bass and Bob Welsh on guitar and piano. They're calling it front-porch music, but cranking out this kind of stuff on your front porch would have the neighborhood in an uproar. Andersen has played and recorded in bands with both men over the years, and Welsh has appeared prominently on Bishop albums for the last decade and toured last year with Bishop and Musselwhite as a stripped-down trio. 100 Years of Blues was inspired by that tour.
Paul Butterfield, Muddy Waters, Hound Dog Taylor, and Junior Wells encouraged and welcomed Bishop and Musselwhite into their arena early on, and their influences still resonate in the music. Bishop's joy in entertaining has always been infectious, his shows like a rowdy picnic with friends you just met and decided to throw down with. Musselwhite also brings added zest to any gathering, whether slinging gospel licks around with the Blind Boys of Alabama or back porchin' with Hot Tuna.
Bishop's overalls-wearing, good-ol'-boy persona shines through on "Birds of a Feather," bopping along to a cool, high-steppin' shuffle with a groove deep enough to get down and wallow in.
"South Side Slide" is a languid, laid-back instrumental stroll through the Chicago neighborhood where both picked up and honed their blues skills, Musselwhite soaring above the sidewalk so as not to slip in Bishop's greasy slide tracks.
"What the Hell?" is the duo's why-can't-we-all-halfway-get-along plea voiced by Bishop and aimed at "the president who wants to be the king," as Musselwhite's mournful harp protests the current political goings-on.
Musselwhite channels his inner Slim Harpo on "If I Should Have Bad Luck." It's a real pleasure to hear the duo make misery such an art form.
Bishop narrates the couple's pedigree on "100 Years of Blues": Bishop's Oklahoma roots and Musselwhite's Tennessee raisin' and their musical education in the streets of Chicago in the 1960s, name-checking some of the joints that schooled them, piling up 100 years of blues between the two.
100 Years of Blues is another solid effort from Bishop, sanctified by Musselwhite and blessed by Andersen and Welsh in a blues baptismal that may not save your soul, but will soothe it 'til they get around to you again.
---