Duane Allman's Box of Sky
Posted On October 13, 2016
---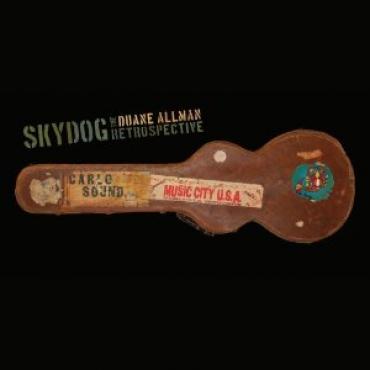 From the first note, this thing just sits on your chest and holds you down. Forget about the rest of your day. Once you put this on, you ain't going anywhere or doing anything else.
It'll spoil you. Anything else is gonna sound watered down after this. This stuff fills up your ears and your heart. From the beginning, Duane' Allman's guitar had the last word. After he'd said it, there was no rebuttal, no need for any additional musical conversation. You might as well pack up your gear and go home.
It was a blessing when the Allman Brothers Peach Crate box set came out earlier this year. It covered the territory well, but the elephant in the room was Duane's missing outside contributions with a who's who of soul and blues artists over the years.
'72's Duane Allman: An Anthology, on Island/Mercury and Polydor's '74's Duane Allman: An Anthology Volume II, addressed that issue, but there's never been anything like the new Rounder box set, Skydog: The Duane Allman Retrospective. A limited edition of 1000, the vinyl set contains seven double albums with Duane's stuff from '65-'68 with the Escorts, the Allman Joys the 31st of February and The Bleus through '70-71 with Delaney And Bonnie, Cowboy, and the Allman Brothers with cuts from Eat A Peach, SUNY, and Dreams. In between are samples of the work he did in '68 with Wilson Pickett, Clarence Carter, Arthur Conley and King Curtis at Fame Studios in Muscle Shoals as well as "The Weight" and "It Ain't Fair" with Aretha Franklin at Atlantic Studios in New York in '69.
Daughter Galadrielle's liner notes eulogize her father as no other writer ever has. "He didn't just want to play with heroes, he wanted to be one," she says. A few sentences later, she mentions his life force "straining against the tight clean production in much of his studio work. You could almost feel his need to stretch out…there was something down and dirty he was craving."
Duane brought that craving out of musicians and fans alike, his powerful life force flowing through his hands, anointing anybody within range with healing doses of life-changing slide guitar mojo.
The collection first came out in '13 on CD, but the vinyl release is much more impressive, sight and sound-wise. Drop the needle on the 180 gram vinyl on the first cut, and even the first raw recordings of the Allman boys as the Escorts in 1965 in a studio in Ormond Beach, Florida sounds impressive. Gregg's voice cracks a bit, and Duane is playing as simply as you ever heard him play, but it still works on a cover of "Turn On Your Love Light." Gregg must have brought that one to the table, confessing a life-time adoration for Bobby Blue Bland, who had a '62 hit with that song. "I had his whole collection in my car from my early age," Allman told me in an interview earlier this year. "I never heard anybody even come close to sounding like Bobby Bland."
Three years later, at Fame Studio in Muscle Shoals, the Allmans as Hour Glass, Duane goes after B.B. King with a medley that must have had B.B. wondering who that skinny long-haired haired hell hound on his trail was, stalking him with his own licks rendered so close to the bone it could be his clone.
LPS 3&4 cover Duane's '68 and '69 activities at Fame in Muscle Shoals and at Atlantic Studios in New York. Clarence Carter shows off his pre-"Strokin'" power and glory on "Road Of Love," but once again, its Duane soaring on top of the Swampers for some deep-dish, sliding soul.
Duane allegedly goaded Wilson Pickett into recording "Hey Jude" by asking him "What's wrong, you don't got the balls to sing it?" when Pickett said it wasn't his style. Of course, his version makes the Beatles sound like little boys, Pickett's panther screams at the end matched by Duane's shrieking guitar for a scalding performance that caused Eric Clapton to nearly wreck his car when it first came through his vehicle's speakers.
Aretha's version of "The Weight" locks it up for all times, but even with Ms. Ree's powerful gospel mojo to contend with, Duane sails majestically around and above her, making that session the funkiest church service on record, Franklin's churchy moans responded to with Duane's celestial slide.
Aretha takes it to church again on "It Ain't Fair." With King Curtis' honkin', soulful sax in the house and Whitney's mama Cissy Houston in the choir, Duane sounds more restrained than usual, cluckin' and pickin' at the melody on this swooping, soulful hymn.
On LPs 5&6, from '68-'69, when Duane comes in it transforms The Barry Goldberg Blues Band's rendition of "Twice A Man," taking Goldberg's plodding, mumbled vocals into another dimension underscored with Duane's screaming Coricidin bottle slide.
Otis Rush's "Me," from a '69 session at Muscle Shoals Fame studio, has the Swampers sweetening the mix with mellow soul, but you can still hear Duane adding some screamin' guitar woe over Otis' soulful whoops.
Another '69 Muscle Shoals Fame session yielded the album The Duck and The Bear, produced by Eddie Hinton and Johnny Sandlin with the Memphis Horns and the Muscle Shoals rhythm section. Canned Heat's "Going Up the Country" starts out about the same as theirs, but Hinton and Duane's version with Hinton on lead and Duane on slide turns up the heat and takes this one for a ride in the country that eats the Heat's lunch.
7&8 include a side of English pop star Lulu ('67's "To Sir With Love") that not many were familiar with. On "Marley Purt Drive," Lulu comes across like Bonnie Bramlett joined at the hip to Maggie Bell, an unholy mix of dixieland and country blues with a celebrity wire choir composed of Cornell Dupree, Eddie Hinton, and Duane.
9&10 features Delaney and Bonnie doing a rafter–rattling version of "Soul Shake" that gives Duane some serious sonic competition from the Memphis Horns blowing holes in the ozone, Jim Dickinson's piano rattling the windows and Bonnie screaming like somebody was holding a blowtorch to the soles of her feet. Some of Duane's face time with Clapton is represented here, with three cuts from '70s Layla and Other Assorted Love Songs, with "Have You Ever Loved a Woman," "Layla," and "Mean Old World."
Sam Samudio, better known as Sam The Sham, was long past his glory days with '65's "Wooly Bully" when Sam, Hard and Heavy, came out in '71, re-released in '13 by Real Gone Music. Sam's country blues take on "Me And Bobby McGhee" was not a threat to Janis Joplin's version despite Duane's honkin' dobro desperately trying to up the ante. Sam sounds much more like his Wooly Bully self on "Relativity,' with Duane cutting loose on slide.
Duane returns to dobro on LPs 13 and 14 for Scott Boyer and Tommy Talton's band Cowboy's cosmic country-flavored biggest hit, "Please Be With Me."
There's also a stripped down performance from Delaney and Bonnie on "Goin Down The Road Feelin' Bad," with only D&B and Duane and Sam Clayton on congas that rocks like a tent at a holy ghost camp meeting.
Duane's daughter Galadrielle sums up her essay by saying that "Everyone my father touches carries Duane with them for inspiration and strength. I hope this celebration of Duane's life inspires you to live fearlessly and enjoy life." Mission accomplished.
---