Bobby Messano— Caught In a Bad Movie
---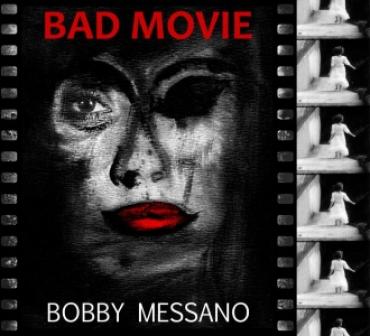 You know. Like dreaming you're in class with no underwear. Like trying to run but your legs won't co-operate. Like getting hit by a bus on your way to the lottery office to cash in that winning ticket. That kind of bad. I'm chuckling while writing this because Bobby, in the video for "Bad Movie," actually gets hit by a bus. Well, not actually, but a lousy film version of it. First time I saw it, I spewed coffee. Funny as hell.
I watched that video a number of times before I realized that one of them cowboys was named Duck Rivers. I know a Duck. Doesn't look a thing like that, though.
Messano is a blues player. First blues comic I've ever heard. Member of the Blues Hall of Fame, it says on his PR sheet. I dunno. Could a guy who looks like this play the blues? And why can't I find a lady like that? I was in a building with a girl like that once. They asked me to leave. Bada-bump! See what listening to Messano does to you?
It definitely messes with my head, the way Stevie Ray Vaughn did, and The Nighthawks. I saw The Nighthawks at a club years ago. Messano could easily have been on the stage, he's that good! And you who don't know The Nighthawks? You can't talk rockin' blues until you do. It's a law.
Bobby has had one hell of a career. He started out with bands The Stanky Brown Group (Unfortunately, the one I have he does not play on), STARZ, and has even played with Gloria Gaynor. But the blues was always his comfort zone. You can probably tell it from his earlier albums but I guarantee you can tell it from Bad Movie. He rocks the blues, grooves the blues, and moans the blues. He even sings the blues which, if you think about it, is downright amazing when you take into account the many years he has been performing (pretty much non-stop). And he does it with such ease and flair that you somehow know this guy was meant to play the blues.
Messano won me over right away with his playing but if he hadn't I would love the guy for his sense of humor. We have messaged a few times and it is a delight. Not since Keith Morris of The Crooked Numbers fame have I laughed so hard. I mean, I love his music but I love his wit too.
Look, you need to hear the music to understand who he is, but you have to know who he is to understand the music too. Here he is doing an interview with whom I assume is an old friend. This is Bobby Messano without the guitar in his hands, open and honest. This is the Bobby Messano I will be following from this point on.
---