Bob Livingston's Warmest and Most Engaging Songs in A Month of Somedays
Artist:
Bob Livingston
,
Bradley Kopp
,
Don Richmond
,
Eliza Gilkyson
,
James Doyle
,
Jimmy Stadler
,
John Michel
,
Kelly Mickwee
,
Phil Bass
,
Robin James
,
Warren Hood
Posted On November 8, 2017
---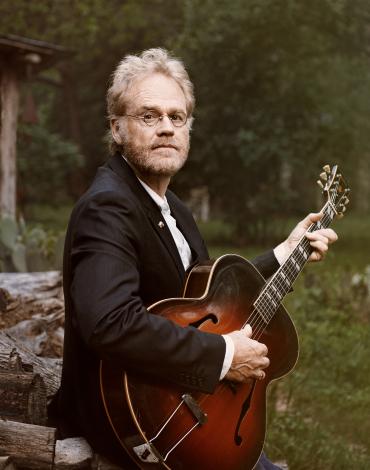 This Southwestern bard has sung his way around the world and back again. Many times over, truth be told. And he's lived to enjoy the journey and savor the joy, which he generously shares with us all on this latest album.
Bob Livingston is as much at home gigging in India, Vietnam or Oman as he is playing Michael Hearne's Big Barn Dance in Taos, New Mexico, in Texas school classrooms or up in the high Colorado Rockies . After starting out playing with the likes of Jerry Jeff Walker, Michael Martin Murphey and Ray Wylie Hubbard a few short decades ago, Bob signed up with the U.S. State Department sometime in the 1980s and began a career as a "musical ambassador" to far flung corners of the globe, bringing good feelings, upbeat melodies and cleverly observant eyes and ears wherever he went. He has some funny stories about scary snakes, exotic spicey foods and the tuning of sitars to relate, as he often does between songs at his live shows. He invented his own form of "cosmic cowboy world music" and wove the styles of Asia and Africa into his sound, while never straying that far from his western Americana "Gonzo" bluesy roots.
Bob Livingston has taken his wide-ranging repertoire around the world, and he is looking forward to adding to it the seventeen songs that he has just released on his latest album "Up the Flatland Stairs". They are mostly original Bob Livingston compositions or co-written songs (with Gary P. Nunn, Laurie Turner, Andy Wilkinson, Michael Martin Murphey,Susan Herndon, Bud Shrake or Read Wood) and three choice cover versions.  And well he should be, as these are some of the most pleasantly engaging songs that Bob Livingston has recorded in . . .  to quote Bob's version of David Halley's wistful song: "a Month of Somedays".
Taking its title "Up the Flatland Stairs" from one of Bob's lyrics on this fine album–typically spiced with gentle irony and word-play–this cd grows on you with each listen.
Bob Livingston's engaging tenor vocals, acoustic guitar and occasional harmonica, augmented by Jimmy Stadler's piano and Don Richmond's bass on many tracks, with additional musical contributions from Kelly Mickwee, Bradley Kopp, John Michel, Eliza Gilkyson, James Doyle, Warren Hood, Robin James, Phil Bass and Siri, produce a warm, flowing sonic mix that complements and counter-points Bob's worldly-wise, gently philosophical lyrics. The songs range from the opener, a rousing cover of Jerry Jeff Walker's "Shell Game" with its reflections on chance, luck, and not giving up, through Walter Hyatt's "The Early Days" and Livingston's  "You Got My Goat (and You Might As Well Take My Dog") to the surprise bonus track "Nervous Breakdown".  But never fear, for all its musical and lyrical adventuring, this really is a calming and comfortable musical journey.
The careful and clearly song- loving production by Don Richmond and Bob Livingston himself result in a very easy to listen to album that you are going to enjoy replaying for a long time to come. Maybe even for a month of Somedays!
---