Appalachian Rock 'n Roll Returns with a Vengeance
---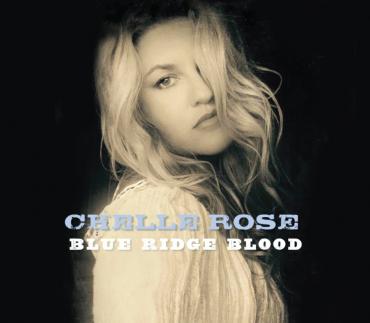 Outlaw country starlets have been leading the pack so far this year with outstanding record releases. From Margo Price and her beautiful traditionalMidwest Farmer's Daughter to the cosmic explosion of Exodus From Venus from Elizabeth Cook, the ladies have been bringing it strong with a wide range of Americana music. Sometimes you have to go off the grid into the Tennessee hills where dirt roads lead to whiskey stills and front porch strumming' storytellers. This is where you find perseverance to adversity and a loaded shotgun pointed toward you. It's what Chelle Rose calls Appalachian Rock 'N Roll and the release of Blue Ridge Blood on her very own Lil' Damsel Records.
It's been a trying four years since the release of Ghost Of Browder Holler as Rose went from coming off a divorce and finally releasing the album of her dreams to succumb to a lengthy two year illness that left weak and bed ridden. After finally getting some extensive blood work and tests, she found that an undiagnosed thyroid condition was the culprit. Besides her children that she loves so dearly and support of friends, it was a relationship that blossomed with musician Johnathon Hamilton that may have been prescription no doctor could have written.
The new album is dedicated to her grandmother Eleanor who passed away two years ago and had raised Chelle after her parents split at an early age. Rose once again began to channel her pain through her songwriting and guitar strumming while finally getting her strength back. Although she could have stayed in her home base of Nashville, she once again headed to Austin and began the recording process. It was there that she worked with producer and legendary songwriter Ray Wylie Hubbard and was introduced to George Reiff behind the boards for Ghosts of Browder Holler. Rose was so thankful how well Reiff captured her vocals on the last record that there was no doubt she wanted him to produce the new one. Recorded at The Finishing School, the supporting cast included multi-instrumentalist extraordinaire Sergio Webb, Rick Richards on drums, Bukka Allen on keyboards, Billy Case on guitar, Hamilton on mandolin, and Reiff on bass. After she returned home and the final mixing and mastering were taking place, Buddy Miller asked if he could contribute a vocal to one of her tracks. So the final piece was put in place when Buddy added backing to the title track at his Dogtown Studio home in East Nashville.
Eleven gritty tracks from the woman who grew strong from her Lenoir City upbringing begins with "Paintsville Table", a tale of a young coal miner, with some deadly guitar riffs and Rose's deep, rich southern drawl vocals. With a little extra banjo, "Damit Darlin" is a beautiful slow picker about a man dealing with spurned love and the opening hook "Dammit darlin / You pine for Miss Ohio / Don't you know / Your love's in Tennessee". On cue and going electric in a fiery response is the next song "Not Your Girl". A beautiful ballad with gorgeous piano fills is "Laid Me Down" is once again coupled with what should be the album's single titled "Mean Grandpappy". This song is right in Rose's wheelhouse about an abusive old man whose funeral finally put him "right where he belonged in cold hard ground". After Rose divorced in 2008, she headed to a country house in Leiper's Fork southwest of Frankiln that she describes in the song "Hidin' Hole". Another wonderful song that should garner some radio play is an acoustic number about watching freight trains pass through the countryside called "Southern 4501". The final track is an ode to her beloved Grandmamma called "Sing Pretty" which was her response whenever Chelle would be singing about pain.
I fostered a friendship with Chelle Rose long before I knew her music and many of my reviews are drawn to the perseverance trying to get through life's many obstacles. Getting through one day for many of us is having to face and fight through pain or circumstances that inflict bruises that are deep within one's flesh. I have seen how the courage of expression by songwriters has lifted and given strength to folks listening on a stereo or sitting in an audience. That rise and stand-up message can be found within the collections of songs found on Blue Ridge Blood. It's an album hopefully more people will hear now that Rose has thwarted the demons that sabotaged her health.
---