All Aboard for More Tom Russell Adventures
---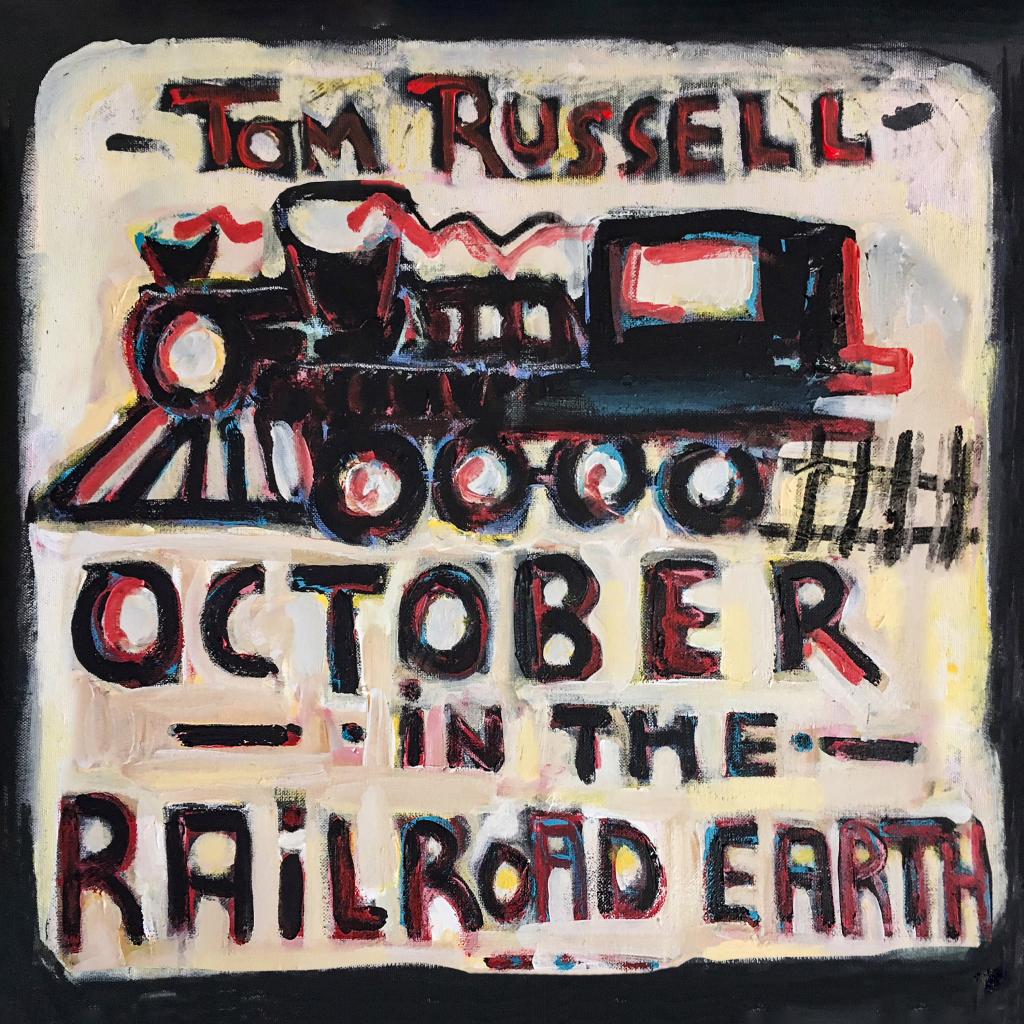 Like Johnny Cash channeling Leonard Cohen with lyrics by Charles Bukowski, Tom Russell's latest is a collection of true-life vignettes accumulated over his wild and wooly past. Not all of the adventures are his, but he recounts them with the attitude of a man who's been there and done that, getting to the meat of the matter with no fooling around. A true Renaissance man, Russell is equally well-known for his essays and painting as for his singer-songwriter skills. His credentials also include a master's degree in criminology as well as a stint teaching sociology in Nigeria during the Biafran War.
The title cut is an original inspired by "October In The Railroad Earth," from the beat generation's free-ranging scribe Jack Kerouac, a prose poem written while Kerouac was working as a railroad brakeman in San Francisco.
Russell's narrative dovetails so completely with Kerouac's prose that's it hard to know where one stops and the other takes over. But Russell doesn't deify Kerouac, instead painting a harsh but realistic portrait of the beat poet as he was, getting high on a fifth of cheap Tokay, his wife "taking in sewing to pay the bills and bar tabs" up till the undignified end, "gone in October, 62 dollars in the bank."
Only Russell could write a song about a guy in El Paso who fixed his lawnmower and have it end up as an Irish film. "Small Engine Repair" inspired Irish writer/director Niall Heery's 2006 account of a small town engine fixer and his shiftless friend who aspires to be a country singer. The film has gained more attention in recent years due to lead actor Iain Glen, who sings the tune in the film, starring as Sir Richard Carlisle in Downton Abbey and Jorah Mormont in Game of Thrones. Glen's take on it is crusty folkie, while Russell's version is full-bodied Bakersfield twang, the singer belting it out like a road-weary Red Sovine.
There's an old-time country/western flavor to much of the record, but Russell proves once again that he's capable of masterful Tex-Mex material as well. Russell's 1989 Marty Robbins-tinged "Gallo Del Cielo" is a Tex-Mex classic, the saga of Carlos Zaragoza leaving his home in Casas Grandes to steal the mighty fighting rooster El Gallo Del Cielo and win enough money to buy the land Pancho Villa stole  from his father. But just as in the Robbins ballads, things don't work out as planned, and a broken beaked El Cielo can't deliver the big bucks. Russell's latest excursion into what was originally known as the San Antonio sound popularized by Doug Sahm and Flaco Jimenez features Los Texmaniacs Max Baca on bajo sexto and his nephew Josh on accordion keeping that sound alive on "Isadore Gonzales," with Russell whooping like the vaquero name-checked in the song who rode broncs for Buffalo Bill's Wild West show in the 1880s.
Russell tangles with one of the world's fiercest creatures in "Hand-Raised Wolverines," sounding like Warren Zevon in tone and content. "I've never experienced fear like you could taste it," he sings, recalling emerging relatively unscathed except for a shredded leather jacket after going into a cage with the deadly buggers as a result of challenging his booking agent at the time to find something interesting for him to do on his day off while on a Canadian tour some years ago.
"Highway 46" is the  musical route that Russell has traveled for most of his career, funneling him toward Bakersfield, reminding him of where he was and how he felt when Merle Haggard died: "Did you pull off the road, break down and cry?" he sings, sounding like Merle narrating his own end. "I drove down Highway 46 / Sang a verse of 'Mama Tried,'" he says of his musical eulogy for Merle.
"You know I'm an occasional drinker, the kind of guy who goes out for drink and wakes up in Singapore with a full beard," Russell says, quoting Raymond Chandler as a prelude to the album closer, pretty much summing up the hard-living characters in this collection. "I like those old country songs about drinkin', cheatin', murder and train-wrecks. And this is the first song I learned as a kid off the first Johnny Cash record," Russell says, introducing "Wreck Of the Old 97." Russell sounds as genuine as the Man in Black himself. Guest guitarist Bill Kirchen, best known for his slide work on "Hot Rod Lincoln" as a Lost Planet Airman serving under Commander Cody, adds some Owens-Bakersfield licks to the honky-tonk mix along with Marty Muse's greasy pedal steel.
Whether you look at, listen to, or read Russell's creations, it's always a fascinating expedition to far-flung places, slightly skewed yet true-to-life adventures based on the reality that exists between his ears.
---