ALBUM REVIEW: Willie Nelson Gets to the Heart of Harlan Howard's Songs
---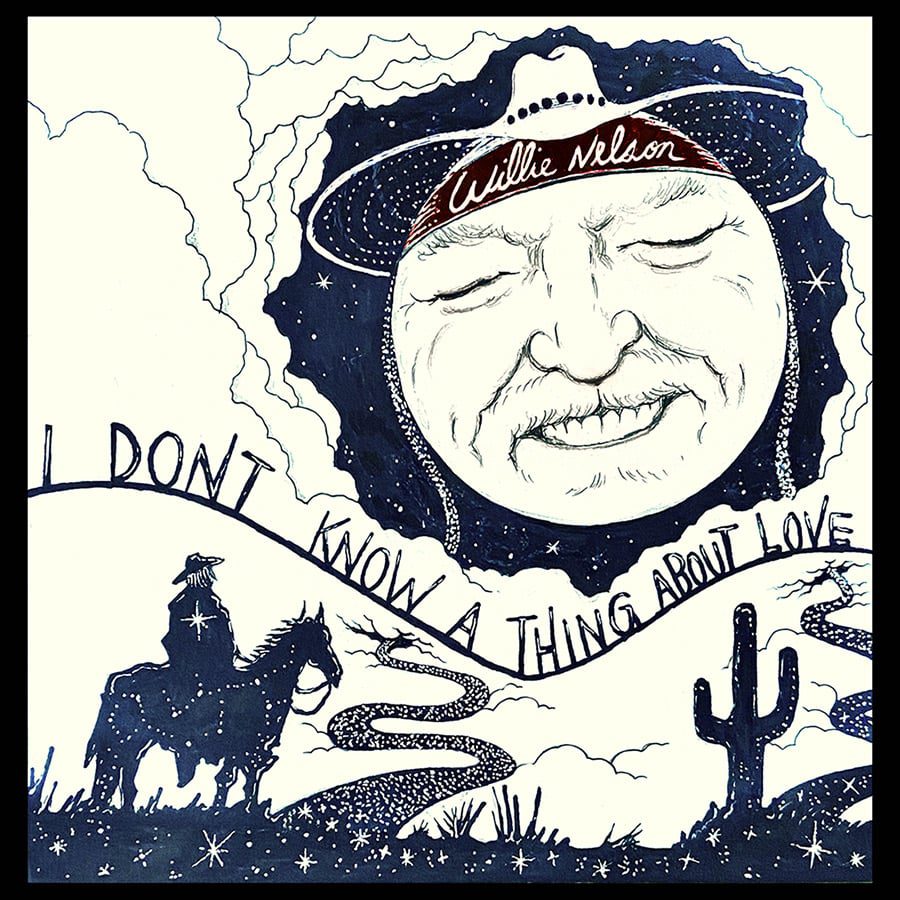 Harlan Howard's definition of country music as three chords and the truth is almost as famous as the songs he wrote to back up that quote he made in the 1950s. The prolific country songwriter turned out more than 4,000 tunes covered by a who's-who of artists from every genre. Waylon Jennings took 40 of them for rides up the charts, as did musical notables including Patsy Cline, Ray Charles, Joe Simon, Johnny Cash, Buck Owens, Mel Tillis, Candi Staton, George Jones, and James Carr.
Willie Nelson is the latest to take Howard's songs out for an airing, selecting 10 jewels to repolish for I Don't Know a Thing About Love. His truths are self-evident here. Nobody sounds like Nelson or phrases like him. But the three chords thing doesn't apply to him. Nelson takes his beloved Trigger out for runs outside that corral at will, flinging up clods of notes that only he and his trusted steed could leave in their wake.
The Buck Owens co-write "Tiger by the Tail" and the 1963 Ray Charles version of "Busted," also cut by Johnny Cash with The Carter Family that same year, may be the most familiar Howard tunes represented here for casual country fans, but the others have deep roots and considerable exposure in country and other genres as well.
Conway Twitty's chart-topping 1984 version of the title cut has a more plodding, Waylon feel to it than Nelson's version here. Nelson glides smoothly through it, his crooning skills still remarkable for a man celebrating his 90th birthday next month.
"Beautiful Annabel Lee" was covered by Waylon Jennings on his own 1966 Howard tribute, Waylon Sings Ol' Harlan. Waylon's track sounds like the Nashville pop sound of the '50s and '60s he would soon forsake for his outlaw trappings. Nelson's redo totally transforms it into a lonesome blues, with Mike Johnson's weepy steel adding some cowboy licks into the proceedings.
"Life Turned Her That Way" can be a bit touchy to perform these days. The lyric "She's been walked on and stepped on so many times / I hate to admit it / but that last footprint's mine," as sung in Mel Tillis' churchy 1967 take, has him wallowing in churchy self-pity. In Sleepy LaBeef's 1994 rockabilly version, the protagonist seems to revel in his sorriness and uses his ex-beloved for a flagstone. But Nelson manages to relate the tale like an old smoothie, taking the blame but still making you want to forgive him.
Joe Simon completely reworked "The Chokin' Kind" for his first number-one hit in 1969, smooth smoky soul with funky underpinnings, a whole universe away from Jennings' wistful 1967 version. Once again Nelson croons so smoothly on his take that you almost forget what a selfish bastard the speaker is.
A very funky Candi Staton soulfully reclaimed "She Called Me Baby" with a "He" in front in 1971, just as Patsy Cline had done in 1963 and Lee Ann Womack did in 2017. Nelson's take is full-blown Western swing that rocks at a gentle canter with a truckload of Johnson's steel.
Even when the songs are coming out of his mouth instead of his head, Nelson still delivers the goods like nobody's business but his own.
Willie Nelson's I Don't Know a Thing About Love is out March 3 on Legacy Recordings.
---