ALBUM REVIEW: Wabanaki Ancestors Inhabit Mali Obomsawin's 'Sweet Tooth'
Posted On October 25, 2022
---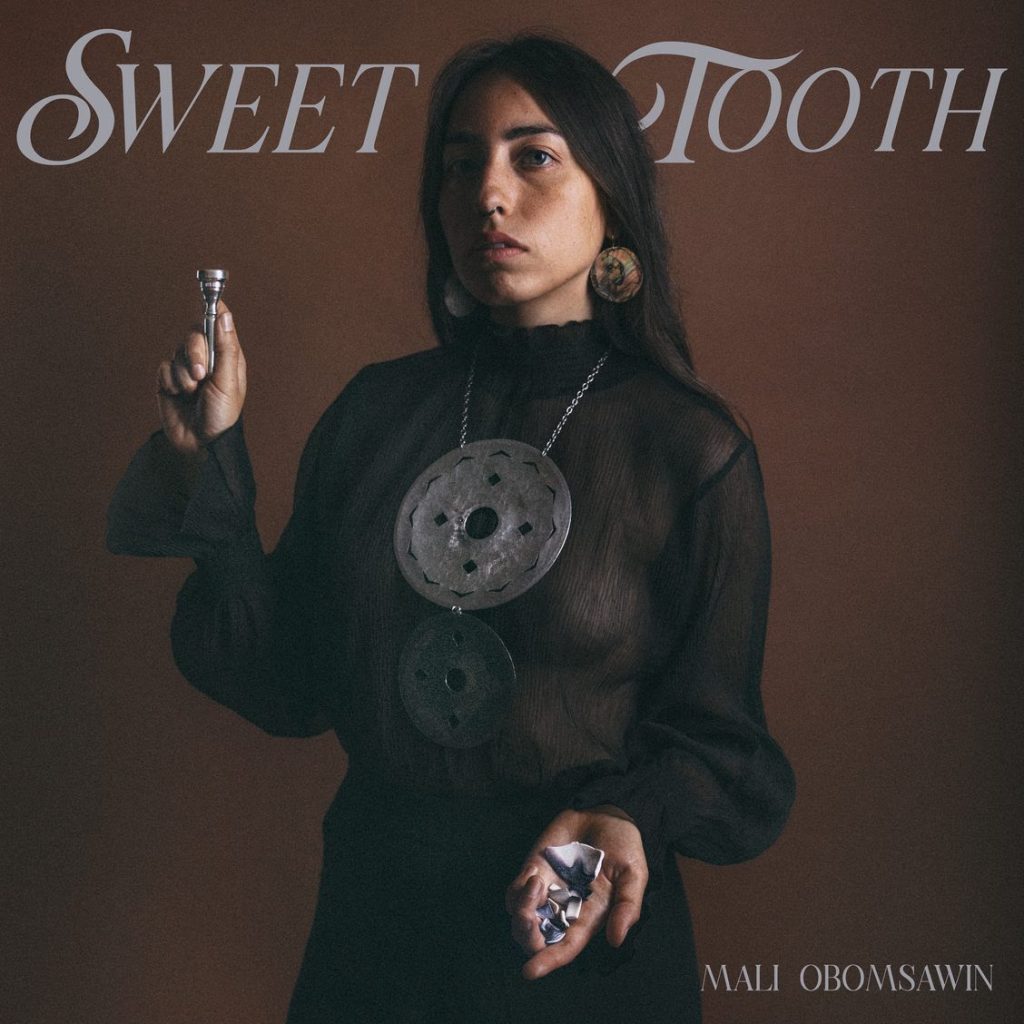 Sweet Tooth, Mali Obomsawin's solo debut, is rich in history and soaring musicianship. Obomsawin, formerly of Lula Wiles, unleashes their formal jazz training at Dartmouth College in a suite of six songs that are epic and intimate in scope: the political, cultural, and musical journey of their Wabanaki ancestors from before Columbus through the brutal oppression of American settler colonialism, and the unbroken line of strength and resistance through it all.
The album is divided into three movements, beginning with "Odana." The song features a dirge-like maelstrom of horns, with Obomsawin's rich voice in the foreground, captivating us with their powerful memorial for the Wabanaki homeland in and around what is now New England via a ballad that dates to 1730 at the earliest.
"Lineage" begins with a bright and easy melody, the horns indicating a sense of honor and praise. The band casually spins off into disparate melodies and lines, in a sense illustrating the far-flung nature of family trees across the Wabanaki's 12,000 years of growth and exploration before the arrival of European colonists.
The album's second movement abruptly shifts with "Wawasint8da" and the imposition of Christianity onto Wabanaki culture. The song is framed with military-style drums, a salute to the Jesuits who brought this style of music with them, thereby introducing the beginnings of jazz to Wabanaki culture. Here, Obomsawin and their band play around an archival recording of a Wabanaki hymn that tells the story of Jesus going to Hell to preach to the souls there. Once again, the band turns on a dime, introducing discordance into serenity — this time a cacophony to illustrate the story's violence, in opposition to "Pedegwajois," which centers a field recording of Odanak's Théophile Panadis describing how ancient teachings are passed down. The song is serene and more linear than the previous tracks, giving space and reverence to the elders who preserved the culture — and persevered.
The final movement, containing "Fractions" and "Blood Quantum," brings Obomsawin's personality to the forefront. These two songs incorporate their experience playing blues, folk, and traditional Wabanaki music into a swirling, inventive pastiche. Obomsawin freely incorporates the style of Native jazz musicians like Don Cherry, Mildred Bailey, Thelonius Monk, and others. Obomsawin interrogates the factionalism found in Native politics and the colonial policies designed to drive them apart. Sweet Tooth ends with a recognizable groove and a chant Obomsawin wrote with their relatives from Penobscot Nation celebrating the Indigenous matriarchs who have kept resistance alive.
On its own, Sweet Tooth is a dazzling exercise in creative energy, musicianship, and the power of music to bridge cultural divides. But understanding Obomsawin's context mirrors the deep historical research and work Obomsawin has put into understanding themself. Sweet Tooth is truly a work of art in that it enables us to communicate with each other beyond words and provides endless joy in discovering and understanding another.
Mali Obomsawin's Sweet Tooth is out Oct. 28 on Out of Your Head Records.
---