ALBUM REVIEW: The Handsome Family's 'Hollow' Captures the Strangeness of Being Alive
Posted On September 7, 2023
---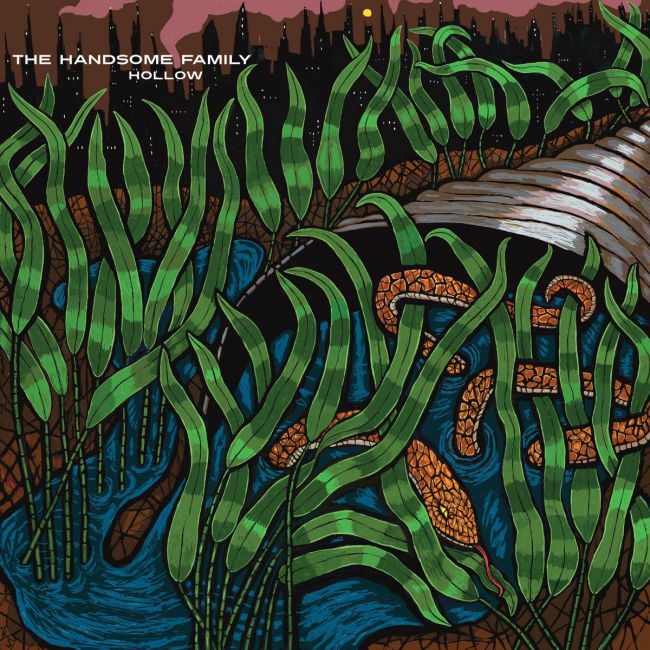 From Sonny and Cher to George and Tammy to Ike and Tina, husband-and-wife teams have made all sorts of remarkable music over the years. Add to this distinguished list Albuquerque's Handsome Family, the handiwork of spouses Brett and Rennie Sparks, who've practiced their wonderfully bent take on Americana for three decades. The marvelous Hollow, the couple's 11th studio album and first in seven years, reaffirms their mastery of what Brett describes as "Western gothic," drawing on traditional forms and highlighting the intractable strangeness of the natural world — at least when it's viewed from a "civilized" perspective. Depending on your mood, the songs can be darkly funny or profoundly unsettling, or, more likely, both at once.
Brett sings, composes the music, and plays most of the instruments; Rennie writes the words and plays and sings a little. Together, they convey a disquieting vision of what it means to be alive through understatement, regarding physical decay and cosmic despair with a calm resignation that suggests the abyss is inescapable.
Though Brett sometimes decorates his warm melodies with more modern touches such as mellotron and synth, the vibe is stubbornly old-timey, with "Invisible Man" and "Mothballs" evoking a dusty old Baptist hymnal, while his uneasy baritone crooning casts him as a haunted troubadour. Rennie's inventive lyrics reveal a poet's diligent attention to language, providing enough information to evoke a scene without insisting on one literal meaning.
Shaped by lilting piano, the mellow shuffle "Skunks" promises a stressed homeowner relief from "Squirrels in the basement / Raccoons in the walls," offering to supply "live bait" as well as "sterilize" the yard, adding, "Buy our Turf-Blend / Stays green for centuries / Never mow again." Raccoons reappear in the spooky ballad "Strawberry Moon," crossing the yard as cicadas sing and "tired and still" humans look on. The toe-tapping twang of "To the Oaks" disdains shopping bags and passwords, celebrating "Spirits in the shadows / In root and dirt and bone."
As the planet protests its mistreatment with increasing intensity, Hollow is a witty yet sobering reminder that humanity is only part of the bigger picture. Meanwhile, the drowsy, steel-guitar ballad "Good Night" wraps the proceedings on a whimsical note, framing the album as a carefully crafted performance, proclaiming, "Time for the goblins / To brush their teeth," and announcing, "We'll be out by the merch table / After we pack our junk."
Brett and Rennie Sparks can't cure the world's ills, but they're stimulating company, whatever the weather.
The Handsome Family's Hollow is out Sept. 8.
---