ALBUM REVIEW: Robert Ellis Makes the Most of Minimal for 'Yesterday's News'
---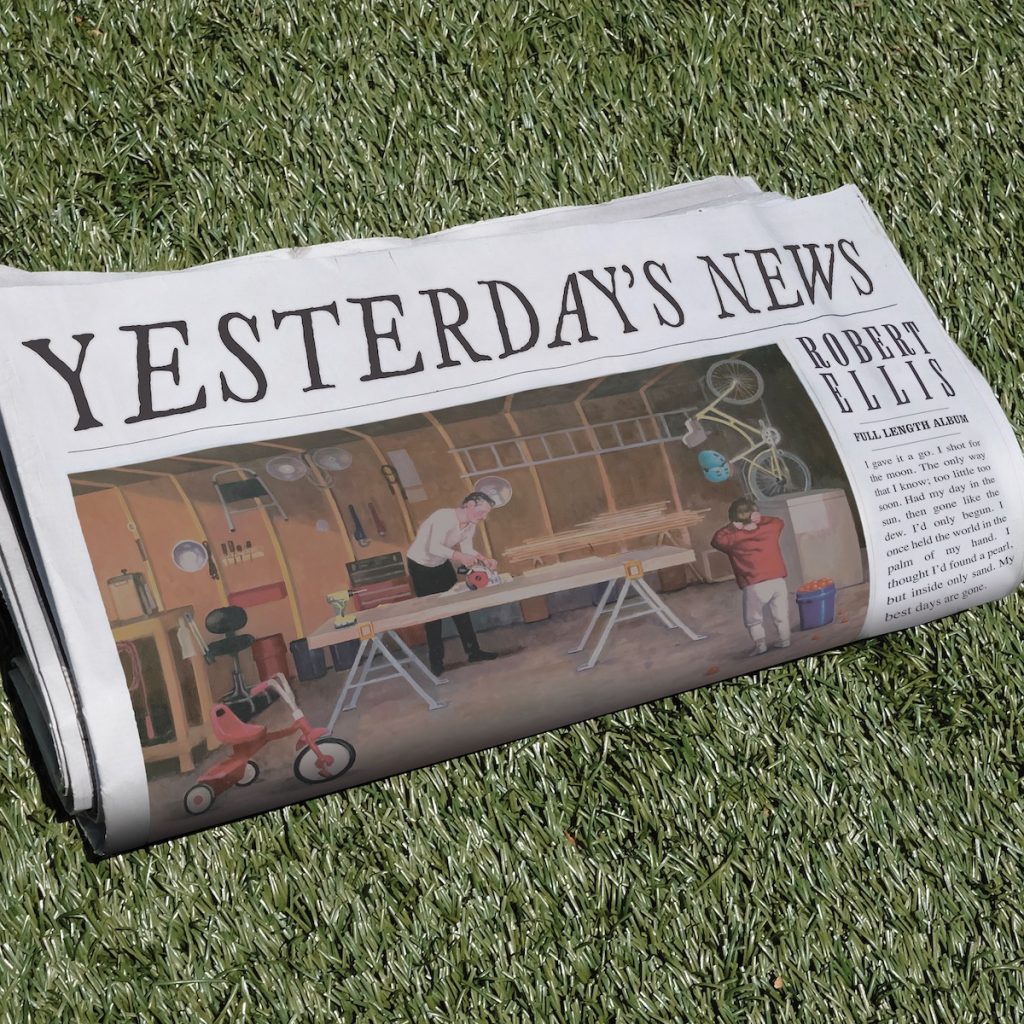 Singer-songwriter Robert Ellis spent the better part of the last decade crafting celebrated albums that blossomed like flowers toward new sonic suns while remaining rooted in his Houston-bred Americana/country soil. All under the banner of New West Records, Ellis would earn universal acclaim for releases like 2014's The Lights of the Chemical Plant, 2016's self-titled album, and 2019's Texas Piano Man as he toyed with pop, rock, jazz, and even honky-tonk flavors.
At some point over these last few years, Ellis decided to cut the cord — to all of it. Management? Gone. Label? Goodbye. Within this newfound freedom, Ellis has emerged with a brand new album, Yesterday's News. Interestingly, it's not an album crowned by new interests or even instrumentation. Instead, Ellis has cut a few more cords and emerged with a stripped-down recording that draws attention with its restraint.
Like an experienced classroom teacher who commands the room with a hushed voice, Ellis' new LP wraps the lyrical wrestling he's known for inside minimal packages, allowing his characters and demons, his questions and confusion to inhabit larger spaces. A simple finger-picked acoustic and upright bass (played by Aden Bubek) deliver the entirety of Yesterday's News nine tracks — featuring seven new songs and two instrumentals.
Sitting somewhere between Mark Kozelek, Nick Drake, and Roy Harper, Ellis' hushed approach is quite effective in this shorter set, especially on a song like "On The Run." Here, Ellis traverses the nameless stretches of West Texas as part of a population described as "Everyone out in this desert is just passing through or lost." By the end, he comes to a haunting conclusion that remains with the listener long after the last strum of a nylon string: "We are running from the silence at the bottom of the well / Running from becoming another book up on the shelf / We are running from each other / We are running from ourselves."
"Better Tomorrow" feels so painfully vulnerable at moments, and therein lies the beauty of Ellis's composition. "Today I feel so fragile like my bones could just break / One thread to unravel is all it would take," he sings. The singer is unsure how long he can hold out but the song carries his hope to someone beyond his present situation. Maybe therein lies the answer — or at least some appreciable company — but for now it's uncertain.
In a press release announcing the album, Ellis says, "The more I sat with these new songs, the more I realized their stillness was their strength." He's absolutely right. Whether this is a lasting musical shift or an interesting angle for one album, Yesterday's News is stronger for the freedom that birthed it.
Robert Ellis' Yesterday's News is out May 19 on Niles City Records.
---