ALBUM REVIEW: On 'Imaginary People,' Viv & Riley Embrace Pop Sounds to Tell Modern Stories
Posted On September 12, 2023
---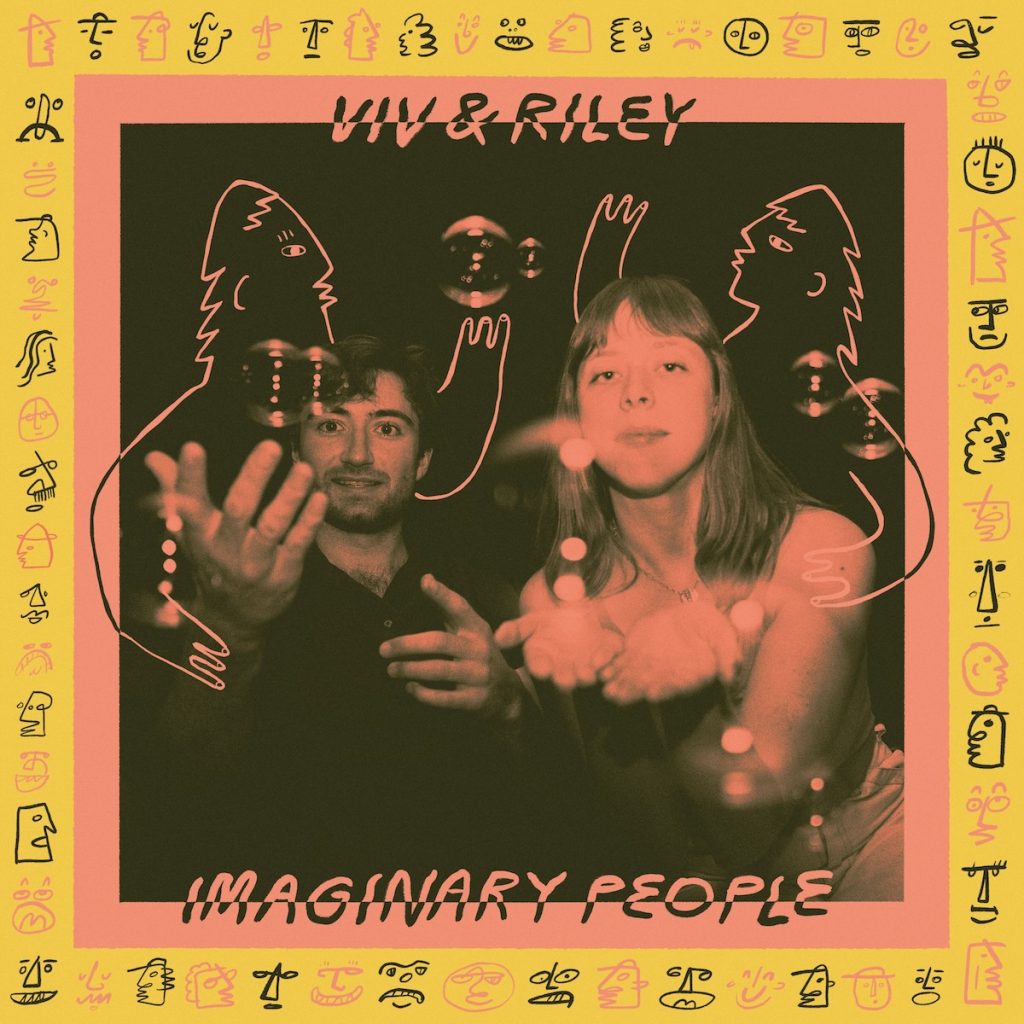 Vivian Leva and Riley Calcagno's exceptional self-titled debut from 2021, as well as Leva's 2018 solo foray, leaned in a notably rustic direction. The duo's new album, produced by Alex Bingham, largely backburners the old-timey tells as they embrace a decidedly more pop aesthetic. The result is an album that brims with poise and flair, Leva and Calcagno's elegant lyrics and riveting hooks placed on centerstage.
Imaginary People, the duo's first LP under the Viv & Riley moniker, launches with "Kygers Hill." A shimmery guitar recalls jangle-pop lineage from The Byrds to R.E.M. to recent work by Alvvays, while Leva's vocal grounds the song in a modish brand of Americana. A listener will be tempted to put the track on infinite repeat, seduced by the chorus's ascending melody and seamless resolution.
On "The General," buoyed by strummed guitars and Andy Stack's straightforward drums, Leva describes an attraction that is at once tantalizing ("the way you smile ties me up in knots") and frightening ("the way you look at me it makes me scared"). Calcagno's stunning "Is It All Over," meanwhile, is a surreal treatise on climate change. Mentioning the Eiffel Tower, the Arctic, and "mines on Mars," he navigates rich paradoxes, alternately dramatic and tongue-in-cheek, mischievous and grayly prophetic, romantic and deadpan.
On "Flashing Lights," Leva reflects on days of youthful abandon ("it feels like a lifetime since I felt free"), yearning to re-experience light-heartedness, perhaps with the help of some magic mushrooms ("you take a cap and a stem … / and feel your worries slide right out the door"). On the impeccably rendered "How to Lose," Calcagno sings, "Your brother's in the next room screaming at the screen / his mother downstairs is struggling to breathe." His images evoke a sense of crisis, pointing to a pivotally traumatic event in a young person's life, even as the track in its entirety remains compellingly elusive.
Calcagno breaks out the fiddle on the title cut, the duo flashing back to their roots. With the instrumental "Chance Creek," the band leap fully into a bluegrass interlude, as if to suggest that no Viv & Riley release would be complete without such an homage, even if the piece occurs as a palate cleanser or "bonus" more than an integral part of the set. The project concludes with the traditional "The Blackest Crow," Leva and Calcagno transforming Tommy Jarrell's stripped-down and plunky version into a plaintive and atmospheric take, their voices flawlessly synchronized.
While Imaginary People is striking for its voguish sonics and distinct vocals, Leva and Calcagno's tunesmithery are what ultimately stand out. While previous work aptly showcased the duo's craft, their new set reveals and underscores a striking refinement. These songs — accessible, sumptuous, enchanting — belie an impressive and hard-won finesse.
Viv & Riley's Imaginary People is out Sept. 15 on Free Dirt Records.
---