ALBUM REVIEW: Live and Kicking, The Rumble Captures Sounds and Sights of Mardi Gras
---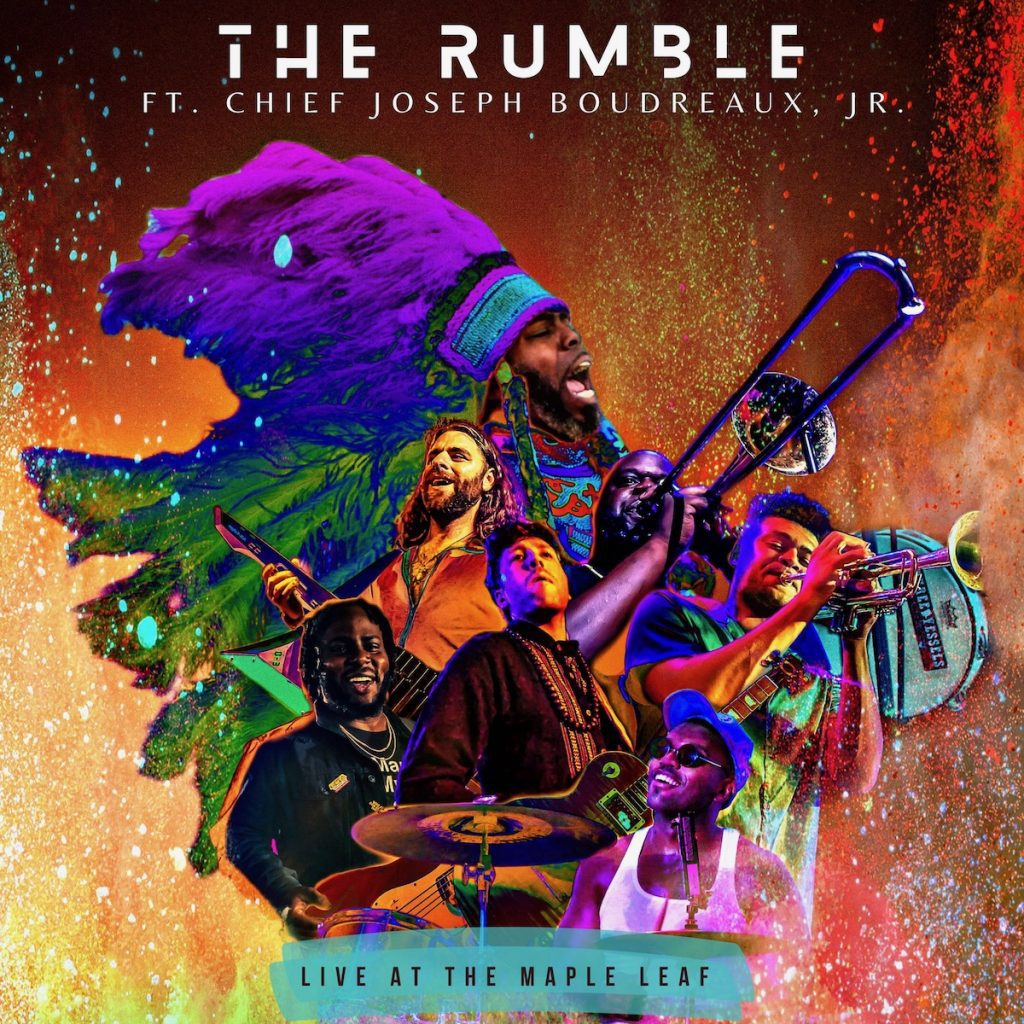 In February of last year, seven members of the Grammy-nominated Mardi Gras Indian funk band Cha Wa strutted away to pursue a second line in another direction. Citing "irreconcilable internal differences," the new aggregation, headed by former Cha Wa lead singer Joseph Boudreaux Jr., calls itself The Rumble.
"The rumble is what we call the backline of Mardi Gras," Boudreaux Jr. explained in an interview with OffBeat magazine. "You might see the Indians coming down the street, but what you hear is the rumble. Everybody who is behind the chief bringing him down."
Boudreaux says that the rollicking street parade is backed by a percussion section that often includes cowbells, Heineken bottles, plastic buckets, and jangling keys. But this version of the rumble features a much more sophisticated backline, with Grammy-winning musicians representing various sides of New Orleans culture seldom seen in one gumbo pot. Trombonist José Maize of the TBC Brass Band and trumpeter Aurélien Barnes bring a street parade strut into the mix, representing the brass community, on the band's Live at the Maple Leaf release. Everybody in the band sings as well.
It's like a classic New Orleans po'boy sandwich: the outside is the Mardi Gras Indian framework and the filling is jazzy, brassy funk seasoned with call-and-response gospel soul.
Boudreaux Jr., son of Golden Eagles Big Chief Monk Boudreaux, still performs in full Mardi Gras Indian regalia. But the main difference in The Rumble and its predecessor Cha Wa is what happens in the middle of the songs. Even well-worn classic like the Wild Magnolias' "New Suit" starts out in its original clothes, but quickly trades them in for even more esoteric musical garments. "Golden Crown" as interpreted by Cha Wa stayed close to the original Indian chant, but when The Rumble gets hold of it, it gets slinkier, still funky but jazzed up in the middle by the horns doing a little extraterrestrial Sun Ra-style trippin'. But the band doesn't rely on old Indian clothes to get by, sewing a up a new, original garment fluttering with funk and feathers on "Chief Got a New Suit."
"Bow Down" sounds like a funked-up offering from an Indian-inhabited Earth, Wind & Fire. "Morning Glory" is an esoteric gumbo with bits of The Dirty Dozen, The Meters, Tito Puente, and Dave Brubeck all bubbling in a cauldron.
It's a Mardi Gras experience that hangs around all year long, a funky, feather rufflin' extravaganza good for second line strutting no matter the season.
Live at the Maple Leaf by The Rumble ft. Chief Joseph Boudreaux is out May 19.
---