ALBUM REVIEW: Kamara Thomas Weaves Past and Present Into Debut 'Tularosa: An American Dreamtime'
---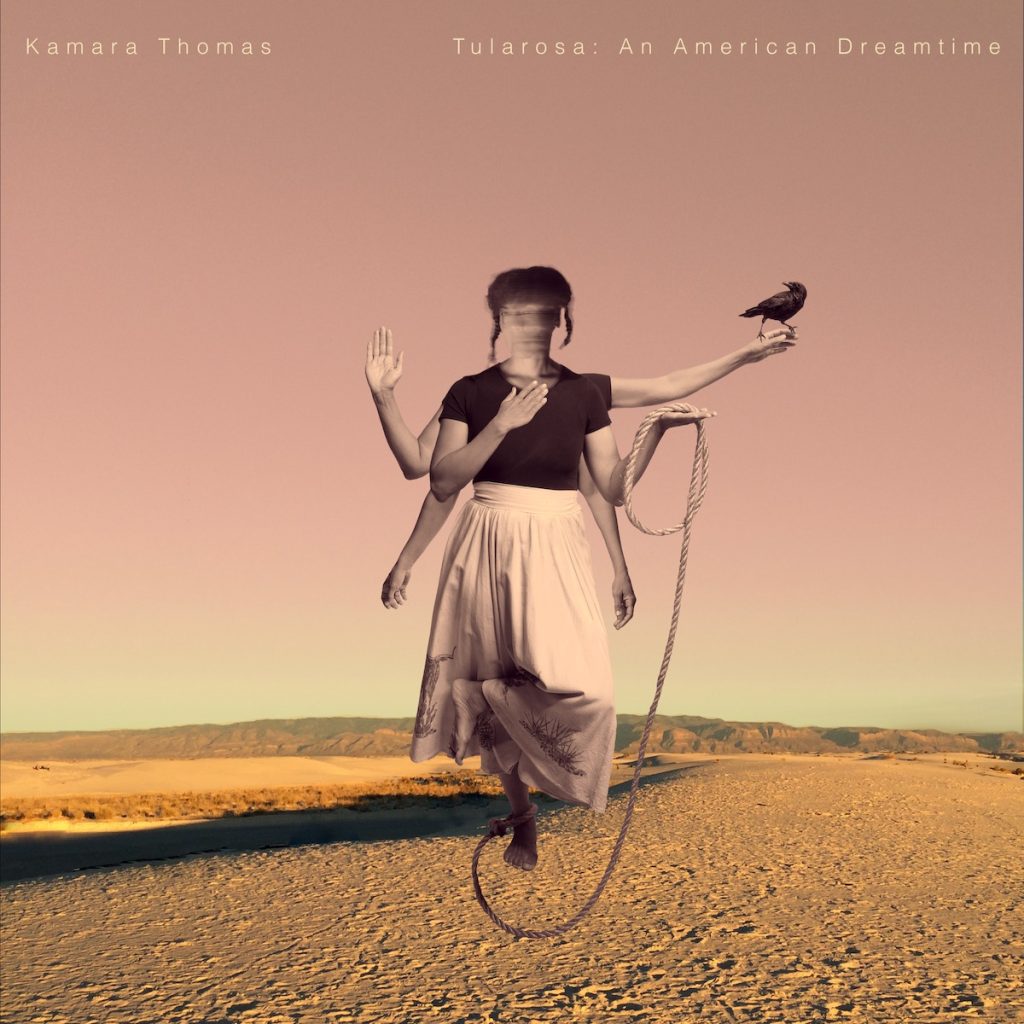 Throughout Tularosa: An American Dreamtime's 11-song sequence, Kamara Thomas — activist, multidisciplinary artist, and singer-bassist for blues-rock trio Earl Greyhound — debuts with her own brand of historically based mythology, depicting the lives of various figures as they navigate love, tragedy, and displacement in the 19th-century American West.
With the opening title song, Thomas points to the Native American diaspora, which occurred as white settlers, supported in part by the US government, claimed more and more land, exiling or outright eliminating the original inhabitants. As the piece unfolds, the central character, an Apache, leaves his father and home, entering the town of Tularosa, where he is taken in by a local family, marries, and raises children. A man who harbors prejudice, however, later kills him in the desert. The song ends with the character extending a vision of nonviolence to his son and forgiveness to his murderers ("To my son I will not leave a rifle / … to my killers I leave only wisdom / to the desert my blood and my bones"). While "Tularosa" revolves around a character who negotiates two different and perhaps unbridgeable worlds, the song also offers an implicit view of the US during a geographically, politically, and socially formative time, when boundaries were in flux and domestic imperialism at its peak.
"Oh Gallows" employs templates well-documented in the folk and blues canon. While Leadbelly's "The Gallows Pole" and Led Zeppelin's later rearrangement of it inevitably come to mind, Thomas' revision is driven by Steve Anderson's staccato drums and adorned with eerily atmospheric guitar parts. "Last Ride to Las Cruces" invokes the starkness of mid-1800s New Mexico, including the ubiquity of violence ("Out here no business is your business / unless you're making it your business / and if your business is to get paid / you may be doing business in your grave"). Guitars, percussion, and backup vocals converge to create a grittily cinematic soundscape.
"No Peace at Appomattox" presents the confessions of a Confederate soldier plagued by disillusionment following the conclusion of the Civil War. Thomas relays the character's emotionally charged perspective while never collapsing into authorial judgments. The portrait, instead, captures the horrors of war, including the personal and cultural disappointment that followed fighting for an unrealized cause, what arguably was the most pivotal crisis in US history. When Thomas concludes the track with the lines "I found no peace at Appomattox / and only ghosts to ride the field," she speaks to present-day circumstances — how the causes and results of the Civil War still affect us in 2022 — as much as the imagined regrets of a character circa 1865.
Closing saga "Eugene Manlove Rhodes" is the most contemporary-sounding and immediately enrolling tune on the album. A rollicking commentary on a cowboy's life, replete with comparisons to the Trojans and Spartans, the Spanish conquistadors, biblical characters, and the empire of Rome, Thomas's catchy tune, buoyant rhythms, and textural guitar parts bring to mind various classic-rock precursors, including The Band, Neil Young, and Bob Dylan.
Punctuated by concise and ambient "interludes," Tularosa's stories feature accessible characters while spotlighting a crucial time in US history. The 19th century may seem like a distant era, especially given the developments of the past 200-plus years, yet many of the dynamics set in motion at that time, including issues related to personal rights, governmental prerogatives, and populist politics, reverberate still today in economic, legislative, and religious debates.
Tularosa: An American Dreamtime is out May 13.
---