ALBUM REVIEW: Ernie Vincent Steps Into the Spotlight With 'Original Dap King'
Posted On January 10, 2023
---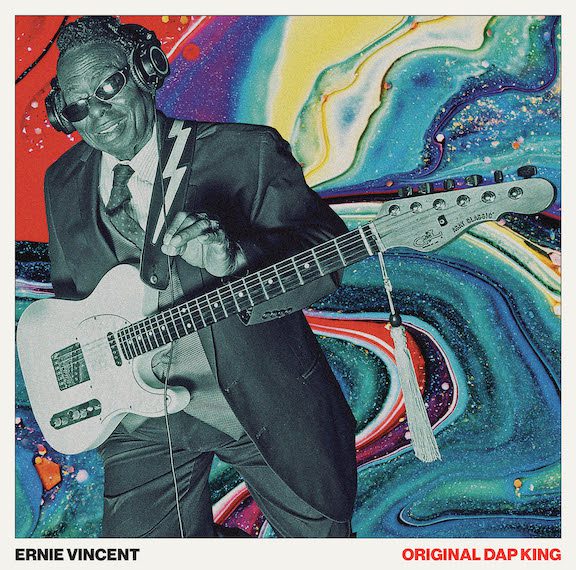 Guitarist Ernie Vincent has been a giant in New Orleans funk-and-blues circles for more than half a century. For most of that time, he's stood in the shadows, writing and arranging material or, along with his longtime group the Top Notes, serving as accompaniment for other artists.
That's about to change with the release of Original Dap King. With help from a crackerjack team of musicians that include Drive-by Truckers' Matt Patton, Jimbo Mathus, the Squirrel Nut Zippers' horns and strings, and backup vocals from Seratones frontwoman AJ Haynes, Vincent gets his well-earned time in the spotlight and offers up a delightful album to boot.
Original Dap King contains 10 groovalicious tracks that showcase the backing band and Vincent's skills as both a rhythm and lead guitarist. "Midnight Rendezvous" is highlighted by a punchy rhythm section, ebullient horns and a tasteful solo from Vincent, while the infectious dance jam "Guilty as Funk" features a slinky riff and some deliriously fun vocals from Haynes.
Patton, Mathus, and Vincent work together in various permutations to handle the majority of the songwriting duties, and their material and the band performances they oversee are tight and to the point. The up-tempo "Blues Filler" rips, allowing Vincent to uncork some dirty lead work. On "Jealousy" and "Possession," the band vamps on a propulsive beat, offering a thumping backdrop for Vincent to cut loose over.
While the record largely remains in Vincent's wheelhouse at the nexus of soul, blues, and funk, he and the band also make some bold creative choices. "Black" is a slice of psychedelic rock that features dreamy vocals, a gorgeous outro solo from Vincent, and a string arrangement and guitar work you'd more likely expect from a '90s Britpop artist than from someone who made his bones playing much grittier fare. While it's just a momentary stylistic detour, it does a fantastic job of displaying the range of his abilities as a musician and singer.
As does the rest of Original Dap King. From start to finish, it's a real treat, one helluva good time, and a great starting point for the work of Ernie Vincent.
Ernie Vincent's Original Dap King is out Jan. 13 on Cornelius Chapel Records.
---