ALBUM REVIEW: Damn Tall Buildings Construct a Fresh Sound on 'Sleeping Dogs'
Posted On September 7, 2022
---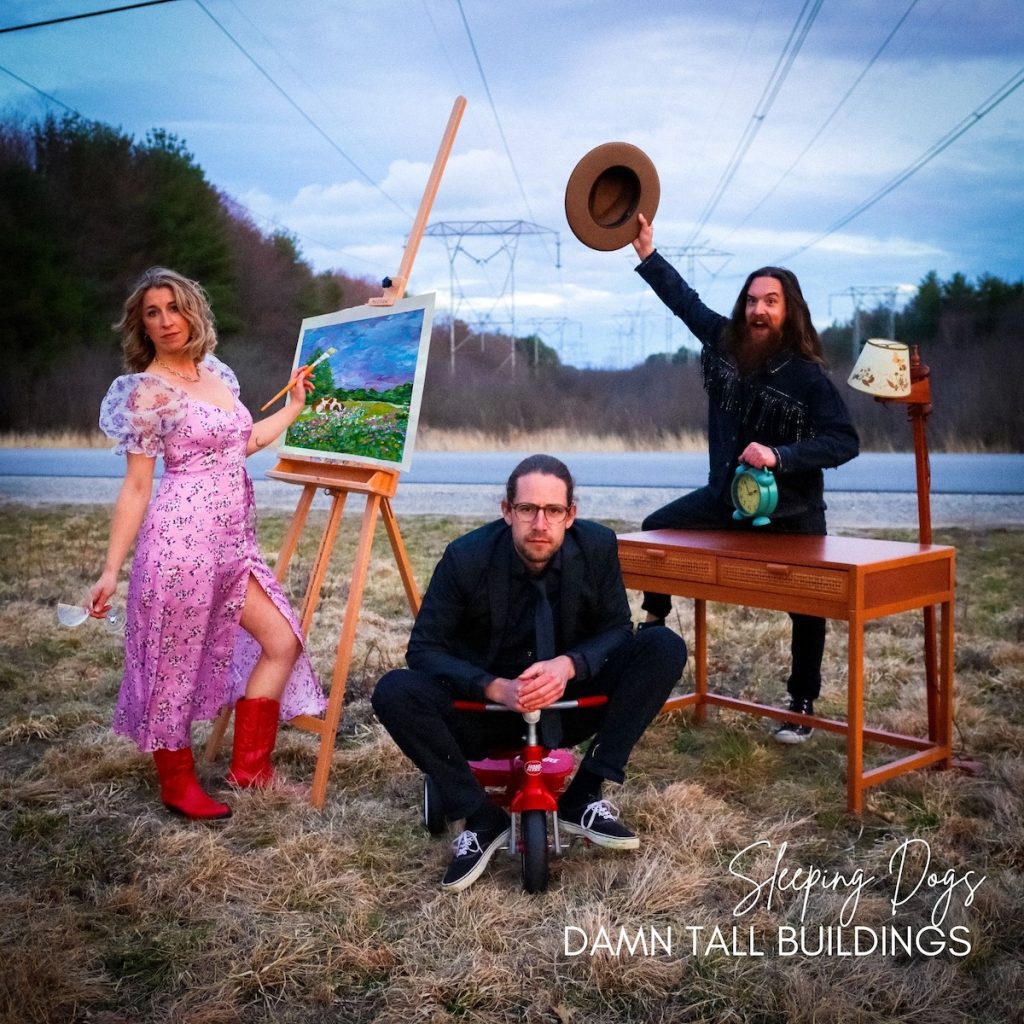 Damn Tall Buildings' latest album, Sleeping Dogs, would fit perfectly in a festival dance tent, and it's just as suitable for singing in the car at full volume. The unpredictable, often rapid-paced original lyrics of Sleeping Dogs are clever and playful, with refrains that lend themselves to singing along.
With this, the band's third full-length album, Damn Tall Buildings establishes their unique musical blend that defies both comparison and categorization. Max Capistran, Sasha Dubyk, and Avery Ballotta first began playing together as students at Berklee College of Music, often busking on the streets of Boston. Their music, strongly rooted in bluegrass, is influenced by jazz, swing, Americana, and old-time music.
Sleeping Dogs' first track, "What a Nice Life," begins with a crackling sound evocative of an old radio before the opening lines. The upbeat music belies the sometimes cynical, sometimes lonesome sentiments of the song: "Not sure who I've been lately / Pretty sure your mother hates me," delivered with a cheery "Oh well" attitude. That subtle thread of identity runs through the album's tracks, including on what the trio calls their new anthem, "Sweet Girl":
Oh I am not myself
I am everyone else.
Throughout the album, too, listeners will get a sense of re-emerging after isolation, whether feeling alone while staring out of "Dark Window Panes" or, as in "Painter," getting ready to "crawl out of this hole that I've been in," the tone remains hopeful.
While the album features several guest artists playing everything from trumpet to lap steel, the three members of the band carry most of the instrumentals that give the project its distinct flavor. Dubyk's bass sets the pulse of the album, with Capistran and Ballotta on fiddle, banjo, and guitar.
"Cold Rain" adds a jazzy, bluesy touch with Dylan McCarthy providing a sweet mandolin run and closes with a lively fiddle break that gives way to guitar finger-picking with an overlay of mandolin.
The band also toys with listener expectations with more than one false ending before resuming play. "Lemons" starts at a lively pace, then just as the song seems to be winding down, the band shifts to a double-time instrumental break reminiscent of an old-time hoedown, subtly weaving in flute played by Twisted Pine's Anh Phung.
While most of the tracks on the album are up-tempo, "Quietly Heartbreaking," with Dubyk singing lead, slows the pace as she sings of waiting "just so I can see you soon." Throughout the album, the trio trade off lead vocals amid their signature harmonies. "My Baby" hints at how the Everly Brothers might have sounded with a little more banjo.
With the title song defying conventional wisdom by advising "Don't you let them sleeping dogs lie," Damn Tall Buildings delivers an album that is anything but conventional, guaranteed to be played on repeat.
Damn Tall Buildings' Sleeping Dogs is out Sept. 9.
---