---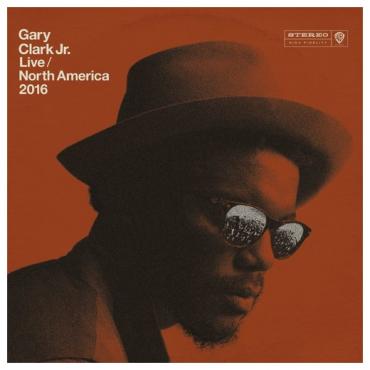 Since his emergence from the Austin, Texas blues scene with his 2011 EP Bright Lights, Gary Clark Jr. has stirred his most impassioned and lasting impressions in live performance. His two studio albums, Black and Blu (2012) and The Story of Sonny Boy Slim (2015) have artfully fleshed out his talents as a songwriter, arranger, and guitar virtuoso. Still Clark's most thrilling and intimate music making takes place on stage.
Live / North America 2016, recorded on tour with no added overdub polish, follows a pattern of releasing rawer and freer road performances of tunes culled from his most recent studio release. Whereas Live (2014) sampled material from Black and Blu,  Live / North America 2016 reworks tunes from The Story of Sonny Boy Slim and a few returns to numbers from his debut and EP releases. Both live albums also place odes to various masters of classic electric blues (Muddy Waters, B. B. King, Jimmy Reed, and Elmore James), alongside Clark originals melding sweet old school R & B, dashes of hip hop, and Hendrix flavored blues. However, if the format of the live sets offer little surprise, the performances are the most essential revelations of Clark's talent. And Live / North America 2016  is the best evidence yet of 33 year old Gary Clark Jr.'s maturation into the most musically and socially significant blues voice of our time.
Opening this 12 song set with the buzzing feedback drenched inner city blues "Grinder" and the deep brooding "The Healing," Clark captures a blues tuned to the anguish of African American communities now. Though not politically explicit protest, Clark's directly stated lyrics reference the street struggle where "people dying for this money" and  "music is our healing." Even when easing into the tender soul grooves and delicate Curtis Mayfield styled falsetto employed on "Our Love," "Down To Ride," and "You Saved Me," or the quiet gospel pleading of "Church," the emotional intensity of Clark's voice and guitar conveys a relentless quest to rise above a world of desperation and hopelessness. This is, of course, the historical blues mission. Tell the truth, cleanse the soul, feel good, keep on pushing.
But if it's clear that Clark values tradition and the links between past and present, it is also evident that his blues vision has expansive boundaries. In both studio and live recordings Clark has gradually absorbed the blues influenced tributaries of R & B, gospel, rock and roll, funk, and hip hop.  And this evolution is what makes Clark so much more than another blues guitar god.  Though Live / North America 2016 presents numerous displays of his jaw dropping fretboard pyrotechnics, it's the thick blankets of distortion, shifting polyrhythmic pulses, stylistic fusions, and deep soul message that lift Clark's music beyond blues convention and outward toward a wide popular audience. Which is to say Clark, like Kamasi Washington in jazz, Kendrick Lamar in hip hop, and D'Angelo and Beyonce in R & B, has come upon a sound that evokes a visceral feel of life in the 21st century USA.
Perhaps the best summation of Clark's sensibility and stance is "When My Train Pulls In," always a live concert highlight and a tune appearing in different versions on his Bright Lights EP and both live albums. On Live / North America 2016 the song intros on moody slow evolving riffs setting up a tale of a life going nowhere, feelings of being born to lose, and a fragile hold on sanity. Then as the chord changes and tempo quicken Clark lays out the bedrock blues manifesto:
I'm gonna take the next train down the line
I'll be ready now
I'll be ready when my train pulls in
Oh I'll be ready now
I'll be ready when my train pulls in
I know my time ain't long around here
And I can't live this life again
The guitar firestorm that follows is a near ten minute exorcism of demons unchained through a staggering array of shrieking treble cries, lyrical eloquence, and violent sheets of feedback. Powerful proof the blues is about affirmation not surrender.
---