A Zesty Blend of Flavors at Louisiana's Blackpot Fest
Posted On October 31, 2018
---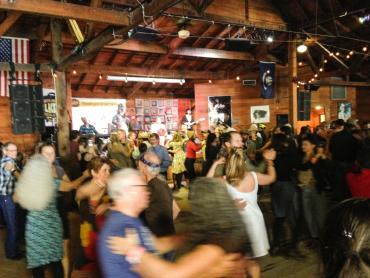 I spent this past weekend at the Blackpot Festival and Cook-Off, which takes place in Lafayette, Louisiana. This year marked the festival's 13th year of celebrating and preserving South Louisiana's traditional culture of gathering around the cast-iron pot for music, dancing, and good food.
I'd been hearing stories about Blackpot for a number of years — I met the host band, the Revelers, during my many summers at the Miles of Music Camp in New Hampshire — but had never attended. Many of my friends and compatriots on the music scene had attended, though, and they spoke about Blackpot with the hazy awe of Phishheads sharing stories of their first time seeing Phish. Suffice to say, I'd heard some serious hype. But Blackpot absolutely met (even exceeded) my hopes.
The band and I arrived on Thursday night, just in time for the pre-festival kickoff party located in nearby Eunice. (Blackpot also offers a music camp that takes place the week leading up to the festival, and this party marked the transition from the camp to the festival.) There'd been jambalaya cooking all afternoon, and the camp and festival attendees were getting ready to dance the night away to Tejano band Los Texmaniacs and zydeco royalty Preston Frank. And we certainly danced. There was also a raffle, where the prize was an enormous (like, truly gargantuan) bottle of tequila. I bought five tickets and ended up winning the raffle, and for the next few hours I was the most popular girl at the party. I was happy to share — so happy that the tequila was gone by the end of night two.
But anyway, back to dancing. Dancing is a huge part of what makes this corner of American culture special — the music is completely inextricable from the social dancing it's meant to accompany. This is true of a lot of music traditions, but it's especially true in Cajun country. Dancing the Cajun two-step is, for my money, more addictive than almost any other possible musical experience. It's a groove that rocks and drives, but it lays back and lulls you into a trance, too. It's a loping, shuffling, hip-swinging beat that sinks into your bones as the band plays for hours on end, and when you look out onto the dance floor and see people of all ages coupling up for a two-step, you can't resist its pull.
This is, of course, social dancing — a tradition designed to bring communities and people together. And the ubiquity of social dancing at Blackpot makes everyone in attendance feel completely comfortable asking numerous good-looking (or good-dancing) strangers to join them on the dance floor. A running joke at the festival was the website BlackpotSingles.com, whose homepage reads "Countless people make the annual pilgrimage to Eunice, Louisiana to engage in an elaborate mating ritual. Your true love for a night or a lifetime is waiting…" It's not a real dating site, but the joke is that you don't need a dating site when you can just ask the nearest cutie to two-step.
The morning after the kickoff party, everyone nursed their hangovers and made their way to the festival site. The festival takes place at Vermillionville, a park and living history museum in Lafayette that recreates a turn-of-the-20th-century village where the Acadian, Creole, and Native American peoples would have lived, and preserves their cultural traditions. The main stage was centrally located in the big dance hall, and it featured legendary Cajun and zydeco dance bands playing music people could twirl and two-step to all day and night. There were also two smaller stages — one in the Vermillionville chapel, and the other in the one-room schoolhouse, where many of the non-Louisiana and non-traditional artists played. The audiences came to the smaller stages for a more intimate, listening-focused experience, or to rest their feet from the dance bands at the main stage.
On the blackboard behind us were 100 lines, written in chalk, that a student in the schoolhouse would have been assigned as punishment: "I will not speak French." These are cultures that have survived despite deliberate efforts to erase them, and it was a sobering and humbling (yet fitting) backdrop for the more political songs in our set. During our set and others I heard at the side stages, you could hear a pin drop while the band played, but as soon as each song finished, the applause was uproarious. The enthusiasm from all the attendees was palpable, and I felt buoyed by it as a performer and as another dancer, listener, and partier.
As a lifelong mostly-vegetarian, I would not recommend Blackpot to any of you who are hardline non-meat-eaters (unless you bring your own food). After observing the almost total absence of vegetarian food on the premises, I decided to adopt a "when in Rome" attitude and sampled the gumbo, jambalaya, gravy, and pork cracklins made for the cookoff on Saturday afternoon. The gumbo was my favorite. I couldn't resist trying it — I was hungry, first of all, but more importantly, the food is as central to the culture in South Louisiana as is the music and dancing. It's all part of how people come together.
Beyond the festival stages, the party continued late into the night at the campground. I spent a lot of time at one centrally located campsite where a large group of people I didn't know (Blackpot regulars, I assume) jammed traditional Cajun tunes and songs nonstop until the wee hours, with strangers and friends dancing all around them. People cooked and shared their food with whoever walked by.
Blackpot shares a lot in common with the bluegrass and folk festivals that I'm used to — social music as well as performances, camping, enthusiastic audiences, and a friendly community of people looking to connect. But I was really struck by the festival's (and its attendees') dedication to preserving and sharing their own specific cultural history, while at the same time welcoming outsiders into it with open arms. People there are incredibly dedicated to and proud of their culture and traditions, but no one seemed to take any issue with an indie-Americana band from New England playing at the Cajun festival. The "that ain't traditional" crowd of self-appointed gatekeepers was nowhere to be seen.
The welcoming spirit at Blackpot got me thinking about how possible it is, and how magical it is, for people of different backgrounds to truly come together over shared experiences. Experiences like moving to the pulse of the fiddle, washboard, and accordion. Or a late-night bowl of gumbo.
---