A Tale of Two Festivals…
Posted On February 9, 2010
---
The old bedtime story of David versus Goliath might just have a modern day metaphorical counterpart this summer. The undisputed heavyweight champion of Colorado summertime music festivals, AEG Live's Mile High Music Fest, rescheduled for 2010 to the weekend of August 14th and 15th, turns out directly conflicts with the 20th anniversary of the decidedly intimate yet more established Folks Fest in nearby Lyons, Colorado which celebrates it's 20th anniversary that same weekend.
a shot from the stage at Folks Fest in Lyons, Colorado – credit: GetBoulder.com
Now you'd think that an event as large, complex, and professionally run such as Mile High Music Fest would avoid scheduling on the same weekend as a well known established music festival like Folks Fest. After all, each festival has historically drawn from the same pool of performers including Stephen Kellog and the Sixers, Amos Lee, Ray LaMontagne, KT Tunstall, Martin Sexton, Brett Dennen, Josh Ritter who have all played both Folks Fest and Mile High Music Fest in the recent past. This year's Folks Fest headliner Ani Difranco, who also played last year's installment of Mile High Music Fest, joins Richard Thompson, The Waifs, and Jenny Lewis of Rilo Kelly (with more to be announced) for this year's edition of Folks Fest. Mile High Music Fest announces it's first round of headliners in March.
So what's the deal? Brian Eyster, Marketing honcho for Folks Fest and it's sister festivals Telluride Bluegrass and Rockygrass, pointed out a few pretty choice perks of choosing Folks Fest over the much larger and diverse Mile High Music Festival: "Folks Fest is a small, music connoisseur, community-minded, family-friendly festival held on 20 wooded acres along the St. Vrain River in the small town of Lyons. Mile High Music Festival, with its location in Commerce City and much larger crowds, is a very different experience that will appeal to a different type of festival-goer." Loosely translated this means some of you might actually prefer listening to folk music with your toes dipped in St. Vrain creek surrounded by mountain views over loud rock and roll in front of the postcard worthy backdrop of the smokestacks and oil refineries of Commerce City. Of course to be fair, we haven't yet heard this year's lineup for MHMF, which musically speaking could end up being compelling enough for some folks to choose smokestacks over mountain views – to each his own I guess.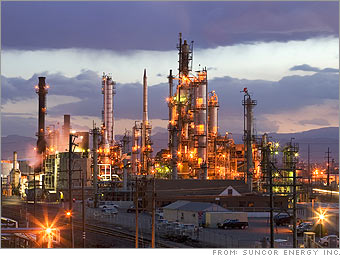 photo of Commerce City's best know scenery – credit: Suncor Energy
---