50 STATES OF FOLK: The Sacred Harp of Henagar, Alabama
Posted On August 21, 2020
---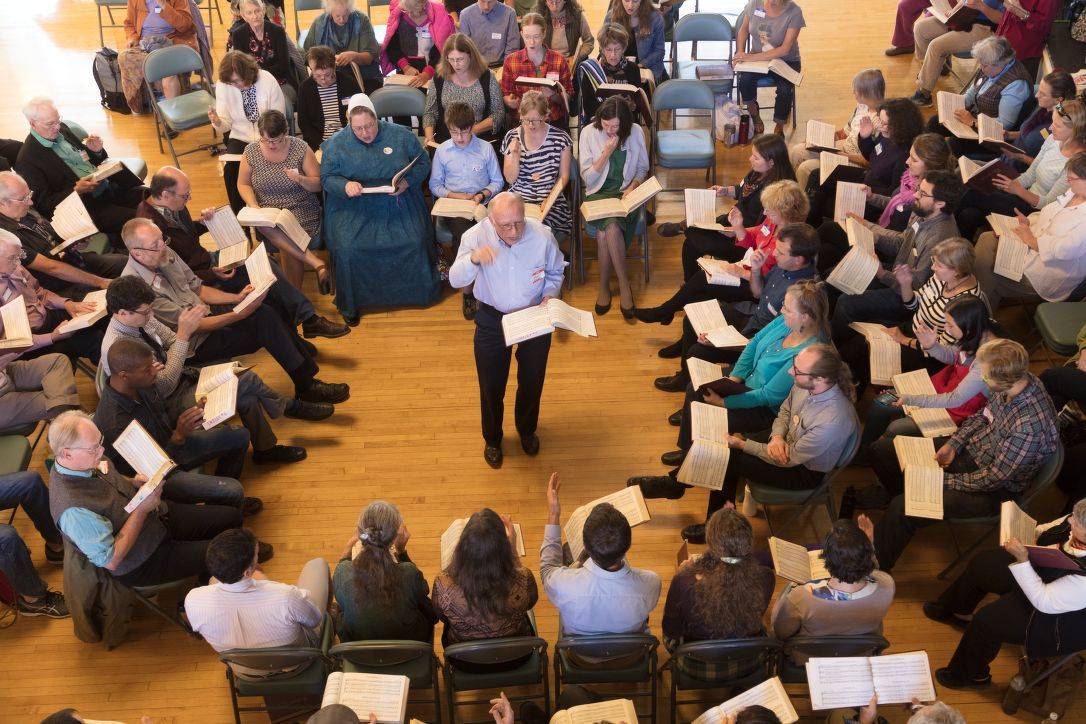 Vermont's Sacred Harp Community's singers perform "shape note" hymns from the Sacred Heart tunebook in four-part (in which tenors carry the lead) a cappella at Burlington, Vermont's City Hall. (Photo by Carol M. Highsmith, America Project in the Carol M. Highsmith Archive, Library of Congress, Prints and Photographs Division)
A cappella is having a bit of a moment in pop culture these days. With the popularity of groups like Pentatonix and the blockbuster success of the Pitch Perfect movies, we can certainly forgive you if you're experiencing a bit of a cappella exhaustion.
But a cappella is more than just conventionally attractive, generically diverse millennials singing pop and Disney mashups. Before the Barden Bellas, there were barbershop quartets. And before the barbershops, there were shape notes and the Sacred Harp.
American Worship Music and the Advent of Shape Note Music
At the point of America's founding, music was not a major component of religious services. Post-Reformation, a large portion of Protestant Christians viewed anything not directly supported by the Bible as blasphemy. So, rather than singing lyrical hymns, many worshipers sang psalms — that is, they would chant direct passages of the Bible with a very basic melody.  In the words of comedian John Mulaney, "they're not quite songs, they're psalms."
So as you can imagine, psalms weren't (and aren't) exactly the most interesting or beautiful form of music. By the late 17th century, many churchgoers were tired of the limited nature of Old World psalmody. They wanted something more.
It wasn't until the Second Great Awakening in the early 1800s, and with it the advent of charismatic preachers leading camp meetings with hundreds of worshippers, that hymns and communal singing was centered in the religious practice of Americans. This new revival of hymnody led to the creation of shape note tunebooks, the first widely recognized form of white religious folk music in the United States.
Shape notes were simply a way to present and teach music to people who weren't familiar with standard Western music notation, and therefore had a hard time understanding written representations of time signatures and pitches. First introduced by William Little and William Smith in their 1801 book, appropriately titled The Easy Instructor, the shape note system assigns a unique shape to each of the four syllables (fa, sol, la, mi) commonly used at the time to represent the seven-note scale. With time, as the young progressives of the mid-1800s pointed out that there were seven notes in a scale and therefore there should probably be seven syllables to match them, this would evolve into a seven-shape notation system.

This quaint but practical tool for learning music caught on quickly. While The Easy Instructor was first published in the urban East, it was nearly immediately adopted by the compilers of traditional rural songbooks — so much so, that shape note singing became almost exclusively associated with the traditional singing of rural America, and particularly the South.
And none of these books would have a bigger impact than The Sacred Harp.
The Creation of the Sacred Harp
Originally published in 1844, The Sacred Harp has been in continuous use for over one and a half centuries. While most popular around the foothills of the Appalachians that stretch into Georgia and Alabama, Southern musicologist George Pullen Jackson noted in 1944 that "aside from the Holy Bible, the book found oftenest in the homes of rural Southern people is without doubt the big oblong volume of song called The Sacred Harp."
Named for the sacred harp of the human voice, Sacred Harp is an unusually democratic form of music: Everyone was given a voice by God, and therefore all can participate. Songs are usually sung with the tenor part carrying the melody, while the bass, alto, and treble parts provide harmonies and rhythmic variation. Both the tenor and treble sections include a mix of genders, which helps to create the effect of a six-part harmony. Sacred Harp songs are written in a mix of major, minor, and modal keys and routinely break many of the most stringent rules of Western song composition with abundant parallel fifths, octaves, and unisons, along with crossing of inner voices to higher and lower levels. However, it is most distinct as a style in that there is really very little volume modulation among singers — all Sacred Harp songs are sung at maximum volume at all times.
Singers are arranged into a hollow square based on parts — altos face tenors, trebles face basses. There is no concept of an audience in this tradition: If you're there, you're singing with everyone else. At the center stands a leader. Throughout the day, participants take turns stepping into the hollow square and leading one or two songs. When you ask, singers always say that central point, where all voices converge in perfect balance, is where the experience of Sacred Harp music is most powerful.
All of which to say this isn't the traditional gospel music you're probably used to. In the words of NPR correspondent Melissa Block, "Sacred Harp is a whole other thing. This is full-body, shout-it-out singing. The harmonies are stark and haunting — raw, even. In Sacred Harp, you don't want a sweet sound."
Modern-Day Sacred Harp
While Sacred Harp songs are almost all overtly spiritual, they are also fairly non-denominational, allowing them to be sung in a wide variety of churches. However, if there is one church best known for Sacred Harp, it is Liberty Baptist Church in Henagar, Alabama. It is there where T Bone Burnett recorded nearly 40 Sacred Harp songs for use in the soundtrack of the Cold War movie Cold Mountain. It is there where much of the iconic Sacred Harp documentary Awake, My Soul was filmed. And above all else, it is there where the annual Ivey Memorial Sacred Harp Singing and Henagar Union Convention take place.
For over a hundred years, singings and conventions like these have largely been what has kept Sacred Harp alive as a tradition. Conventions last several days and often draw people together from all across the country. In the early days of Sacred Harp singings, faithful worshippers were known to travel for several days in order to attend a convention. Nowadays, they serve as both a homecoming for Southerners who have moved out of their rural towns and as a way to welcome newcomers into the tradition. With this hallmark open door policy, despite its distinctly evangelical Christian origins, one can find friends in the Sacred Harp community of all backgrounds: gay, straight, Christian, Hindu, Black, and white. There is something about the joining of voices in a raw, powerful way that brings people together, despite all the polarization of modern society.
While Liberty Baptist remains the gravitational center of Sacred Harp, one can find singings all across the United States, and even abroad, with monthly and annual singings taking place in such cities as Ann Arbor, Michigan, Boston, Denver, and San Francisco. One of the most prolific groups is the London Sacred Harp, which has weekly singings around London and a monthly beginners singing school.
Even now, as the world is locked down in the face of a deadly virus, the Sacred Harp carries on. Tim Eriksen — who contributed to both the Cold Mountain movie soundtrack and "Help Me to Sing: Songs of the Sacred Harp," the accompanying soundtrack of the documentary Awake, My Soul — has created The Sacred Harp Quarantine Chorus to help us join together, all across the world, and raise our voices in song.
So now, please turn your hymnals to page 146. We will begin by singing the shapes.
Listen to more of the Sacred Harp, including some modern interpretations, in this month's 50 States of Folk playlist!
---