Jason Isbell & The 400 Unit Announces New Album, 'Weathervanes'
Posted On February 21, 2023
---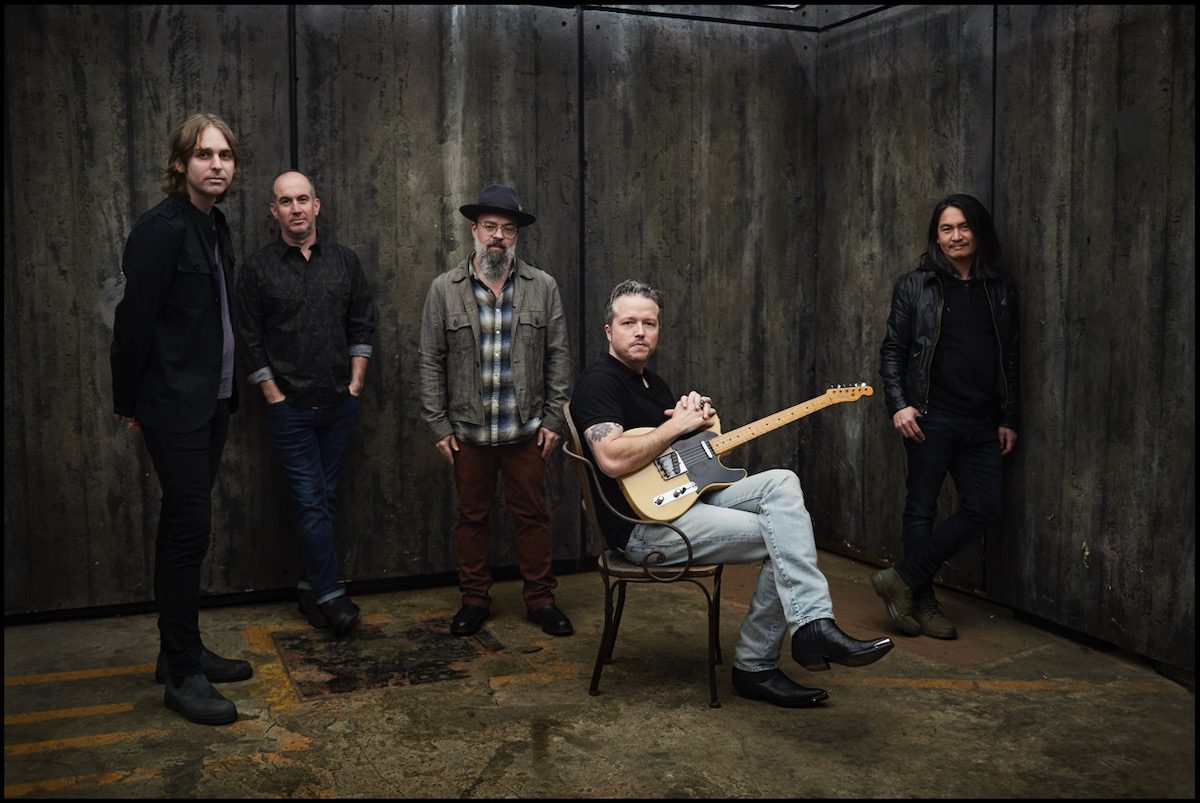 Jason Isbell and the 400 Unit (photo by Danny Clinch)
After teasing new music this year in a slickly produced, nearly two-minute-long video narrated by ESPN's Wright Thompson yesterday, the announcement officially came today: Jason Isbell & The 400 Unit returns on June 9 with a new record called Weathervanes.
.@JasonIsbell and @the400Unit pic.twitter.com/VrSMCowfTd

— Southeastern Records (@SoutheasternRec) February 20, 2023
"Every album carries the same revelatory power," Thompson says, before continuing, "He shrinks life small enough to name the fear and then strip it away, helping his listeners make sense of how 2 + 2 stops equaling 4 once you reach a certain age and carry a certain amount of scars."
It might be a riff on a old cliché, or a subtle homage to Bruce Springsteen's Broadway admission that when he met Clarence Clemons the basic principles of math stopped making sense, because when certain musicians come together "in search of lightning and thunder, they come together in a whole that is greater than the sum of their parts."
Regardless, new Isbell tunes mean life is indeed whole again for many of his most devoted fans.
Weathervanes, which will be released on Isbell's own Southeastern Records/Thirty Tigers, features 13 new tracks, all of which Isbell wrote and produced. (Matt Pence contributed to production on five of the songs as well.) The longstanding 400 Unit band, comprised of Derry deBorja (pianos, synths, vocals), Chad Gamble (drums, percussion), Jimbo Hart (bass), and Sadler Vaden (guitars, vocals), returns as well. Addition guests include Amanda Shires (fiddle, vocals), Mickey Raphael (harmonica), Sylvia Massy and Ian Rickard (vocals), and Morgan O'Shaughnessey (vocals).
A new single also arrives today, called "Death Wish. Isbell's gruff, yet urgent vocals burst forth immediately, as he offers the jarring line, "Oh, did you ever love a woman with a death wish?"
Additionally, Isbell shared a fresh batch of tour dates across the US, Canada, and Australia through the summer. Check those out here, as well as the full track listing for Weathervanes below.
Weathervanes
"Death Wish"
"King of Oklahoma"
"Strawberry Woman"
"Middle Of The Morning"
"Save The World"
"If You Insist"
"Cast Iron Skillet"
"When We Were Close"
"Volunteer"
"Vestavia Hills"
"White Beretta"
"This Ain't It"
"Miles"
---