Americana Boogie new releases for the week of June 17: Willie Nelson, NRBQ, Felice Brothers, Ian McLagan, Clothesline Revival and more…
---
IAN McLAGAN & THE BUMP BAND
United States (Yep Roc)
As a founding member of the Faces, McLagan alternates between lusty grooves and reflective musings, showcasing McLagan's beguiling charm and timeless gift for crafting memorable hooks. The 10 original tracks on United States feature Ian on vocals, keys, and guitar, joined by his longtime collaborators the Bump Band ("Scrappy" Jud Newcomb, Jon Notarthomas, and Conrad Choucroun). McLagan recorded and produced the album at his own the Doghouse Studios in Manor, TX.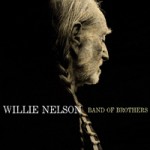 WILLIE NELSON 
Band of Brothers (Sony Legacy)
Nelson's mammoth discography has its flat spots, but since changing labels two years ago the cowboy sage has been on a roll. This is his first album of (mostly) originals in an age, and while nothing matches his peaks (at 81, that would be a shock) it's still a delight. There's a wry, autobiographical slant to the best songs; defiant on "Bring It On", rueful on "The Wall", gleeful on "Wives and Girlfriends", and proud on a title track that celebrates his fellow outlaws. The melodies are familiar, but the stuttering guitar style and weathered, laid-back vocals are still unique, still oddly touching.  (from The Guardian)
NRBQ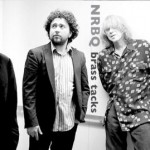 Brass Tacks  (Clang!)
It was 1966 when pianist Terry Adams started NRBQ in his Louisville, KY home. Says Adams, "I remember saying, 'I'm going to have a band that can play any song it wants, whenever it wants, regardless of what that style is.'" Forty-five years later, after more than 20 studio albums, more than a dozen live albums, not to mention countless, and legendary, live performances around the world, NRBQ finally has new studio album. With Terry on keys and vocals, Scott Ligon on guitar and vocals, Conrad Choucroun on drums and Casey McDonough on bass and vocals, Brass Tacks is brimming with swinging rhythms, sweet vocals, and sparkling sound. The dozen new tunes, served up in the unique Q mix of pop, rock, jazz, country, and more — "It's just NRBQ music," says Adams — continues the trend of recent years, music that's among the best that's been recorded over a very long career. The songs are upbeat, powerful, happy, and filled with love.  (from press release)
Also new this week…
BALSAM RANGE – Five  (Mountain Home)
CLOTHESLINE REVIVAL – The Greatest Show On Mars  (Paleo)
RONNIE EARL & THE BROADCASTERS – Good News (Stony Plain)
THE FELICE BROTHERS –Favorite Waitress (Dualtone)
TOM FREUND – Two Moons  (Surf Road)
ANDY T-NICK NIXON BAND – Livin' It Up (Delta Groove)
ANDERS PARKER – There's a Blue Bird in My Heart (Recorded & Freed)
JACOB THOMAS JR. – Original Sin    (self released)
Above is all of the Americana and roots-type music releases for the week of June 17th, 2014 from Americana Boogie. Click the artist or album links to find out more.  The artist's names link to their websites and the CD title links go either " target="_blank">Amazon,  CD Baby or the artist's site for ordering or downloading.
Coming out soon… THE LOUDERMILKS, JONAH TOLCHIN, THE MASTERSONS, JIM LAUDERDALE, CORB LUND, OLD CROW MEDICINE SHOW, THE DUHKS, SEAN WATKINS, DAVID OLNEY, TRAMPLED BY TURTLES, PUSS 'N BOOTS, DON FLEMONS, JOHN HIATT, COWBOY JACK CLEMENT, LOUDON WAINWRIGHT III, SHOVELS AND ROPE  … more new releases
.
Here's a link to this week's Americana Music Association Americana Airplay Chart
Bill Frater
Freight Train Boogie
---