Your 50 Favorite Roots Music Albums of 2018
Posted On December 20, 2018
---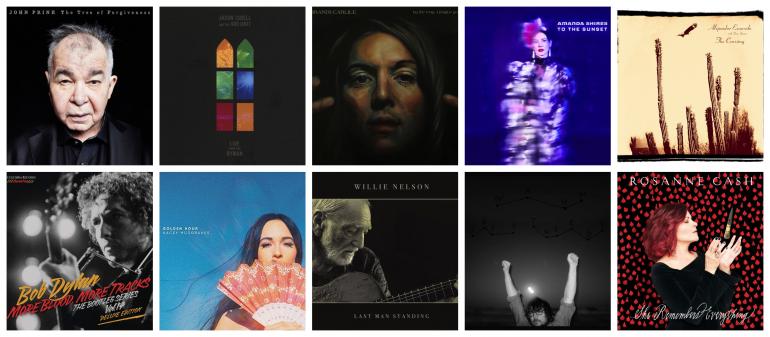 Starting in January, with releases from folks like Anderson East, First Aid Kit, Steep Canyon Rangers, Mary Gauthier, and Calexico, and all the way through the past few weeks, 2018 has seemed like a nonstop firehose blast of new roots music. And we're not complaining! There wasn't a slow month all year, and there were very few duds among the new albums from established artists and highly anticipated debuts.
That's a lot of good music to wade through, and picking favorites is tough. But a few weeks back, we asked you, our readers, to vote for your favorite 2018 roots music releases, and more than 10,000 of you obliged! That's 10,000 ND readers whose opinions we trust and who we'd gladly grab a beverage and talk songs with. Barring that (10,000 beverages is a lot, after all, and we don't even want to think about that tab), we've made a ranked list of the top 50 roots music albums on your ballots, and we hope it leads to lots of good listening in the next few weeks and into 2019.
If you'd like to keep track of new music in the new year, we hope you'll sign up for our twice-weekly email newsletter right here. And please consider supporting No Depression's roots music coverage online and in print all year long by subscribing. More info on that here.
1. John Prine – The Tree of Forgiveness
2. Jason Isbell & The 400 Unit – Live from the Ryman
3. Brandi Carlile – By the Way, I Forgive You
4. Amanda Shires – To the Sunset
5. Alejandro Escovedo – The Crossing
6. Bob Dylan – More Blood, More Tracks: The Bootleg Series Vol. 14
7. Kacey Musgraves – Golden Hour
8. Willie Nelson – Last Man Standing
9. Jeff Tweedy – WARM
10. Rosanne Cash – She Remembers Everything
11. Nathaniel Rateliff and The Night Sweats – Tearing at the Seams
12. Dave Alvin and Jimmie Dale Gilmore – Downey to Lubbock
13. Aaron Lee Tasjan – Karma for Cheap
14. John Hiatt – The Eclipse Sessions
15. Mary Gauthier – Rifles & Rosary Beads
16. Michael Nesmith and the First National Bank Redux – Live at the Troubadour
17. Michelle Malone – Slings and Arrows
18. Neko Case – Hell-On
19. Ry Cooder – The Prodigal Son
20. American Aquarium – Things Change
21. Courtney Barnett – Tell Me How You Really Feel
22. The Jayhawks – Back Roads and Abandoned Motels
23. I'm With Her – See You Around
24. We Banjo 3 – Haven
25. Elvis Costello and The Imposters – Look Now
26. Sarah Shook & The Disarmers – Years
27. Ike Reilly – Crooked Love
28. Colter Wall – Songs of the Plains
29. Richard Thompson – 13 Rivers
30. Bruce Springsteen – Springsteen on Broadway
31. Lucero – Among the Ghosts
32. Ben Harper and Charlie Musselwhite – No Mercy from This Land
33. First Aid Kit – Ruins
34. (tie) Gretchen Peters – Dancing with the Beast
34. (tie) Paul Thorn – Don't Let the Devil Ride
36. Boz Scaggs – Out of the Blues
37. Mark Knopfler – Down the Road Wherever
38. Amy Ray – Holler
39. Paul McCartney – Egypt Station
40. Lori McKenna – The Tree
41. Bottle Rockets – Bit Logic
42. Old Crow Medicine Show – Volunteer
43. Amos Lee – My New Moon
44. Mumford and Sons – Delta
45. Lake Street Dive – Free Yourself Up
46. Leon Bridges – Good Thing
47. Calexico – The Thread that Keeps Us
48. Willie Nelson – My Way
49. Buddy Guy – The Blues Is Alive and Well
50. Florence and the Machine – High as Hope
---