You Better Hark
Posted On October 23, 2015
---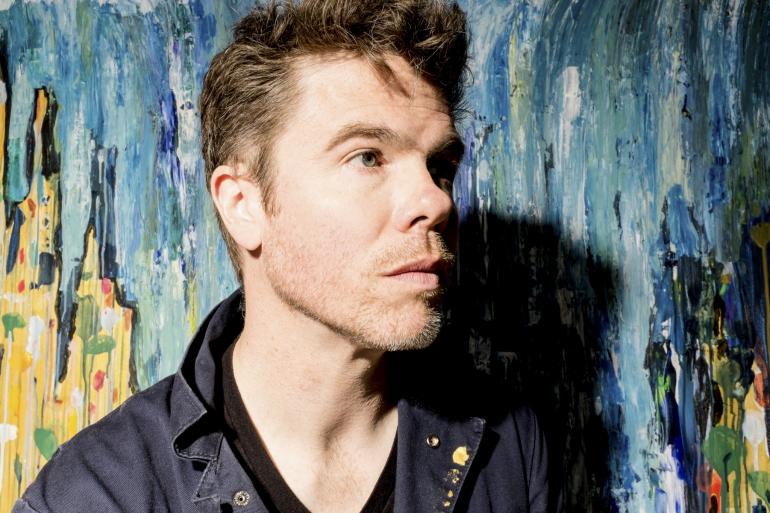 Josh Ritter made a deliberate decision to record his new album, Sermon on the Rocks (Out Oct. 16 on Pytheas Recordings), in New Orleans, a city he's not from and hasn't spent much time in, apart from a tour stop every now and then. It wasn't about picking up a Cajun vibe or tapping into the city's mysteries, he says. It was about having fun, and capturing the music that emerges out of a good time among friends.
"When I started to realize I wanted to try and drive this record as much as I could, I wanted to get out in front of a few basic things," says Ritter. "One [thing] was the fact that I think recording should always be a party. It should just always be fun. There's no reason it has to get analytical and technical and antiseptic. There's still a beating heart in the middle of things. And you want your friends, your band, your family to have a good time."
So in January he set up shop in a big house in New Orleans with his partner, Haley Tanner, and their two-year-old daughter, Beatrix; his longtime performing comrades in the Royal City Band, Zachariah Hickman on bass and Sam Kassirer on keys; and Josh Kaufman, who played guitars on the record; and The Walkmen's Matt Barrick on drums.
"I wanted the atmosphere. I wasn't looking for musical input. I didn't want to go Cajun or anything. But I love the place, I love it so much," he says. Besides, he adds with a laugh, "It can't hurt to walk home in the middle of the night through all these beautiful old homes and beautiful magnolia tries and the smell of the river and everything like that. That can't hurt a musician, you know?"
He also took inspiration from the town's "deep, deep mulch of history" and reverence for the arts.
"There's something about the place that really gives its due to homemade things," he says. "What they treasure are these homemade things, the food, even down to the Mardi Gras floats. To someone like me, that's what I do is make stuff, that's just so cool."
'All the Sunday School'
What he made in New Orleans is a powerhouse of a record that explores the far reaches of religion, the inward pull of home, and musical sounds from all across the spectrum.
"I didn't come to ask you how you're doing these days," Ritter growls at the start of "Birds of the Meadow," the opening track of Sermon on the Rocks. That growl collects across heavy chords in a solid four beat, simple in its foretelling of doom, foreboding as all hell. Fuzzed electric guitars pick up the theme, with Ritter finally introducing the chorus with a snarled: "You better hark." Like the devil himself, Ritter switches in an instant from heavy and dark to a higher croon, charm turned full on, making what's bad sound, well, maybe a little good.
Certainly, the good side of being "bad" is explored in "Getting Ready to Get Down," a story song like only Josh Ritter can write 'em about a girl who gets sent off to Bible college and comes back to her hometown … changed.
At the heart of those songs and most of the others on Sermon is religion — getting it, losing it, being shaped by it. Against the backdrop of a city where worship and debauchery often live side by side, both celebrated in different ways but with equal fervor, Ritter made a record whose songs by turn dig into joy, despair, pride, and shame, with keen insights into all.
"I can try to write without using religious imagery, but it just comes out," says Ritter. "I can't avoid it, I can't seem to get past it. There's so much about these images and these stories … to me they're just these huge pearls of meaning and ambiguity and just strangeness. Here, in this book, are all the examples of all the things that people can do to each other. It's a common language that we all seem to know."
Ritter, who grew up in a Lutheran household in Idaho, describes religious stories as "profoundly in my bones," but time has put him at arm's length from organized worship.
"I went to all the Sunday School. All the confirmation," he shares with a bit of a chuckle. "I wouldn't say I felt an affinity with it, but I certainly felt a fear. I definitely have felt the effects of that in my life."
These days, Ritter doesn't think of himself as religious. And even the term "spirituality" is something he says he hasn't quite been able to pin down yet.

"I don't feel like I learned being who I am from the Ten Commandments." - Josh Ritter
"If it means an ability to understand that there are things that I'll never know, then that's fine," he says. " … I have things that I believe in, but they definitely feel like mortal things. I love playing music with my friends, I love my partner, I love my kid, I try and do good, you know? I try to not get any blood on my hands. I don't feel like I need religion to be this person, and I don't feel like I learned being who I am from the Ten Commandments."
He continues: "I feel like if there is a religion for me, it's the one that I'm trying to write about on the record. There's an actual warm-blooded person that each of us deals with every day, ourselves and the people that we try and be kind to. There's always obstacles to that, but it's really very simple. You just try to do good to people, and hope that they do good back."
New Wiring
Ritter grew up in Moscow, Idaho, home of the University of Idaho, then set out for Oberlin College in Ohio intending to follow the family career path: neuroscience. But halfway through college, he decided his love for folk music was a calling, and he switched his major to one he designed himself: narrative folk music and US folklore. A profile in a college publication during his senior year charted his musical beginnings – his first album, self-titled, was recorded in a campus studio in 1999 – as well as the final research project he was working on at the time. Topic? Anxieties about technology in cowboy and railroad songs.
Now on the high side of his 30s, with seven albums behind him, he's got some pretty well-worn neural pathways when it comes to songwriting. For Sermon on the Rocks, however, he opted to do some rewiring.
"I felt like I needed to radicalize a part of me somehow. I needed to find some way to get out of the kind of rut you get into if you sit down and you pick up your guitar and you start to try to think thoughts," he says. He decided he didn't need to "pontificate more," and came into the studio with songs that were pretty well finished, in terms of arrangement and lyrics – a departure from previous albums, which were heavily shaped in the studio, he says.
That's not to say there wasn't some spontaneity involved. In writing the songs, Ritter recorded early takes on his own and started toying with them on the computer. Along with the learning curve came some slides in unexpected – but welcome – directions.
On "Birds of the Meadow," for example, that dark, foreboding opener, Ritter says, "this weird, wild direction that it takes is because of my happy accidents, trying to figure out how to use a complicated piece of software. So I followed it around and it became this thing that actually became a song. I couldn't do that if I was sitting down with a guitar."
Although several previous albums were produced by Royal City bandmate and in-demand Americana producer Sam Kassirer, Ritter decided to sit behind the dials himself this time – alongside co-producer Trina Shoemaker.
Not long after he reached out to her, on the recommendation of friends, and started getting her responses to the demos he sent her, he was sold, he says.
"Her notes, her responses, some of the sideways approaches that I saw her wanting to do and some of the wild ideas that I thought she had were just so invigorating to me," Ritter says. "I knew I had to work with her."
For her part, Shoemaker, who has worked on albums by Brandi Carlile, Sheryl Crow, and Emmylou Harris, saw an artist who was ready to break new ground. She uses words like "modern," "out there," and "weird" to describe his demos – all of them meant in a good way. She was digging what he was doing, but first she had to get one thing straight: If he wanted to record in New Orleans, Shoemaker's home for 16 years before Hurricane Katrina, he needed to be there for the right reasons.

"He's a dark, mysterious cat and he absolutely belongs in New Orleans." - Trina Shoemaker
"I was initially against it because I didn't know why he wanted to go to New Orleans," Shoemaker says. "New Orleans is a heavy city. … I wanted to make sure that he wasn't going to be one of those guys who was like 'I'm going to go to New Orleans and pick up some of that New Orleans flavor on my record while I'm there.'"
But as she got to know him, she became convinced that he and the city were a good fit, she says. "It's because he's a dark, mysterious cat and he absolutely belongs in New Orleans."
Ritter and Shoemaker were also a good fit in the studio, as it turned out. Shoemaker praises Ritter's intellect, his kindness and humor, and his bourbon. But she most appreciates his ability to clearly communicate what he wants.
"So much of it was me just trying to sonically represent what he already had in his mind," Shoemaker says. " … He had an identity (for each song). It was just a matter of really trying to extrapolate on it and make it into something I could make in sound."
Not bad for a rookie:
"It was a really exciting process, and also one that over time I found out I knew a lot more about than I thought," Ritter says. "I'm not good with gear. I've never been an analytical thinker in any way. But what Trina taught me was if you know what you want, you can bring it across. That was a real education for me."
Picking up More
Much was made of Ritter's last album, 2013's The Beast in its Tracks, being Ritter's "divorce album." (So much so that Joe Pernice, weary of seeing that idea in the headline of every review of Beast, took it upon himself to write his own Josh Ritter divorce album.) And certainly its songs, written in the aftermath of the end of his 18-month marriage to singer-songwriter Dawn Landes, did plenty of reflecting on faded relationships and hopes for moving on. But it's a trap to assume any singer-songwriter's songs are solely autobiographical, and Ritter is especially prone to defying that notion.
Sermon's songs lurk in dark corners but also dance in the sunlight (or perhaps in a "Lighthouse Fire," as one song declares the subject's love to be), introducing more characters than could ever be contained in just one human being. But Ritter himself seems to be living pretty far over into the joy and contentment end of the spectrum these days.
"My life has changed so much since The Beast in its Tracks," he says. "I have a great family, you know? I have a great partner, and our kid is super sweet and at the time I was starting to write these songs I was driving her around a whole bunch."
Taking on the role of dad (and driver) took some getting used to ("Your old world is gone," he observes. "That's the thing that takes a little while to register."), but he insists it's changed his songwriting for the better.
"You can't always just stop and write down songs. For the eight hours a day that you're out there and about in the world, either on tour or back home, you just write in your head. … I tried to start writing without pencil or paper. You can't remember everything, but at the end of a long day you can go home and write a verse or two down, out of your head, and start rolling it around a bit and complete it, and you feel like you've really done something.
"It's amazing how much I write now, compared to the times in my life when I've had 12 uninterrupted hours. I write so much more now. It's because it's a land you go to. It's not a job, you're not trying to be famous or trying to do anything, you're just trying to find some little place where your mind is completely free of everything. It's amazing."
He's grateful that he can bring his partner, author Haley Tanner, and their daughter along on tour, so the family can stay together but also because of the adventure and inspiration having a toddler present provides.
"I feel like I'm picking up so much more input now, because I'm paying attention to the things she's paying attention to," Ritter says. "… You can't help but bring stuff back from there."
As much as he loves touring ("For me, touring is like water," he says. "I love it, I need it."), Ritter is a guy who does a lot of thinking – and songwriting – about home.



"The idea of a constant home, a kind of North Star idea of home, it gets more and more important." - Josh Ritter



"That's one of the great tropes of fiction, is the return to the hometown, something brings you back," says Ritter, whose 2011 novel, Bright's Passage, tracks a World War I soldier as he makes his way home and then is forced to leave again. "I definitely think about it that same kind of way. The story so often has somebody coming back home or leaving home. When I first started writing songs, I thought about travel, and the songs seemed to have a real trepidation about them, about leaving and touring. As time went on, I think that thing got more nuanced. Now, after I've lived all over the country in various places at various times in my adult life, the idea of a constant home, a kind of North Star idea of home, it gets more and more important."
These days, his North Star leads him to Brooklyn. It's a far cry from his previous home, near Woodstock, New York, where he describes life as maybe a little too away-from-it-all: "It felt like we were just like a ship in the ice out there."
In Brooklyn, he says, "I can walk down the street and get a cup of coffee now. I've done it before, but now it feels miraculous."
Ritter is a man who appreciates miracles large and small, whether it's capturing the magic of a recording session that feels like friends jamming or escaping from an organized faith background (relatively) unscathed. He rejoices in sharing simple moments with his daughter, in conversations with total strangers after shows, and in following the pull to grow and stretch as a songwriter, as he's clearly done on Sermon on the Rocks.
"You just can't settle down and settle into a style," he says. "That's just death. You get bored with yourself, first of all. If you get bored with yourself and you still put out stuff, you're just being a cheater. People who are buying records or paying money to come to a show, they deserve, whether they like the music or not, to know that a lot of effort has been put into it. That you haven't been wasting the resources they gave you to keep on doing this. So I wanted to be different, I wanted it to be adventurous."
---