Where Genres Intersect, There's Monroe Crossing
Posted On January 31, 2018
---
Monroe Crossing may be one of the best bluegrass bands in the country that too few know anything about. Based in the great bluegrass hotbed of Minnesota, they have been together for 17 years, keep a busy schedule, and have released 16 recordings, including classic traditional bluegrass, rock covers, and The World Beloved, A Bluegrass Mass, for bluegrass and chorale.
Founded in 2001, the band appears mostly in the Upper Midwest, but makes almost annual trips to Florida and performs on bluegrass cruises, to which they attract large numbers of their fans eager to escape cold Minnesota winters in January and February. They also make occasional forays elsewhere in the US and abroad to play for a widespread audience that has become aware of their excellence. With an unusually wide repertoire appealing to varied audiences, first-rate musicianship, and an entertaining show that keeps moving, this is a versatile and deeply satisfying band that can be counted on to deliver.
Monroe Crossing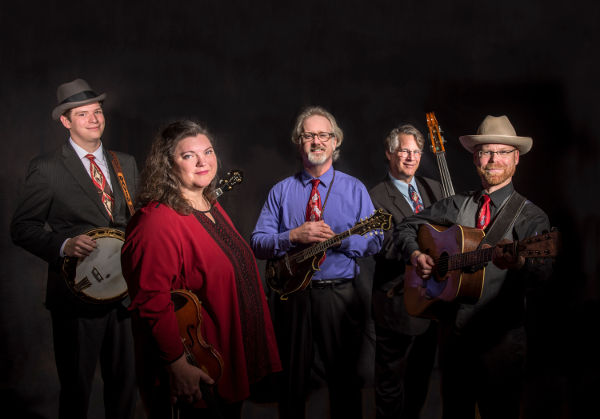 The band comes from a mythical place where the music and instrumentation of Bill Monroe crosses paths with music from a range of traditions, yielding the sign at the top of this post as their logo. Unlike many bluegrass bands, none of the members of Monroe Crossing comes from a traditional bluegrass background – that is, directly from Appalachia or the child of the Appalachian diaspora brought up somewhere else. They all come to bluegrass with the perspectives of other music, later connecting with acoustic music, bluegrass, and each other. Here's Monroe Crossing singing Bill Monroe's Rocky Road Blues in the Netherlands.
Original member Lisa Fuglie, who comes from Nigeria, first heard the music of Bill Monroe on 78 rpm records, as did several others. Mark Anderson, highly regarded by Midwestern bass players, comes from a rock and roll background. Matt Thompson, on mandolin, is the only lifetime bluegrass picker in the band. Lead singer and guitarist Derek Johnson's background is from rock, too. The newest and youngest member of the band, banjo player David Robinson, comes from folk music and was heavily influenced by old-time folk interpreter David Holt. The mix, eclectic as it is, never strays too far from the roots it has claimed, with classic bluegrass songs and singing styles forming the core of its work. Here they sing a George Jones classic country song:
Monroe Crossing maintains a commitment to the place of traditional gospel music within the canon of bluegrass, going way beyond the almost-required inclusion of at least one gospel song per set. They offer a variety of well-arranged gospel songs familiar to lovers of that subgenre. Here they sing a Bill Monroe classic:
But Monroe Crossing, because of its versatility and breadth of musical interests, exceeds the minimum. Over the years they have released two albums recorded with the choral accompaniment. A World Beloved – A Bluegrass Mass, a commissioned piece with music by Carol Barnett and a libretto by Marisha Chamberlain, premiered in 2007 and has been performed more than 60 times from California to Washington, DC, as well as Carnegie Hall in New York, and in South Korea. The band's latest release, Mortals & Angles: A Bluegrass Te Deum, premiered at Carnegie Hall in 2016, with Dailey & Vincent, Monroe Crossing, and a concert chorale. The newer work is their latest recording.
Perhaps because Monroe Crossing's several members came to bluegrass from rock and roll backgrounds, the band is particularly adept at arranging rock songs into bluegrass versions. How about Long Cool Woman in a Long Black Dress by the Hollies?
It's important to remember that Bill Monroe, the father of bluegrass music, is the only person to be a member of three major halls of fame: the Rock and Roll Hall of Fame in Cleveland, the Country Music Hall of Fame in Nashville, and the Bluegrass Hall of Fame in Owensboro, Kentucky. His song Blue Moon of Kentucky, adapted by Elvis Presley, has found its way back into the bluegrass repertoire through Elvis' version. While some rock songs have worked their way into bluegrass, along with many familiar country songs, Monroe Crossing has mined a number of rock songs and performers who don't easily translate. Prince's song, Purple Rain, is a good example.
At a recent festival, Monroe Crossing, playing four sets over two days, never repeated a song. They maintained high levels of energy, despite Fuglie's throat issues and cold. Their choreography and liveliness kept the show moving along with good humor and plenty of strong, well-arranged music.
In many ways bluegrass appears to be endlessly elastic, despite the cries from some hardcore traditionalists that what's being played "ain't bluegrass!" While bluegrass' direct antecedents are in mountain music based largely on old English songs sung in the hills and hollers of Appalachia, it has moved to urban industrial centers across the country and adapted as its audience has become increasingly urbanized and educated. It has morphed to the degree that the two bands awarded Grammys this week in an unusual tie, Rhonda Vincent and the Rage and The Infamous Stringdusters, essentially sound and feel as if they are unrelated. Others, however, see such ability to adapt as essential to bluegrass' survival. I believe that any serious student or fan of the music will inevitably be drawn to and charmed by the original sounds as they continue to develop, refine, and expand its related younger cousins.
Here Monroe Crossing sings a quintessential Bill Monroe song about his Uncle Pen, who first taught him about music.
---