What If Woody Guthrie Got It All Wrong?
Posted On November 16, 2018
---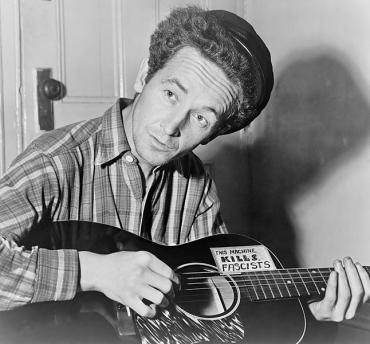 You've likely seen the image of Woody Guthrie's guitar an infinite number of times in your life. It reads "THIS MACHINE KILLS FASCISTS" and you could interpret that phrase to mean that lyrics and music will unite people to rise against economic, racial, and social injustice. The origin was likely from a World War II government propaganda campaign, a sticker that was printed and handed out to defense plant workers. While living in a small New York hotel room, Woody likely affixed it to his instrument while writing songs such as "Taking Hitler's Head Off Blues" and "All You Fascists Bound To Lose," the latter performed live on New York radio along with Pete Seeger, Cisco Houston, and Sonny Terry as The Headline Singers.
I'm gonna tell you fascists,
you may be surprised,
people in this world
are getting organized.
On Feb. 23, 1940, Guthrie wrote what would become his most popular song, a sing-along titled "This Land Is Your Land" that has been documented as his response to Irving Berlin's "God Bless America." In true folk music tradition, he based the melody and structure on another song, "Little Darlin' Pal of Mine," that was recorded in 1928 by The Carter Family and made it onto Billboard magazine's music chart the year after, landing at number 14.
An online Library of Congress entry about Guthrie's version, with his updated lyrics, offers this interpretation of the meaning and origin of his thoughts, which has often been restated and circulated in news articles and stories:
"Guthrie heard Berlin's song repeatedly while he traveled cross-country and became increasingly annoyed that it glossed over the lop-sided distribution of land and wealth that he was observing and had experienced as a child. Although Guthrie was no statistician, his observations accurately reflected the fact that, even in the depths of the Depression, nearly 20 percent of the nation's wealth rested with one percent of its population."
In the original version Guthrie used the phrase "God blessed America for me," but he changed it to "this land was made for me and you" when he first recorded it with Cisco Houston in April 1944. And as you may or may not know, through the years he played around with the words and verses, leaving some out and putting others back in.
In an unrecorded verse, scribbled on a sheet of loose-leaf paper now in the possession of daughter Nora's Woody Guthrie Archives, he adds a question perhaps insinuating hopelessness, something I feel very much in touch with in these modern times:
One bright sunny morning in the shadow of the steeple,
By the Relief Office I saw my people.
As they stood hungry I stood there wondering if
God blessed America for me.
To wonder if God blessed America for me (and you), could Guthrie also have been accepting, or at minimum questioning, the possibility that there was no blessing? And by extension, could it just be that economic disparity and exploitation of the poor and those of color who are different than the "one percent" simply represents the way things are? Taken in that context, rather than as a song calling out injustice under the banner of patriotism and suggesting the potential for change, it could suggest something completely different: We're fucked.
For those of us who've traveled through the decades observing and experiencing both the good and evil in people, along with the systems we create to either raise up or crush each other, these are the hardest of times. The last two major election cycles have provoked in me a feeling I've been unable to express for the past several years until now: With an almost even split between voters, America is not the land I once thought it to be. We do not come together, we divide. We do not have a common set of morals or beliefs, nor do we have the capacity to listen, accept, or change. We are at odds with each other, and maybe this is not unique to the times. Perhaps we've always fallen for the con game of one nation under God.
As much as I try to block out hate speech and the dangerous violent rhetoric of a particular poor excuse for a human being who rides along with the support and complicity of millions standing with him, this evil permeates the air we breathe almost to the point of suffocation. For me, now closer in years to death than birth, who lives in a blue state with a diverse population and pervasive liberal thought, I wake up each morning and simply go about my business one day at a time, staying in my lane and pondering if my surrender is in itself an act of complicity.
Although it's always given me strength, I've stopped singing Woody's song because it feels futile. I pray that our children will hold it close and carry it into the future.
Postscript: As a columnist for No Depression, I have been given the freedom to choose my own topics and share my views for the past ten years, which I'm grateful for. I want to remind those who may disagree or take offense that these words and opinions are mine alone. Most often it's about the music, sometimes it's not. This one combines several themes. I always publish my personal contact information for those who feel the need to take it further, so feel free to reach out. Any anger or distress you may have toward No Depression would be sadly misplaced.
* * *
Many of my past columns, articles, and essays can be accessed at my own site, therealeasyed.com. I also aggregate news and videos on both Flipboardand Facebook as The Real Easy Ed: Americana and Roots Music Daily. My Twitter handle is @therealeasyed and my email address is easyed@therealeasyed.com.
---