What Hazel Dickens Gave to a Riot Grrrl
---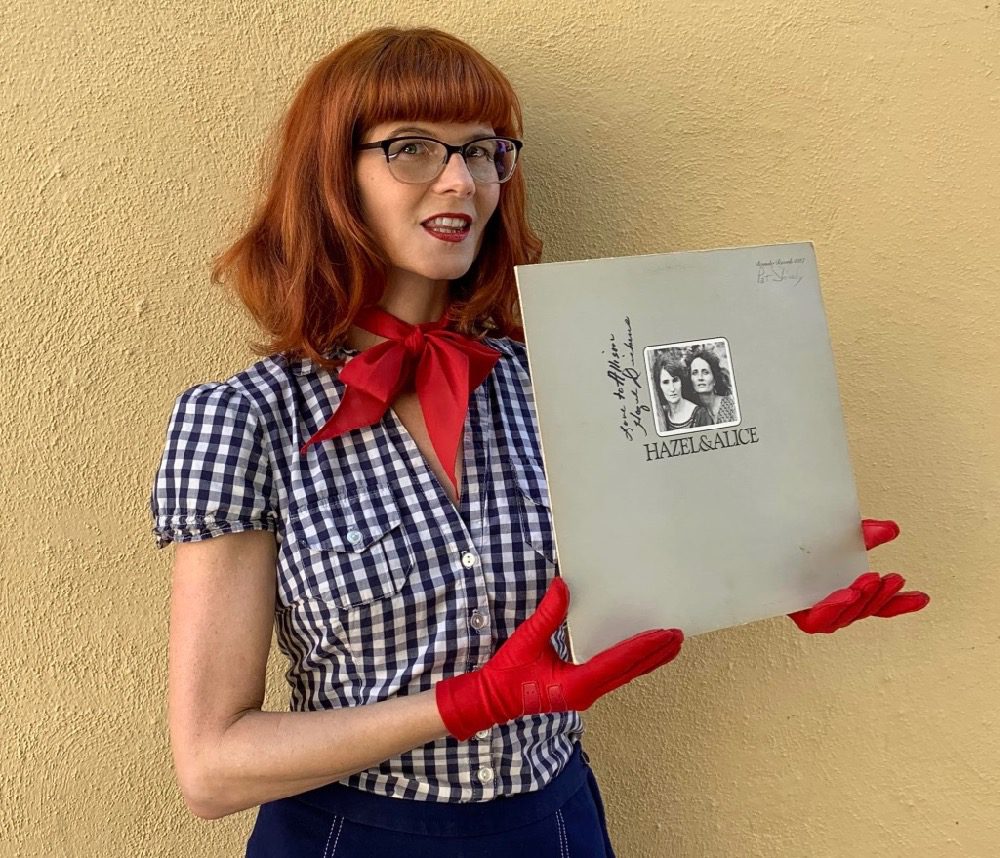 Bratmobile and Riot Grrrl co-founder Allison Wolfe holds her mother's copy of "Hazel & Alice." (Photo by Brad Urman and Erik Denno)
As I sat taking on the weight of yet another motherless Mother's Day recently, I pulled out the Hazel & Alice record that my mom raised her three daughters on. The stark gray album cover features a small black-and-white photo of two women, Hazel Dickens and Alice Gerrard. Their unyielding collective gaze expresses something along the lines of, We know what we're doing. We've been through a lot. Don't fuck with us.
I put the needle on the love-worn record, and Dickens' powerful wail soared above Gerrard's grounding, comforting sonance, transporting me back to the unconventional, all-female household of my childhood. Their bold melodies and nurturing harmonies wove injustice, homesickness, and hard times into stories of courage and survival — all things my family could relate to.
In the wake of this 1973 breakout album, Dickens and Gerrard became unintentional musical spokeswomen for many women's libbers who connected with their poetic testimonies to the frustrations of living "in a world made by men." My particular copy bears two signatures, those of Hazel Dickens and my mother, Pat Shively — remember when people use to write their names on their records? On the back cover, my mom checked off her favorite songs, the feminist anthems "My Better Years," "Custom Made Woman Blues," and "Don't Put Her Down, You Helped Put Her There."
These impassioned songs of gendered double standards and women talking back resonated with my outspoken, lesbian mother. She started Olympia, Washington's first women's health clinic at a time when small towns didn't yet have pride parades and women couldn't get a bank loan without a man's signature. Stories of confrontation with dominant culture filled our chaotic home as my family faced sexism, homophobia, and anti-choice harassment on the regular. Yet through it all, my courageous and visionary mother taught us to follow our hearts, fight for the underdog, laugh loudly, and basically raise hell.
Dickens also lived feminism by example, inserting herself without fanfare in realms unfrequented by women. Unassuming and stoic in person, Dickens was little, but she was loud on stage, where she learned to courageously express everything she'd been raised to stuff inside. "I had to get all of that from within me," Dickens said of the lack of support and encouragement she received. "I learned a long time ago that I had to stand up for myself, that there were so many people that I could not depend on. If I wasn't spunky, I was going to get squashed under somebody's boot heel."
Both Dickens and my mother grew up poor in large families and moved far from home fairly young to live lives that were major departures from their upbringings. Resolutely independent, they each learned through trial and error that marriage wasn't really their thing. They both blazed trails in their respective fields and inspired underrepresented people to speak up and out. And they both are no longer with us.
Upon her death in 2011, discrepancies emerged about Dickens' age. It looks like she'd subtracted about 10 years somewhere along the way, but hey, I've been 39 for a while, so whatever. Today, on what I'm pretty sure would have been her 95th birthday, I want to pay tribute to Dickens, who paved the way for my mother, myself, and countless others.
DIY to the Core
While Dickens is well known in the bluegrass and alt-country scenes, she remains obscure among most of the indie-punk music people I know, which bothers me. Her story, music, and influence defy musical genres, and she belongs in a canon of kick-ass women musicians, period. Or women, period. Or musicians, period. Dickens was a cultural activist who fearlessly expressed herself through cultivating her own raw talent. This do-it-yourself spirit, a foundation of punk rock, is what fueled my own start in music. I mean, especially for marginalized people, no one else is going to do it for you.
Although I grew up in a staunchly feminist household, I came to social consciousness in my own way.
A major wake-up was being physically threatened by a controlling ex-boyfriend in high school, which sent me diving into new wave and punk rock. At the time, I didn't have the tools to articulate my experience within a broader social context; I simply knew it was wrong and that I must cut people like that out of my life. Counterculture liberated me, yet within the broader alternative music scene in the Pacific Northwest, I grew discontented with being merely a passive observer. I began shifting my attention to the anti-professional style of performers unique to Olympia and to the handful of female musicians within the community.
When I went away to college in Oregon, I formed my own dynamic duo with my neighbor in the dorms, Molly Neuman. We took a lot of sociopolitical classes, but academic language and second-wave feminism didn't always speak to our young, everyday lives. Meanwhile, within the punk scene, which claimed political enlightenment, we still experienced sexism and witnessed other forms of discrimination.
Dickens expressed similar conflicts within the old-time music scene in Baltimore. In a city that openly discriminated against "hillbillies," Dickens found solace and community by playing the traditional music from her West Virginia homeland. Yet at the honkytonks that catered to migrants from the Upper South, she also encountered rampant womanizing and male chauvinism from customers, employees, and even her own bandmates. When Dickens and Gerrard joined forces, they carved out their own turf to play the kind of bluegrass — "the young rebel music of its time," according to Dickens — that they championed. Self-taught musicians, the tenacious duo were do-it-yourself to the core.
Along with emerging feminist band Bikini Kill and others, my girl band, Bratmobile, also helped forge an intersection to create a space and voice for ourselves and other girls in our scene. We wanted more punk in our feminism and more feminism in our punk rock. Neuman and I expressed ourselves through Bratmobile; a handmade fanzine series, Girl Germs; and the co-creation of third-wave punk feminist network Riot Grrrl. We devised our own means of production to represent ourselves and to create and participate in our own culture.
In addition to challenging gender roles, Riot Grrrls sought to expand the narrow definitions of what a feminist looks like. The press and sometimes even our peers would question us with, "How can you be a feminist when you dress and act like that?" or "How can you be a stripper and a feminist?" In her own way, Dickens laid bare a similar hypocrisy of what's accepted of women in the song "Don't Put Her Down, You Helped Put Her There." She called out the men she saw dictating how women should be, using them however they want, and then disparaging them for it. Describing a scene where a man leaves a sex work venue, Dickens sings:
Then you call yourself a man, you say you just don't understand
How a woman could turn out that way
Well there's more to her than powder and paint
Than the men she picks up at the bar
Well if she acts that way, it's cause you've had your day
Don't put her down, you helped put her there
As the singer and lyricist of Bratmobile and subsequent bands, I built upon some of the themes I heard from Dickens and Gerrard when I was a kid. My song lyrics, mined from my own forays into the battle of the sexes, have often focused on women's self-esteem and how the personal is political. I like to keep it simple and sassy, exposing sexism in day-to-day interactions. I often write cautionary tales of what I wish I'd said or done in various frustrating situations.
Sadly, many of the issues Dickens (and I) wrote about still ring true. Mansplainers, manspreaders, time wasters, and energy vampires, I've got more songs in me and I'm coming to get you. Like Dickens, I plan to speak out creatively and engage with my community and culture as long as I live. Projecting her plaintive yet powerful voice, Dickens stood up for women's rights and working-class struggles she knew all too well. She was a lifer and the real deal, continuing to perform until a month before her death in 2011.
I was fortunate enough to meet Hazel Dickens (and get my records signed!) when we were both living in Washington, DC, in the early 2000s. My friend Mark Andersen of the punk activist group Positive Force shared my enthusiasm for her music, and in 2002 he set up an interview between us for Punk Planet magazine. Dickens was curious about the punks coming over to her modest apartment, which was just down the street from punk label Dischord Records. Despite the supposedly disparate genres we worked in, we were struck by the similarities between our do-it-yourself musical values and experiences. We both used the tools available to us in service of unadulterated creative expression within communities we helped form and redefine. Regardless of any training, authority, or access we lacked, we learned to believe in ourselves and believe that we had something authentic to contribute.
Neither Dickens nor I (nor my mother) are any more significant than anyone else who goes against the grain, and that's the point — that any and all of us can challenge the dominant narrative in our own ways. My mother filled a void by providing sensitive health care by, for, and about women. She listened to music by innovative women, such as Dickens, for motivation, and so have I.
Storytelling, musical and otherwise, reveals what's human in all of us and what connects us to each other and our inner selves. It makes us feel seen and less alone. Dickens artfully summoned her inner strength from a life hard-lived and left us with songs that encourage us to use our own strengths to lift each other up.
On Mother's Day, when I felt particularly untethered, a track from the Hazel & Alice album, "You Gave Me a Song," reeled me back in. Written and sung by Gerrard, though clearly about Dickens, the song details a feeling of being afloat in the world and finding your way back to the comfort, safety, and strength of "home" by realizing it's inside of you.
… And the past I thought I'd left behind went with me everywhere
Cause you gave me a song of a place that I call home
A song of then, a song of now, a song of yet to come
Sitting here now, I contemplate the history and remnants of my mother's life. These artifacts remind me of who I am and where I come from. I no longer have my mother or many of the physical things that were hers. But I do have her influence, her stories, this record, and these songs.
---