"Trouble No More" Documents – and More – Dylan's Gospel Tour
Posted On October 10, 2017
---
"Let him drink, and forget his poverty, and remember his misery no more." — Proverbs 31:7
"Some day baby / You ain't gonna trouble poor me any more." — Sleepy John Estes, Someday Baby Blues (1935), sung as Trouble No More by Muddy Waters, the Allman Brothers, and many more
Trouble No More: A Musical Film had its world premiere Monday night at the Walter Reade Theater in Lincoln Center as part of the 55th New York Film Festival. Released this autumn in conjunction with the next installment of Bob Dylan's The Bootleg Series (Vol. 13 / 1979-1981), from the time of his "Gospel Tour," Trouble No More is neither documentary nor biopic. It's not purely a concert film, though the newly rediscovered footage from Dylan's concerts in Toronto and Buffalo, with the camera seemingly inches from his face, is tremendous. It's not a contemporary commentary on the Gospel Tour, though, as you quickly realize, this element has been newly made, now a part of the art.
We start as any concert tour should start, in the rehearsal studio, warming up with an old gospel standard, "Jesus Met the Woman at the Well." Dylan is frowning in concentration, with huge fuzzy unmodulated hair and a wild gold sequined guitar strap. Sequins will be much in evidence, as will big shoulder pads, when we come to the concert footage of the five female backup singers. It is, after all, the last gasp of the 1970s. Dylan, and the company ranged around him, end the song with huge smiles.
"Too Much Jesus for Dylan Fans," proclaims a headline, as Dylan and his new band head out on the road for the first time. The Gospel Tour of North America and Europe is set up by stills and newspaper clips from 1979, and one filmed fan interview. All insist that Dylan is embarking upon a major departure, and fans are either disappointed not to hear his old classics or happy just to have seen him and because the band is excellent. One thing seems to be a bottom line, as one spoken voice-over, I assume from the period, states: "He's not the Bob that we used to know and love."
I say "I assume from the period" because about a quarter of the screen time in this hour-long film is brand-new material. You go back and forth between concert footage, chiefly from Toronto's Massey Hall and Buffalo's Kleinhans Music Hall, and scenes filmed in an Episcopal church on New York City's Upper East Side, about which more in a moment. The songs are not in the order in which they appeared in concert or concerts; they have been arranged to form a narrative, tell a story, in conjunction with the new scenes.
The leadoff song is perfect. "Are ya ready?" Dylan challenges his collective audience, past and present, and then, resplendent in leather coat and electric guitar, launches into "Are You Ready To Meet Jesus?" The question he is asking, as his eyes flash and he looks out, down, back, sounds like "am I ready to meet Jesus?" He's still asking on behalf of himself, too.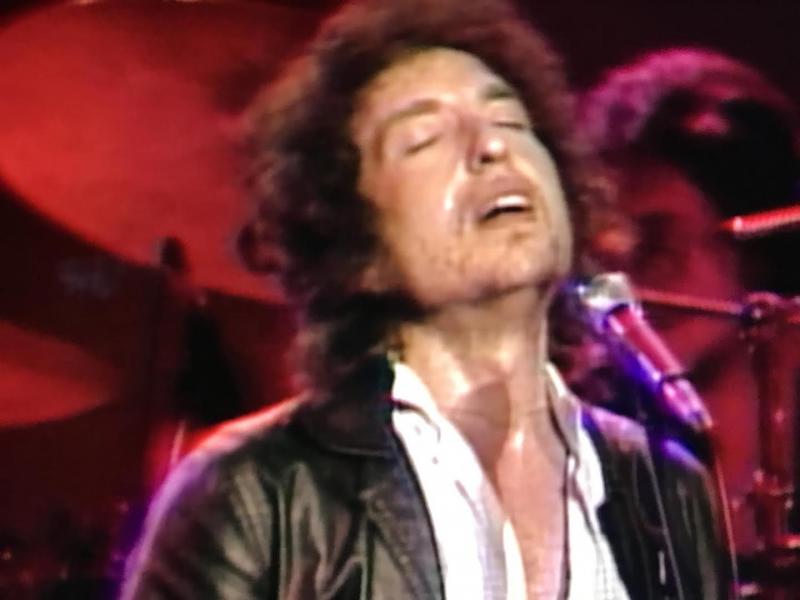 Dylan still looks like his younger self, especially when he sits down at the piano or curls himself up around his harmonica. But he has aged, and put on weight, as do we all. His step is light and he shimmies when he dances, but there are lines on his face. It's not 1962 and Newport. It's not 1966 and touring with the proto-Band. Lest you forget the date, there is Fred Tackett to remind you, with his aviator glasses and Bee Gees hair and beard. 1979 has just given way to 1980. Dylan is almost alone among the men, as you look at the faces of his audience, in not having a full bushy beard or at least a walrusy, porn-star moustache and long hair parted in the middle (which last is irrespective of gender).
Hearing Dylan sing about Armageddon, then peel off his Fender, step forward, and take an offered carnation from a young woman, is a bizarre moment even when you're expecting the evangelism, and a now-for-something-completely-different look at him. It is also a strange, and wondrous, moment in which you see for the first time, and continuing throughout the footage, how happy he looks. Dylan has become famous for his alleged poker face, showing no emotion in concert, and for not talking to his fans from the stage — he does not even introduce his band any more. Here, he's alight, eyes constantly roving over the crowd, eager, intent, sometimes amused, feeling good and wanting to share that feeling. It's the most generous Dylan I've ever seen in performance.
Then something truly completely different, in the sense of nothing you were expecting, happens. There is Michael Shannon, acclaimed film and stage actor, his hair combed and styled too much like John Edwards' for any comfort, in a three-piece suit with a tie-pin. He is in a gray church lit by the colors of its stained-glass windows. The Crucifixion of Christ behind him, he begins to speak.
During his Gospel Tour, Dylan delivered some spontaneous remarks between songs on various nights. Some have called them sermons, and all are petitions to God and Jesus. In Tempe, Arizona, a few days after Thanksgiving, he responded to requests for rock and roll — which, in fairness, he and the band quite literally play the bejesus out of in these shows — by telling the crowd they're rude, condemning Kiss, and differentiating between lost and saved people. "Now remember that I told you that. You may never see me again. I may not be through here again, you may not see me, sometime down the line you'll remember you heard it here. That Jesus is Lord. And every knee shall bow to him." In Albuquerque a few days later, he reminded people of his predictive powers in terms of some of the great hits they were clamoring to hear: "I told you 'The Times They Are A-Changin' ' and they did. I said the answer was 'Blowin In the Wind' and it was. And I'm saying to you now, Jesus is coming back, and he is. There is no other way to salvation." His remarks at Toronto's Massey Hall were extensive and wide-ranging, mentioning Afghanistan and its invasion by Russia, Jim Jones, and Adolf Hitler, and concluding on a personal note of beauty: "I got something called a solid rock to hang on to that was manifested in the flesh, and justified in the spirit, and seen by angels, preached on in the word." *
The words Shannon speaks in Trouble No More are not Dylan's. They were written specifically for this movie by Luc Sante. Sante was given six "prompts for sermons" by Dylan himself, via Dylan's management team. The words of the brief sermons are Sante's own. Sante says that, in preparation for the writing, he listened to African-American sermons from the 1920s and '30s; he didn't wanting his sermons to sound "like 'Sinners In the Hands of An Angry God.'" Indeed, Jonathan Edwards' epic hellfire-and-damnation sermon of that name (1741) is far fierier than any of the subtle imprecations, contrasts between rich and poor, words against Demon Alcohol, poisonous treachery of fast food, and fools versus wise men material that Sante serves up. The idea was, evidently, for the "preacher man's" sermons to form a contemporary framing device in which the concert and rehearsal footage of the Gospel Tour could be shown in an updated way, and also serve to comment upon the performances. Producer Jennifer LeBeau, in response to a question after the screening as to why Dylan's own sermon footage, or the words thereof, was not used, replied that the surviving "sermon footage" of Dylan is poor, that Dylan fans have transcribed his words and one can read them on the internet, and that they "wanted to do something new." Judge for yourself the novelty; Shannon is solemn and intense as the preacher, but in his manner and delivery reminds me more of a young Jimmy Swaggart than of a Billy Sunday or Graham. This undercuts the seriousness of Trouble No More, as you wonder, does he mean it, or is he more televangelist than evangelical? Is this religious turn and emphasis that sparked The Gospel Tour for real, or, today, should it be viewed as something past, and primarily performance? Shannon as the preacher is clinical and passionless, and there is little or no mention of Jesus, nor of the joy and beauty of salvation. This particularly struck me, as the child of an ordained Baptist minister and American historian, as beyond strange in the "saved" context of Trouble No More.
The second song is "Solid Rock." In some keen ways, this title sums up exactly what Dylan wanted to do in these concert days: His faith was new and solid, and he wanted to rock his religion, eight to the bar. The rock is a tremendously important Christian symbol: St. Peter as the rock upon which Jesus built his church; the stone over the mouth of Christ's tomb; rock of ages, cleft for me, let me hide myself in thee. Dylan looks filled with joy as he performs this song, leading us all through the litany of "wanna let go and I can't let go." Bassist Tim Drummond is a dude and a dandy; the women singing backup are a glittering sea of sequins and smiles and tambourines and dynamite sound.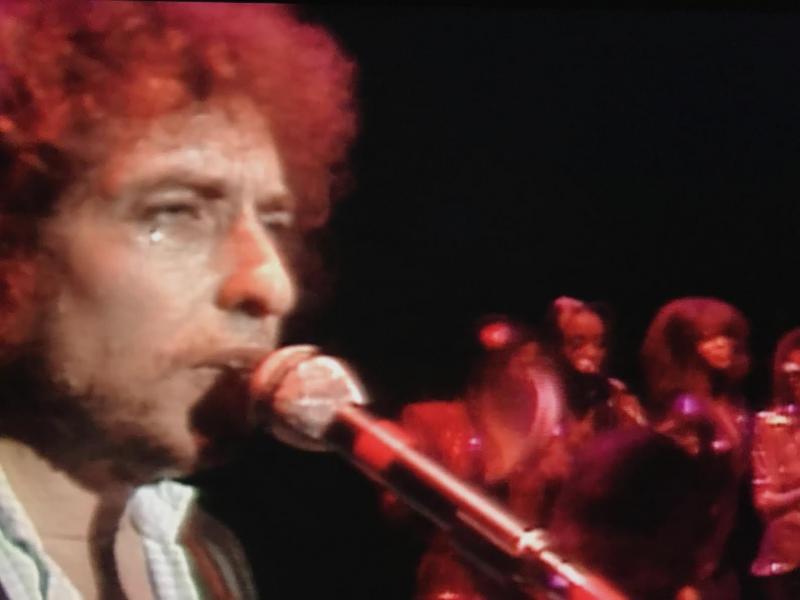 Dylan said more than once that he always wanted to be Elvis. He also wanted, from very early on, to be a Staple Singer, I thought. Here, he's getting to be both. And as I looked at the band and its formation with Dylan in the center, all I could think of was the formation of The Band in The Last Waltz, as they perform, with The Staple Singers, that best of all their songs that sounds like no other Band song at all: "The Weight." Gospel Tour keyboardist Spooner Oldham looks remarkably like Richard Manuel, down to the thin passionate form, hair, beard, and style behind his instruments. Wielding his bass with style and constantly in motion, Drummond is at least a little reminiscent of Rick Danko. The blazing lead guitar … the superb drummer … the African American women at stage left. Suddenly, and intensely, it felt to me that Dylan was not only creating something entirely new, but trying to repeat the past for his own purpose. No other American artist does this like he does — or succeeds like he does.
This feeling of the band and The Band intensified during "Slow Train Coming." I am glad the producers went straight through with concert footage here. The eye of the lens seems inches from Dylan's own eyes, glittering bluish green in the stage lighting, reflecting back, possibly from those hard contact lenses of the time, what they are seeing. Dylan sitting at the piano cannot be matched. Someday, perhaps, he will finally get the credit for his classic, jazzy, immense creativity and skill on the keyboards — even from those fans who still shout for guitars, for the harp rack, and for the cherub, already ageless teenager of 1961. "When He Returns," passionate and powerful, with a gorgeous so-there glissando up to the treble top at the end, is my favorite performance of the concert footage.
"Precious Angel" marks a turn in the songs. They start to feel much more both/and. Religious, yes, but the precious angel is a heavenly one and also a woman on earth. The lyrics, and the performances, begin to feel both spiritual and sexy. This is hardly a paradox. Symptomatic of the Christian evangelical religious movements, from Christ's original one through the Great Awakening and many revivals to the present day, is the visceral human interpretation of the word love. Love contains multitudes, and expresses itself in mysterious ways. Passion, that word integral in discussion of the Passion of Christ and in human emotion for a beloved, is ever present in religious fervor, sometimes for better and sometimes for worse. "Saved," right after, features a spectacular stroll on the keyboards by Terry Young. The number is straight out of a church, or rather camp meeting, a revival-tent rouser touched by fire.
The sermon clip here seemed intrusive, as the music was rolling. Soberly, the preacher man calls upon the congregation, or audience, to give up fast food and supersized sweet sodas. Your body is a holy temple. Consuming this junk is like spitting in a temple. All true, and good counsel, but by this point I just wanted more concert footage. Then the segue from Shannon to the next Gospel Tour number made me laugh aloud, and I began to realize that the project of shaping the old film with the commentary from an actor playing a preacher in the present day was working. "Don't wanna judge nobody," Dylan spoke-sang on stage, and grimaced, in recognition, making you share it. We may not want to judge folks, but we all do, all the time. The preacher had just been doing it, condemning his congregation for their — our — failures, without offering a way through, and was beginning to see his error. Shannon's face, increasingly frowning, now puzzled more than confident and assertive, begins to reflect the preacher's epiphany of his own flaws. "Do Right To Me Baby (Do Unto Others)" is the perfect song to happen, now. It intensifies the tension between the love song to a woman and to the greater glory of God, right from its title. "Do right to me, baby" is an age-old petition from the singer to a loved one, with a tautological construction straight out of the early-Dylan songbook: If you do right to me, baby, I'll do right to you, too. Note that you have to go first. Dylan grins as he delivers the line. The next sermon clip continues to be about appetites and consuming food, with good food for the rich and spoiled food for the poor. Yeah, we get it. All of it.
The jubilant, and self-affirming, "Ain't Gonna Go To Hell For Anybody," filmed in Buffalo, is dazzling. The camera right on Dylan, its film released now for the first time, catches the emotion, concentration, and revelation in his face. Similarly, the harmonica on "What Can I Do For You?" is intense and open and raw, the rough sound coming not just from the age of the recording, but born on the night it was made. The lyrics of this song are a conversation between the singer and that capitalized You, surely between a man and his God, but also a dialogue of self and soul.
Mirroring that is the preacher's last appearance. He's still nattily dressed (his outfits change, but always a fine suit and tie with a tie clip), but this time makes his statement, delivers his testimony, and looks even more unsure of himself. He sinks into a pew, taking the position of congregation rather than minister, and opens his Bible. I noticed for the first time a large cross around his neck. He's been on a journey, mirroring that taken by Bob and the band. It's a creative move that purposely keeps Trouble No More from being a concert documentary, as if to say, hey, Pennebaker did that. It keeps this film from being a fictional one, in which Dylan appears as some else; hey, Peckinpah did that. Trouble No More reminds me a little of Todd Haynes's I'm Not There in the manner in which Dylans past and present, and perhaps future, speak through avatars and deconstruct themselves to be and say something new.
The crowd looks happy. At the end, Dylan shears away from "Pressing On" and applause to be silhouetted for a moment against a blue screen, looking like his own greatest hits image by Rowland Sherman.
Then the credits, you think, begin. But just as Trouble No More has commenced in a rehearsal studio, so it ends.
Texas-born Clydie King has been writing songs and recording since the 1950s. In the 1970s, she was in movies including A Star Is Born (she and Barbra Streisand shared the same bill many times). After the Gospel Tour, Dylan and Clydie King recorded duets in Santa Monica of which we have a beautiful glimpse to conclude Trouble No More. King would continue singing with Dylan until at least 1984. For some of this time, they were a couple. Their duet of "Abraham, Martin and John" downright illuminates the movie's end. King's voice was and remains almighty; Dylan is content to play the piano and admiringly sing along with her. It's rare that you catch a glimpse of Dylan enjoying another performance, these days — but think of the way he beamed on stage at Levon Helm's drumming, or Rick Danko's grace on the bass. Another side of Bob Dylan, and a warm and generous one: that is at the heart of this movie. He is bent on sharing something he feels to be good with his bandmates, his audience then, and his audience now.
In the credits to the movie, which roll over a liquid, ardent studio version of "Every Grain of Sand," the men in the band each get a moment, and photo, on their own. The women are lumped together in a list that flashes up briefly and is gone, for they were not filmed in isolated shots at the time. A mistake; they lift this music onto higher ground. Here. Let me fix it. Joining Bob Dylan on the Gospel Tour are:
backing vocals, and instrumentals:
Clydie King
Gwen Evans
Mary Elizabeth Bridges
Regina Havis
Mona Lisa Young
Fred Tackett, guitar
Spooner Oldham, keyboards
Tim Drummond, bass
Terry Young, keyboards
Jim Keltner, drums
*I am indebted to Andy Greene, who knows far more about the Gospel Tour than anyone else I know, for his transcriptions of these quotations.
all images from Trouble No More: A Musical Film, via Sony Music Entertainment
---