Todd Snider, Ray Wylie Hubbard open Twangfest 17 in St. Louis
---
"I'm gonna share some of my opinions with you tonight," singer-songwriter Todd Snider warned the Twangfest 17 opening night crowd, "not because I think you should hear them … but because they rhyme."
The wisecrack, offered with the same stoner drawl and twinkling eye as Snider uses in his songs, also applied to Ray Wylie Hubbard, the Texas troubadour who preceded Snider on the bill June 5 at Plush in midtown St. Louis. But where Snider is laid back and nuanced under a funky hat adorned by a flower, a folk singer at his core, the scruffy Hubbard is an in-your-face chronicler of life in the margins, all snarling rock 'n' roll and country blues.
Twangfest, St. Louis' annual four-night celebration of American roots music, this year moved its opening night to Plush from its traditional first-night venue, Schlafly's Tap Room, and it was a success by any measure. The festival, supported by primary sponsor KDHX (881. FM), sold out the room with fans of each artist – the billing order easily could have been reversed – and sing-alongs were happening even when not requested by the artist.
It's remarkable the depth of each artist's catalog, illustrated by two of their most popular songs coming early in each set: "Snake Farm," at No. 2 for Hubbard, and "Alright Guy" at No. 5 for Snider.
Hubbard, 66, battled alcohol in his youth, which kept his career from taking off until the release of "Loco Gringo's Lament" in 1994 – despite writing the classic cowboy hippie anthem "Up Against the Wall, Redneck Mother" in the '70s.
In the autobiographical "Mother Blues," one of Hubbard's best new songs, the singer tells the tale of a young guitar player, a door-check girl, a gold-top guitar, "this tall drink of water (who) walks in like she might have to shoot her way out" and "the first of many bad decisions I was to make for the next 20 years."
Accompanied only by drummer Kyle Snyder, Hubbard played acoustic guitar, alternating finger-picking, power chords and slide with ease, and kept his short set moving through 12 songs in a little more than an hour.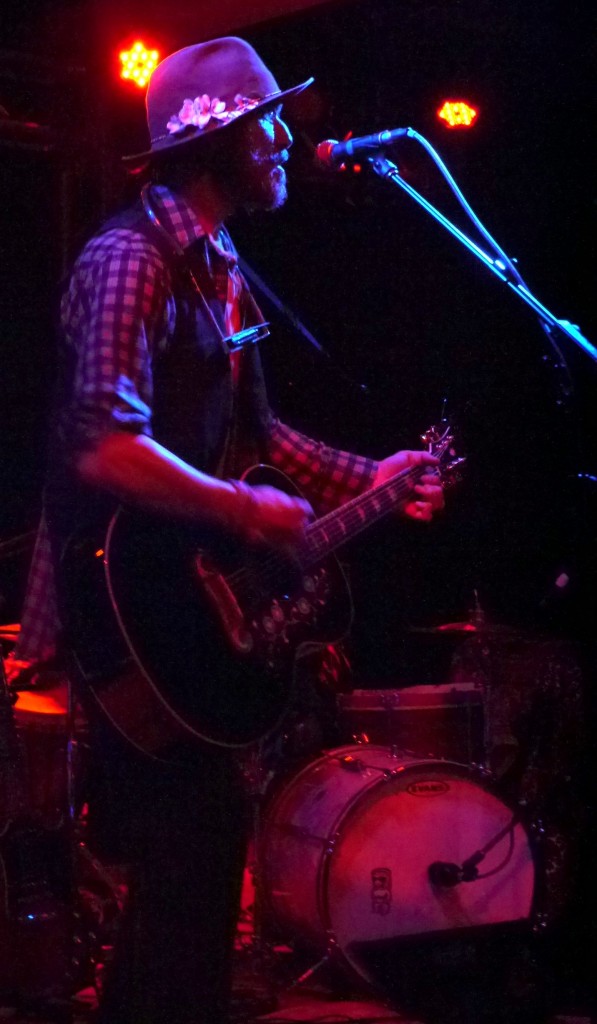 Hubbard was entertaining and engaging throughout. "Snake Farm" gave way to a short but enthusiastic lesson on French poetry as an introduction to "Druken Poet's Dream," a song he wrote with fellow Texan Hayes Carll, and he repeated the guitar solo in "Down Home Country Blues" after saying, "Did you enjoy that? Wanna hear it played right?"
Singer-fiddler Amanda Shires (Mrs. Jason Isbell), who was in Snider's trio on this night, joined Hubbard for a couple of songs, including James McMurtry's "Choctaw Bingo," a long stream-of-consciousness ramble that many in the crowd thoroughly knew. Hubbard closed the set with "Redneck Mother" – perhaps the lustiest sing-along in Twangfest history – and "Wanna Rock 'n' Roll."
For an encore, Hubbard slowed things down with "The Messenger," an affecting and telling ballad that begins: "I am wearing old boots with high Cuban heels/ Our souls they are worn and we stand here by grace/ My trousers are torn and my jacket is borrowed/ I am wearing my time behind the eyes in my face."
Snider, no longer a kid at 46, started his recording career the same year as Hubbard's breakthrough. He is riding a career wave that few could have predicted when "Talkin' Seattle Grunge Rock Blues" became a word-of-mouth hit as a hidden track on his debut CD, Songs for the Daily Planet. In solo shows at venues such as the Sheldon, Snider is met with rapt attention as he tells his stories.
At Plush, young people – OK, young women – were raising their glasses and singing and dancing along to his sardonic and witty tales of coping in the modern world.
From the vulnerable opener "If Tomorrow Never Comes" to the achingly romantic "Very Last Time" and the outlaw tale "D.B. Cooper," Snider commanded the room with charm and guitar, inciting serial sing-alongs including on the hysterical "Christian Conservative, Right-Wing Republican, Straight, White, American Males."
Snider paid tribute to the late Texas country singer Rusty Wier with a cover of "Don't It Make You Wanna Dance?" and closed his set with "Enjoy Yourself (It's Later Than You Think)," popularized in 1949 by Guy Lombardo. Yes, that Guy Lombardo.
A too-short, one-song encore gave a nod to hometown legend Chuck Berry with "Hail Hail Rock and Roll."
Opening was local duo Joe Stickley and Sean Canan, regulars at McGurk's in Soulard, who warmed up the room with a set of original, Irish-flavored folk songs. Accompanied by Ryan Kennedy on bass, they also included a fascinating version of the traditional folk song "Sloop John B," which landed somewhere between the jangle of the Beach Boys' version and the punk of bands such as the Pogues and Dropkick Murphys.
This post was originally created for my blog, The Roots Cellar.
Todd Snider's set list:
If Tomorrow Never Comes
Is This Thing Working?
Greencastle Blues
Christian Conservative, Right-Wing Republican, Straight, White, American Males
Alright Guy
Very Last Time
Just Like Old Times
Stuck on the Corner
Sideshow Blues
D.B. Cooper
Statistician's Blues
Don't It Make You Wanna Dance? (Rusty Wier)
Train Song
Can't Complain
Easy Money
Enjoy Yourself (It's Later Than You Think) (Guy Lombardo)
ENCORE
Hail Hail Rock and Roll (Chuck Berry)
Ray Wylie Hubbard's set list:
Rabbit
Snake Farm
Drunken Poet's Dream (co-write with Hayes Carll)
Down Home Country Blues
Train Yard
Name Droppin
Mother Blues
Count My Blessings
Choctaw Bingo (James McMurtry)
Up Against the Wall, Redneck Mother
Wanna Rock and Roll/John the Revelator (traditional)
ENCORE
The Messenger
PHOTOS: Ray Wylie Hubbard (top), Todd Snider / Photos by Barry Gilbert
---