Today's Southern Rock Offers Bridges Amid Troubled History
Posted On November 18, 2019
---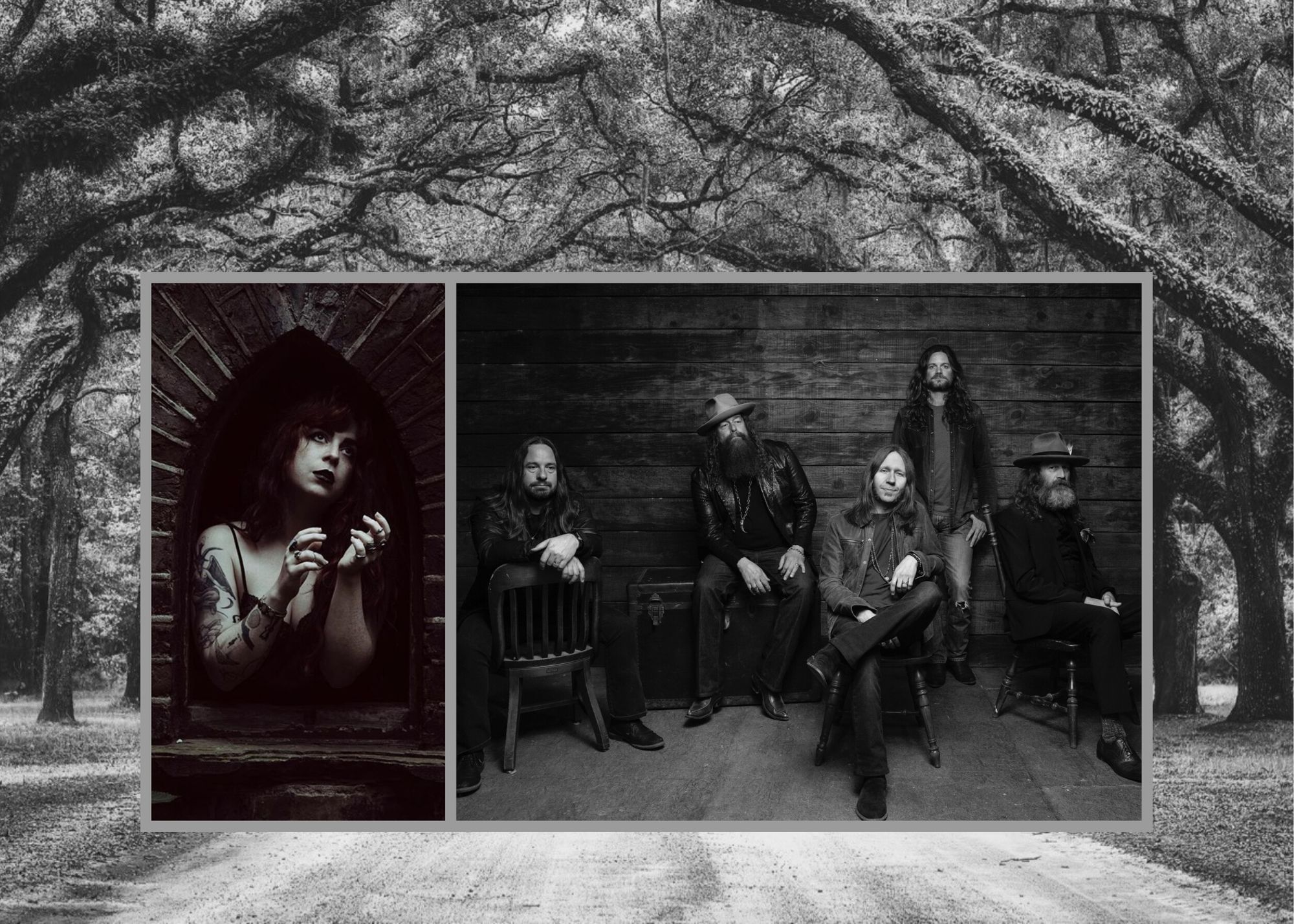 Kim Logan, left, and Blackberry Smoke are among today's Southern rock vanguard. (Left photo by Molly Baber, right by David McClister)
"We're not here to change your mind about anything," Charlie Starr, lead singer, guitarist, and songwriter for Blackberry Smoke, announced from the stage at a recent live performance in Chicago. "We're here to ease your mind about everything."
The infectious melodies, thoughtful lyrics, anthemic choruses, and, most of all, rollicking rock riffs of Blackberry Smoke acted as fuel for the propulsion of euphoria into a worried mind. Yet hardly a day passes without an unimaginative writer declaring rock and roll, and its infinite subcategories — especially Southern rock — dead or close to it.
"That's capitalism and the internet," singer-songwriter and Florida native Kim Logan says when I ask her about rumors of rock's demise. According to the narrow metrics of mainstream American culture, if profits begin to fall, or if the number of social media followers appears less than monstrous, expiration is mere moments away. The irresistible and indefatigable music of Blackberry Smoke, the world's current standard bearers of Southern rock, along with the venomous intelligence over a heavy riff that is Logan's developing oeuvre — plus the songs of the Marcus King Band, Tyler Bryant and the Shakedown, Sturgill Simpson, Chris Stapleton, Gov't Mule, Ashley McBryde, and Whiskey Myers — say otherwise.
Logan and Starr would argue, convincingly in conversation, but even more persuasively when they are plugged into the amplifier, that what might resemble a last breath to an observer wearing the corporate blindfold is actually a birth announcement. Something new is happening with Southern rock.
Breaking Boundaries
"Southern rock" has a dubious definition and history. Exploring its impetus, success, and progress offers a colorful illustration for some of the oldest American struggles: the fight to activate democracy as forces of racism try to suppress it, the battle between the boardroom and the composer, and the spiritual grapple of the temptation to pander with the need for authenticity.
When the term "Southern rock" first became popular in the 1970s, Gregg Allman was dismissive, claiming that because rock and roll originated in the American South, the label was the equivalent of "rock rock." Charlie Daniels, according to C. Eric Banister, the author of All I Can Do Is Write About It: One Boy's Journey Through Music with Lynyrd Skynyrd and Counting Down Southern Rock: The 100 Best Songs, was also suspicious, asserting that the category lacked strict musical meaning because of the divergence of the bands within it.
"When I think about all of the bands that were initially considered to be Southern rock," Starr says in the articulation of a similar point of view, "they were all completely different from one another — The Allman Brothers, Lynyrd Skynyrd, Charlie Daniels, The Marshall Tucker Band, Wet Willie. So, more than anything else, it was a geographical thing. Although no one has ever called R.E.M., who are from Georgia, a 'Southern rock' band."
If there is a sonic and melodic orientation of Southern rock, it is the fusion that results from the combination of approximate, but disparate styles of music. The unofficial motto of Blackberry Smoke is "too country for rock, too rock for country." Starr, who like all of the original members of Blackberry Smoke is from Georgia, explains that he grew up listening to traditional country and bluegrass, because his father did not listen to any music with an electric instrument, alongside his mother's favorite bands: The Rolling Stones, The Beatles, and Bob Dylan. "We record traditional country ballads, and we put them next to big rock and roll songs on the same record, but the Rolling Stones did the same thing on Exile on Main Street and Skynyrd did the same on Second Helping."
Starr identifies the fertilization of his own musical creativity as the ability to discern and develop the breaking down of categories, rather than the construction of barriers. "I was listening one day and heard, 'Honky Tonk Women,' by The Rolling Stones, and I had this epiphany. I was about 11 years old. I said, 'Wait a minute! That's the same thing as 'Roll in My Sweet Baby's Arms.' It has an electric guitar solo, a cowbell, and a drum kit. But it is the same thing. They are singing about a woman, doing this beautiful, high harmony thing. It all came together for me right then."
If Southern rock means anything, its definition is accessible in Starr's anecdote of artistic revelation. Logan calls the form "blues and country-tinged rock and roll, with a little R&B." She's quick to add, "And by R&B, I mean Ray Charles, not Rihanna."
Similarly, Banister likens Southern rock to an "amalgam" of "country, blues, and rock and roll," but complicates the dissection with reference to the term "country rock." What seems to separate Southern rock from country rock is the differing levels of aggression and muscularity. There is an audible reason why Southern rock has always had a presence at biker rallies, while the beautiful country rock of Emmylou Harris, as an example, can easily find a home at the Grand Ole Opry. Listen to the tornadic fury of Blackberry Smoke's apocalyptic anthem addressing everything from extreme wealth inequality to climate change, "Waiting on the Thunder," or the twang-meets-power chord assault of Logan's "Cadillac," and the latitude and longitude of Southern rock becomes clear.
"It is a good term for salesmen," Starr says, expressing some caution about applying labels, with their "attached rules," to music, but quickly adds that for him the music's defining factor is "freedom": The freedom to explore, the freedom to experiment, the freedom to equally love "Honky Tonk Women" and "Roll in My Sweet Baby's Arms" and inject them both into his own songwriting and performing. "I don't know what exactly to call our music," Starr offers, "But I know that it makes people feel good, and that's most important."
In addition to country and rock elements, there is palpable soul in a song like Blackberry Smoke's "One Horse Town," the lead single from their new live release, Homecoming: Live in Atlanta, released last week. It's an infectious ballad about suffering the limitations of low expectations in an impoverished small town. The evolution of Blackberry Smoke, in words and music, is a natural process of the authentic documentation of acquiring new experiences. The constancy of the band, according to Starr, is the same constancy of Southern rock — "a guitar band with heartfelt songs." The differences come from a "20-year arc": "You grow up, you have kids, you're drinking, and then you're sober. You can't always write about the same things."
Blackberry Smoke's 2009 record, Little Piece of Dixie, included songs that largely explored familiar Southern rock territory: drinking as relief from blue-collar hardship in "Bottom of This," hitting the open road in "Freedom Song," and having a wild party with shots of tequila and impromptu skinny dipping in "Good One Comin' On." Their most recent studio release, 2018's Find a Light, does not completely abandon those steadfast subjects, but broadens beyond them, and approaches them with maturity. "I've Got This Song" is a moving country declaration of pride and comfort in an identity of artistic purpose rather than commercial conquest, while "I'll Keep Ramblin'," which Starr co-wrote with Robert Randolph, turns the road anthem into a gospel tent revival of emancipatory joy — that is until the song deconstructs into a heavy blues guitar jam.
Symbols and The South
The opposite of Blackberry Smoke's expansion — writing about "the same things" — is precisely the trouble with Southern rock as a "term for salesmen." As the genre developed, similar to the recent flattening of mainstream country music, it became closely associated with cliched topics of "whiskey, trucks, and the banal brain-numbing bullshit Music Row topics" — to use the words of Kim Logan — and, more to its own detriment, the very opposite of the "freedom" that Starr prizes: the Confederate flag, and the exclusion and bigotry that it represents.
In the 1970s, Lynyrd Skynyrd regularly used the Confederate flag on merchandise and in the backdrop of their live stage. Their politics were decidedly mixed, as "Sweet Home Alabama" contains a line expressing indifference to Watergate, but also, toward the end, a tribute to the Montgomery bus boycott. C. Eric Banister offers a reminder that it was Skynyrd's record label's idea to use the banner of the Confederacy in their branding, and even more outspoken artists with progressive politics, most notably Tom Petty, would also display the flag — and come to apologize and renounce it in subsequent decades.
"My favorite Lynyrd Skynyrd song is the 'The Ballad of Curtis Lowe,'" Starr says, "and it is a beautiful story about a young white boy hanging around an old black man, asking him to play blues so that he could learn from him. That record was released in 1974. Alabama and Florida were not the best places to be in 1974 for race relations. So, I tip my hat to Ronnie Van Zant for writing that song at the time."
Starr takes a balanced view of many in music who flew the flag for seemingly apolitical reasons, explaining with fascination that he recently found a Grateful Dead T-shirt for a tour of the American South that featured the Confederate flag. "The last person in the world who would have wanted to offend anyone with a racially charged symbol was Jerry Garcia," Starr says. He also recalls a French Blackberry Smoke fan asking him to autograph a Confederate flag: "'What does this mean to you?' I asked him, and he said, 'Southern rock.'"
Many people — likely Jerry Garcia and Blackberry Smoke's French fan — did not have hateful intentions with the flag when they associated it with a particular musical culture and community, but the images of Confederate flags flapping in the wind at outdoor concert venues not long after white supremacist organizations used the same flag to oppose the civil rights movement have aged rather hideously. "This French guy," Starr says, "had no fucking idea that this symbol makes so many people in the States feel uncomfortable — that it hurts people. That doesn't make it right, but it is important to keep in mind."
It is a challenge to extend the same generosity to Charlie Daniels and Hank Williams Jr., two Southern rock pioneers who continue to wave the Confederate banner. Daniels, the legendary singer and fiddle player, even compared the removal of Confederate monuments to "what ISIS is doing." It is easy to find merchandise with the "Stars and Bars" in Nashville, and at Southern rock shows, but Logan insists that a new generation of Southern musicians is dedicating itself to not only carrying forward the region's artistic tradition, but also "changing the poetry of what we are saying and singing."
Starr, one of those younger musicians, believes that the ultimate freedom of music is the demolition of "divisions of creed and color" — the uncanny ability of coalescence and communion that improbably became accessible on what Logan calls the "fertile ground of the American South." She adds that all of the best American music — blues, jazz, country, and rock and roll — originated in the Southern United States because of the "tension and friction" resulting from Jim Crow, racial hatred, and state-sponsored oppression. "So much of the music we love was made as a means to escape the racial terror of the South," she says.
It is this spirit of collaboration and mutual affection, Logan insists, that will define Southern music in the 21st century. "My real hope is that we will develop a post-boomer consciousness so that the people who make rock and roll, and more specifically Southern rock, are not racist, not sexist, and not about the 'Stars and Bars' anymore." she says. As a bisexual woman, whose song "Ladyboy" — a Jack White meets Chrissie Hynde hybrid — is dedicated to "all the androgynous psychopaths" she ever loved, she feels that she has an opportunity to, in her words, "make bald Joe on his Harley who hates his gay son think a little differently."
Human Connection
Southern rock fans in recent years have tilted toward right-wing politics, but the early years of the genre's development featured its most prominent bands showing signs of liberalism.
Banister argues, "I do think there was and is an association made between Southern rock bands and the right, though it seems to me that it came from outside the bands themselves. Maybe it was the bias of journalists, and even some fans. The Allman Brothers, Charlie Daniels Band, and The Marshall Tucker Band all played events for Jimmy Carter. Of course, in more recent times many of the people have claimed more right-leaning beliefs, but [in the 1970s] I don't think that was necessarily the case." It certainly wasn't always the case in the rich history of the region's music, when art could communicate an ideal often unreachable under the restraints of politics and economics.
"I love, with all my heart and soul, the culture of the South. I love everything about it," Starr says, "the music, the food, the weather, the people, the accent — except the history of racial violence and strife. And it is a confusing, harsh, bloody, and evil history. But at the same time Jimmie Rodgers and Louis Armstrong performed together in the 1930s, and it was sort of a secret. I look back at that now, and that's monumental. That's the power of music. That's the beauty of music. Duke Ellington had a desire to jam with Earl Scruggs. He looked at Earl as a master of his instrument. How cool is that? It gives me goosebumps just to think about it, because that's music making racism meaningless in comparison to human connection."
The vicious adjectives Starr uses to describe the racism of the Southern United States, which contrary to common misperception extended far into the supposedly liberal cities of the North, are accurate, precise, and necessary. Fifty-one years after the assassination of Martin Luther King Jr., America has made significant progress, but is still struggling to eliminate the poison of its past.
Many obtuse critics and observers relegate rock and roll — one of America's greatest exports — to a nostalgic relic of the past, but the commitment and creativity of its best young bands and songwriters are proving that the music is, in ways cultural and political, progressive. And still very much alive.
Near the end of their Chicago performance, Blackberry Smoke had already proved themselves as the reigning heavyweight champions of Southern rock — playing a rock and roll and country injection into the audience's intellect, heart, and hips — but they were preparing to land another knockout punch of poetic defiance.
The opening notes of "Best Seat in the House" captured the essence of the "feel-good" ethos that Starr hopes their music will amplify in listeners in the South and far beyond. As the simple straight beat crashed like thunder, and the guitars rose into an unforgettable riff, Starr's voice took on palpable excitement, his hospitable and heartfelt tone inviting the audience to join the chorus:
Did you ever get the feeling
You ain't been dealt a good hand
The odds are against you
You're a slave to the law of the land
I'm gonna gather unto me
What must be mine
I want it all right now
Not a little at a time
Thinking 'bout a revolution
The first world drawing the line. 
We all want what we ain't got
Some of us have and some have not
Everything I got coming to me
Life, love, money in the land of the free
All my life I've been turned out
One of these days
I'll get the best seat in the house.  
With their anthem of big dreams and even revolution, Blackberry Smoke stretched the language of patriotism to include the convictions of universal opportunity, the last becoming the first, and the beauty of hope. It was a signal of Southern rock's evolution, its future, and its unending ability to connect with an audience of dreamers. It felt great. And it felt like freedom.
---
 To comment on this or any No Depression story, drop us a line at letters@nodepression.com.
---