THROUGH THE LENS: Yep Roc Celebrates 25 Years of Roots Music
Posted On October 25, 2022
---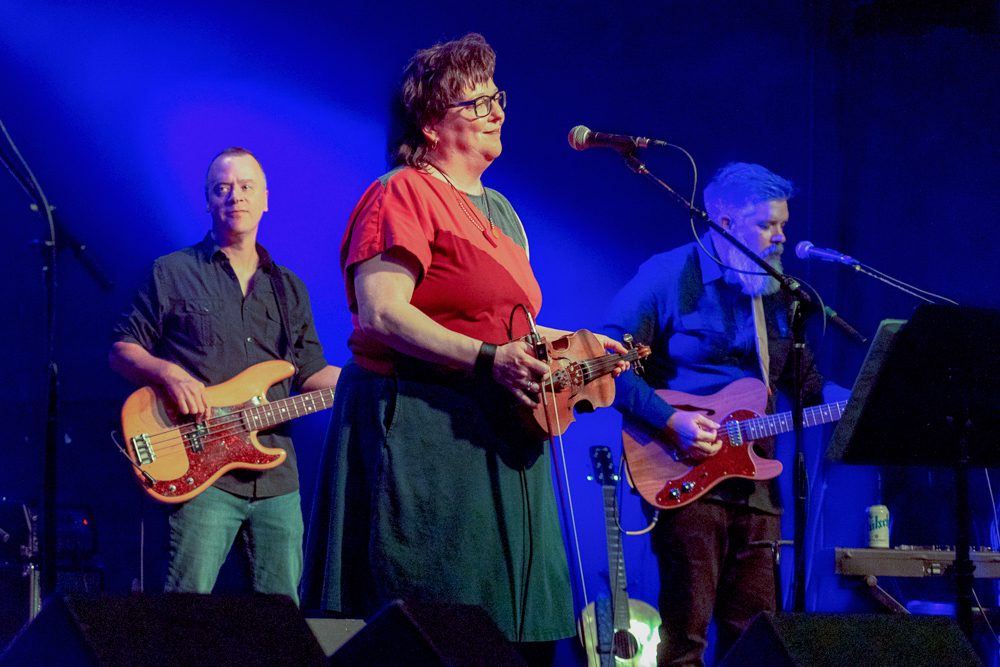 Caitlin Cary & Band – Yep Roc 25th Anniversary Show - Photo by Willa Stein
Longtime readers of this column might remember that in 2017 we covered the 20th anniversary of Yep Roc Records, a three-day party held at the Cat's Cradle in Carrboro, with afternoon sets at a local park in nearby Hillsborough (Yep Roc's home). The event last weekend to celebrate the label's 25th year was condensed into a single night at the Cradle. But the spirits of the fans and artists who performed were no less lively.
Caitlin Cary, Jennyanykind, The Mayflies USA, Chris Stamey, Dawn Landes, The Old Ceremony, Jobi Riccio, and Ruen Brothers took the stage Saturday evening, and other Yep Roc musicians past and present put together a video wishing the label a happy birthday, including Nick Lowe, Michaela Anne, Dave Alvin, Kim Richey, Chuck Prophet, Jim Lauderdale, Tift Merritt, and Steep Canyon Rangers.
"I see [this show] as a celebration of these artists and the venue that played such an important role in developing artists in this community, as much as it is a celebration of Yep Roc's 25th anniversary," David Shaw, Yep Roc's co-general manager, said in press materials for the event. The label's other co-manager, Mariah Czap, added, "It feels special to celebrate this milestone birthday with a lineup of artists and friends who have helped make us the label we are today."
Veteran Through the Lens photographer Willa Stein was there to capture photos for posterity, which are in the gallery below. Below is more information on a few of the artists who performed Saturday night.
Caitlin Cary
The big joy of the night was former Whiskeytown and Tres Chicas member Caitlin Cary, whose first solo album, While You Weren't Looking, was re-issued last month by Yep Roc as a 20th anniversary expanded edition. As a member of Whiskeytown, Cary was featured in an article by David Menconi in the first issue of ND in 1995. This was her first public solo performance since 2005.
Cary has, however, continued to contribute to other people's albums.  But for some time now she's been primarily a visual artist. Cary's needleprint artwork of Elizabeth Cotten adorned the cover the ND Fall 2017 "Foremothers" print journal, and Menconi revisited Cary in 2020 to discuss her artwork for another article in No Depression. (Menconi was also in the audience for the Yep Roc celebration last weekend.) Additional information on Cary and her work can be found on her website.
Ruen Brothers
Despite making a splash in 2018 with their Rick Rubin-produced debut album, All My Shades of Blue, and a stunning AmericanaFest showcase that featured an intoxicating mixture of Roy Orbison and The Everly Brothers, Ruen Brothers have been on the fallow side of late. However, as evidenced by their new single ("Don't Know What's Come Over You") on their new label, Yep Roc, that is set to change. Their new sound is a kind of neo-noir, sci-fi, Chris Isaak-esque approach and holds great promise for the brothers, Henry and Rupert Stansall, originally from Scunthorpe, England. Even their attire has changed, from colorful rockabilly to a darker look, heavy on silver tones.
Chris Stamey
Stamey was the elder statesman of the night. Few in the Yep Roc stable of artists are as accomplished as a musician, songwriter, and producer as he is. As a musician he formed the dBs with Peter Holsapple and has played with such luminaries as Yo Lo Tengo, Alex Chilton, Don Dixon, and The Golden Palominos. He's produced Whiskeytown, Caitlin Cary, and Alejandro Escovedo and recorded 20 albums of his own, solo and in group settings. But Stamey is more than a sum of his resume: As with his friend Dixon, he brings something extra special to any project that makes it shine.
Having been born next door to Carrboro in Chapel Hill, Stamey is the epitome of a local boy making good. He and Cary brought a certain gravitas to an evening that celebrated both where Yep Roc has been and where it's headed.
Click on any photo below to view the gallery as a full-size slideshow.
---