THROUGH THE LENS: Women Leading the Way in Roots Music
Posted On November 2, 2021
---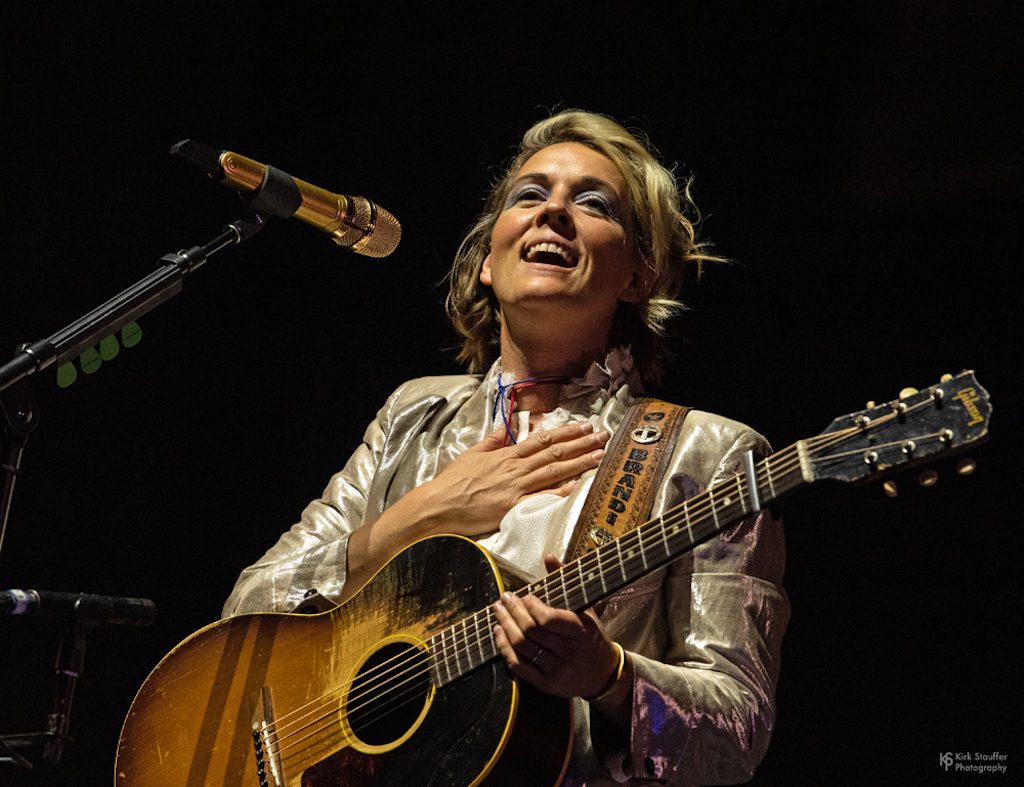 Brandi Carlile - Photo by Kirk Stauffer
For weeks now I have champing at the bit to return to a favorite theme of mine and of readers of this column: photos of the week. Upon reviewing who the ND photographers had been catching in concert recently, an overwhelming majority of those artists were women. And it was was also apparent that they also represented the many branches of roots music. So why not make that the theme of this week's column?
This week we also welcome two new photographers into the fold: Bryan Bolea and Eric Ring, who provides us with some additional photos from the FreshGrass festival in North Adams, Massachusetts. You can read about that FreshGrass festival and its inaugural sister festival in Bentonville, Arkansas, in our previous coverage. In total, this week's column features 10 photographers, 27 photos taken during the past month or so, and some observations by ND regular Mark J. Smith and myself.
Brandi Carlile 
Is there any star shining brighter in the heavens right now than Brandi Carlile's? Especially after her music was exposed to many more millions after her guest stint on SNL. Even her tweets get headlines. Last week she expressed her disappointment that the Grammys put her song "Right on Time" in the popular category instead of roots. I take a bit different view. I remember a time when folk music (the precursor to roots) was routinely played on AM and Top 40 radio and on the pop charts. I want roots music to be the popular music of our time. I want, for example, Carlile, Jason Isbell, Valerie June, and Our Native Daughters to fill Madison Square Garden, not Billy Joel. I want people dancing in the streets and the clubs to Donna the Buffalo, Southern Avenue, and Yonder Mountain String Band. We have to begin somewhere. Why not now, and why not with Carlile?
The Blues
There was a time when women were few and far between in blues. But along with the rest of the landscape, that has changed.
Next year will mark the 25th anniversary of Ruthie Foster's first album. Since then she's released 10 more, including last year's landmark Live at the Paramount (ND review). On that album she was in full command of an 18-piece orchestra, engaged the audience, and, as I noted in my 2020 year-in-review, also exhibited "a wide range of vocal styles, from New Orleans gospel to Ella Fitzgerald's swinging jazz. Her voice, so expressive, so smooth, permits the lyrics to linger and become even more meaningful."
Only 32 years old, Samantha Fish has already won more awards than many musicians, of any gender, have in a lifetime. She is so expressive on stage, as if the notes she's playing inhabit her entire body. She has a fabulous new album, Faster, reviewed by ND here, with an audacious cover photo. So is Mary Andrews' photo in the gallery below.
If there is a more exciting young blues-soul band than Southern Avenue, then please tell me. After two cancellations in my hometown I finally got to see them a couple weeks ago, and as ND photographer Peter Dervin assured me some time ago, they were stellar. They were also extremely danceable. They got folks in my usually staid town up on their feet, demonstrating an abandon that I had not seen since James Brown. But my eyes and ears were focused on their drummer, Tikyra Jackson, who played with just not rare exuberance but also something even rarer, making the whole band sound fuller by making sure things remained on track. It's as though she was guiding the band. She stole the show by not trying to. They have a fabulous new album, Be the Love You Want, reviewed by ND here.
Julien Baker at The Franklin Music Hall by Mark J. Smith
Following a very well received performance at this year's Newport Folk Festival (Folk On), Julien Baker visited her many fans in Philly and proceeded to rock the house, the very crowded Franklin Music Hall in Philadelphia (many of us still think of it as The Electric Factory). She delivered an incredible, badass night of music. Supporting her new album, Little Oblivions (ND review), she opened with "Hardline" and "Bloodshot," then, from Turn Out The Lights, "Shadowboxing," and more new music with "Favor," before bringing it home with a few from Sprained Ankle. Baker, along with Lucy Dacus and Phoebe Bridgers, is a member of the under-the-radar supergroup boygenius. Do yourself a favor, see her as soon as you can. 
Now, the photos by Kirk Stauffer, Mark J. Smith, C. Elliott, Mary Andrews, Eric Ring, Kim Reed, Bryan Bolea, Rick Davidson, Peter Dervin, and Jim Gavenus. Click on any photo below to view the gallery as a full-size slideshow.
---