THROUGH THE LENS: Why Vinyl? The Roots Music Lover's Guide to Analog, Part 4
Posted On January 24, 2023
---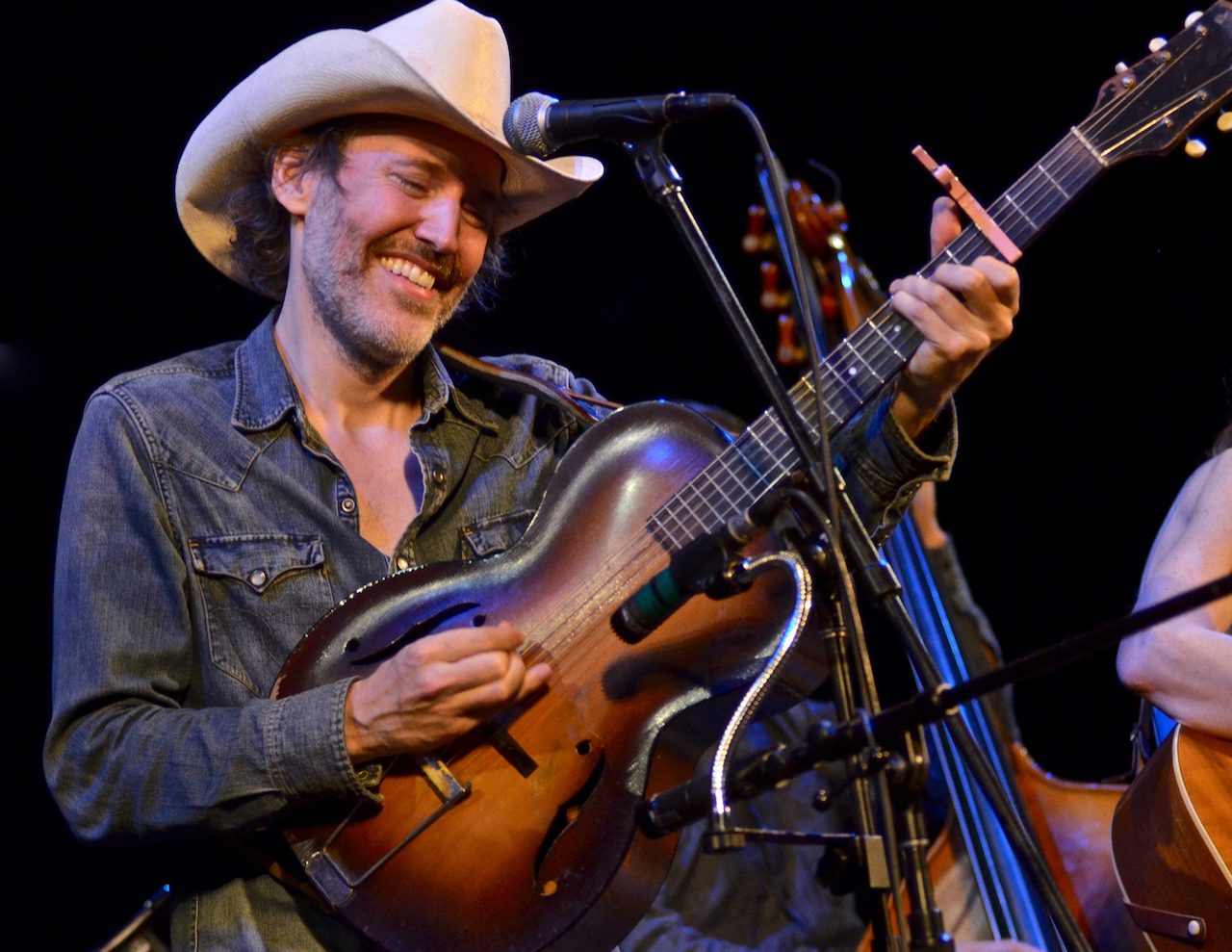 David Rawlings - Chief Groove Officer for Vinyl Me Please's new pressing plant - Photo by Amos Perrine
I thought that last year's column about vinyl collecting would be my last in an occasional series of them, but a lot has happened during the past year that warrants the attention of all roots music fans who are also into vinyl. Specifically: 1) The announced construction of three new pressing plants in the United States; and 2) MoFi-gate. Additionally, I've included recommendations for some great-sounding new and used roots records.
Three New Pressing Plants
Yes, the vinyl boom is still going on, stronger than ever, it seems. So much so that three new pressing plants were announced last spring: 1) Mobile Fidelity Sound Lab (MoFi), the US audiophile reissue label, said it would build its own plant in California; 2) GZ Vinyl in the Czech Republic, the world's largest pressing facility, was planning a plant in Tennessee; and 3) Vinyl Me Please (VMP) promised to build one in Colorado. Opening dates were anticipated by spring 2023.
However, there is scant current information on when they'll be operational. One of the casualties of the MoFi scandal (more on that below) may well be its would-be new plant. 
Perhaps the most intriguing of the lot is VMP. As you may be aware, VMP is a subscription-based service that also sells a good number of its releases individually, but at a higher price. Roots music isn't its sole focus, but VMP has released many roots records. For example, it was first to re-issue Iris DeMent's landmark Infamous Angel and it released a special vinyl version of the album that topped ND's 2022 Critic's Poll, I Walked With You a Ways by Plains. While VMP routinely releases excellent sounding classic country, jazz, blues, and folk LPs that you cannot find anywhere else, it uses a variety of pressing plants all over the world.
It is also important to note that David Rawlings has been appointed as the VMP plant's "Chief Groove Officer" and "will play a significant role as VMP's partner," according to VMP. As Rawlings said in the announcement, "We want this facility to be a game-changer in an industry that has too often been focused on quantity over quality."
With Rawlings' involvement with VMP, we will likely see all of his albums, plus those by Gillian Welch and Willie Watson, on vinyl in the near future. 
The MoFi Scandal and Digital
MoFi has long been considered the pinnacle of sound quality for LPs, and has always charged a premium price for its presumably all-analog releases. However, after it was announced that it would be issuing 40,000 LPs of Michael Jackson's Thriller, many in the audiophile community were skeptical that that many copies could be made from the original master tape. Much like pulling back the curtain in The Wizard of Oz, MoFi's curtain was ripped down to reveal that nearly all of its releases since 2011 were sourced from digital masters. 
Buyers of its expensive product, sometimes as much as $125 per album, were outraged, as they had been led to believe they were getting an all-analog product. MoFi did itself no favors by labeling the scandal as "confusion in the marketplace." This resulted in a class action lawsuit being filed. MoFi now states on its website and the albums themselves the source, analog or digital.
All of this got me to thinking, why doesn't every label do that? To the best of my knowledge, very few, if any, non-audiophile labels identify the source of the recording. Based on my experience (both as a writer and having worked with some labels), it's safe to say that virtually all albums recorded during the past 40 years were recorded digitally. Additionally, unless otherwise noted, all later pressings and reissues of earlier albums have some digital link in the chain from the original tape to the pressing plant. The reason is simple: Digital, be it for recording, mixing, or mastering, is substantially easier, quicker, and cheaper than analog. Recording studios quickly made the switch.
Even though I am a purist, there are instances when digital can sound very, very good, provided the mastering engineers are expert at what they do. A prime example is Dylan's Rough & Rowdy Ways. It was recorded digitally, but mastered by the best in the business, Bernie Grundman. The LP version sounds great, the CD merely good. Another example is the 1960s Miles Davis albums that MoFi has reissued. The original pressings were all analog, but do not sound that good. The MoFi versions that came from digital files of the analog tapes are smoking hot. 
Great Sound
Below are lists of new and used records that bring rich and rewarding listening experiences. The new ones listed are available at fairly reasonable prices. If you are looking for all-analog new records, check these audiophile labels: Analogue Productions, Impex, Speakers Corner, Intervention, Resonance, Sam, Pure Pleasure, and Craft. Re-issues on the Rhino label are also extremely good. A special shoutout to musician and AmericanaFest awards show house band regular Don Was for all that he has done at Blue Note. The quality of its Tone Poet and Classic series of jazz reissues has been instrumental in the resurgence of the popularity of jazz.
During the past couple of years, the used record market has also boomed. Records in good condition that not that long ago could have been had for only a couple of dollars now go for $15-20, if you can find them. Labels are also important here. Pre-1980s pressings on the following labels are top notch: Rounder, Flying Fish, WEA (Warner Bros./Reprise/Elektra/Asylum), A&M, Vanguard, and Blue Note. Pre-1970, Columbia, RCA, and Capitol pressings are also good. Other labels are hit-and-miss. For example, certain pressings of The Who's Who's Next, Simon & Garfunkel's Bridge Over Troubled Water, and Steely Dan's Aja are stellar, whereas other pressings are just okay. If you are interested in that topic there are a lot of sources on the internet that identify which pressing is the optimum one.
New LPs That Sound Great
Bob Dylan – Rough & Rowdy Ways
Little Feat – Waiting for Columbus (Rhino)
Morphine – Cure for Pain (Rhino/Run Out Groove)
Applewood Road – Applewood Road
Wild Ponies – Galax
Gillian Welch – The Harrow and the Harvest
Joni Mitchell – Blue
Neil Young – Carnegie Hall 1970
John Coltrane – Blue Trane (Blue Note Tone Poet mono)
Lightnin' Hopkins – Lightnin' in New York
Neko Case – Fox Confessor Brings the Flood
Grateful Dead – American Beauty (Rhino)
Bruce Springsteen – Nebraska (Vinyl Me Please)
Paul Simon – Graceland (Rhino)
Townes Van Zandt – Live at the Old Quarter (Vinyl Me Please)
Used LPs That Sound Great
Joan Baez – Farewell Angelina
Judy Collins – Fifth Album
Trapezoid (anything on Flying Fish)
The Roches – The Roches
Emmylou Harris (any 1970s album)
Rickie Lee Jones – Pirates
John Hiatt – Bring the Family
Ry Cooder (any 1970s album)
Tom Waits (any 1970s album)
Jackson Browne – Late for the Sky
David Crosby – If I Could Only Remember My Name
Now, here are some photos of the artists who have albums on the lists above. Click on any photo to view the gallery as a full-size slideshow.
---