THROUGH THE LENS: Two Socially Distanced Shows: RB Morris and Scott Miller
Posted On September 8, 2020
---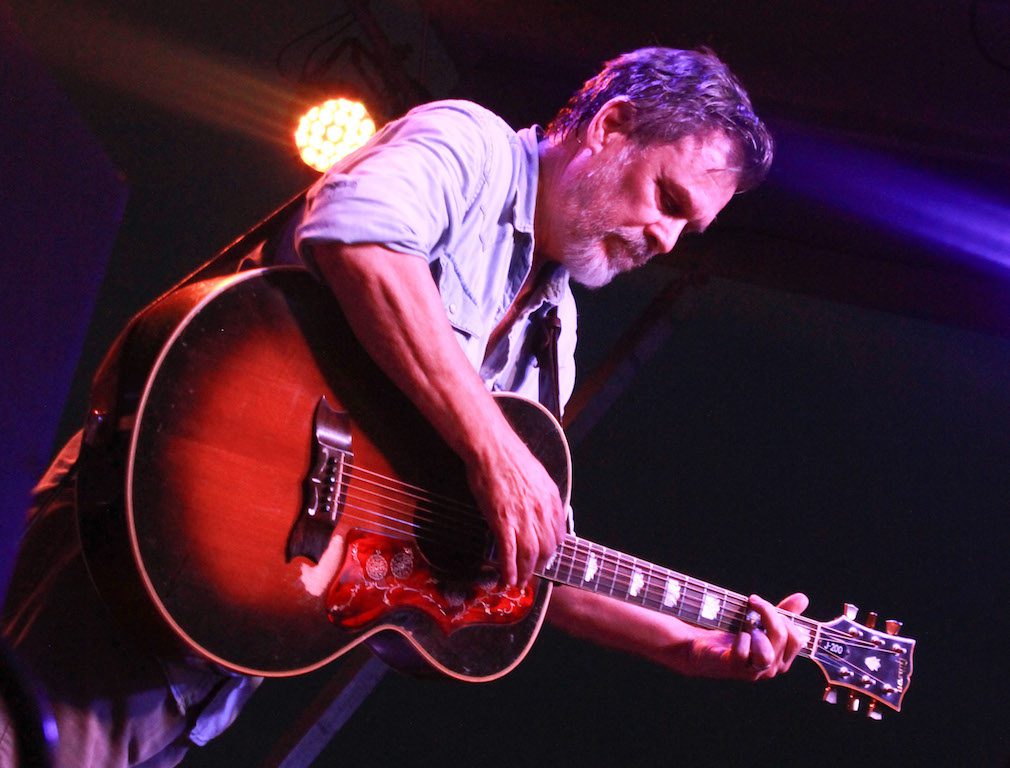 RB Morris - Photo by Kelly Shipe
This week I turn over the Lens column to writer, producer, and filmmaker Kelly Shipe, who reports on two recent shows in East Tennessee, one by RB Morris and the other by Scott Miller. Morris did his as part of a livestream performance in an empty theater, and Miller's was a socially distanced drive-in show.
You may recall that Kelly, whom I met at MerleFest a couple years back, partnered with me on the "MerleFest Memories and Magic" column earlier this year. 
While Kelly's short bio is below, what I admire about her writing is the way she uses words to paint images. While I often think like that, Kelly pulls it off. It's as though you are watching a movie.
RB Morris at the Bijou Theatre, Knoxville, Tennessee
Early in 2020, RB Morris had a lot to look forward to. He had a new record slated for release — the Bo Ramsey-produced Going Back to the Sky, a collection of songs telling the stories of ramblings through the West, from East Tennessee to California and back again — along with a Kennedy Center performance set for March. Indeed, Morris was starting the year hitched to a L&N locomotive, much like his first journey across this country was working track maintenance for the Louisville and Nashville Railroad. 
And then… 
Just as if an emergency chain had been pulled, the train we call 2020 stopped, and stopped hard. The world froze, and live music with it. 
By late summer, though, Morris grew tired of sitting by the tracks watching his new record idle on a sidetrack. So one August evening, he put on his engineer's cap and stepped onto the stage of the Bijou Theatre in Knoxville, bringing his fans a live show as part of the Big Ears Festival's new series of streaming concerts. The singer-songwriter, Knoxville's first poet laureate, transported those watching remotely to a dusty highway with a locomotive chasing alongside, both gazing toward the "red sky at night" one of the album's songs evokes. 
As one of the few folks allowed (with mask and distancing guidelines) inside the historic venue that late summer evening, I listened to Morris' rich, deep-rooted voice sing "Six Black Horses and a 72 oz. Steak." Suddenly, it's me cruising along I-40, windows down, hot breeze blowing on my face, Amarillo, Texas in my rearview mirror. 
"Missouri River Hat Blowing Incident," "That's the Way I Do," and all the songs from Going Back to the Sky carried me right out of constant quarantine and put me on the road traveling toward the freedom of a cross-country sojourn. 
I looked up. Golden light bathed the Bijou's empty house. Morris' voice echoed from the stage. I really needed this holiday. 
Scott Miller, Drive-In Concert, Smokies Stadium, Sevierville, Tennessee
It's hay season, the second cutting to be exact, and rainfall this summer has been toying with the farmers' emotions. The weekend is looking dry, and alt-country artist (and full-time cattleman) Scott Miller is in the middle of a balancing act. He's slated to perform live in East Tennessee, the first safe opportunity to do so in months, and yet there's an opportune window to cut hay and roll it into bales.  
When talking with him about the challenges of farming and the restrictions of a pandemic world, he comes to it with a calming air of acceptance, reflecting his earnest connection to the family farm he works: "Ya know, people used to let responsibilities define them. Now, folks want their responsibilities to be defined by them. Hell, back during the polio epidemic, my parents learned to play bridge." 
Yet, here we are on a Saturday evening, first hint of autumn in the air, at a minor league baseball stadium parking lot. Vehicles are parked in a checkerboard pattern, two spaces apart with socially distanced fans sitting in truck beds and lawn chairs, eager to see Miller take the stage and take them away to a more familiar time for a few hours. This drive-in show is bridge-playing of its own sort.
After an opening set from his longtime friend RB Morris, Miller walked on the platform wearing a claw hammer coat, guitar in hand. In the cool of the inaugural autumn air we breathed in his music and smiled. With Seth Hopper's fiddle providing the perfect complement, Miller played all the loved ones, such as "Ciderville Saturday Night," "Amtrak Crescent," and "I Made a Mess of This Town." He also let us in on a couple of new songs from his front-porch songwriting sessions including the tentatively titled "Like a Simile." And as the sky turned from violet to dark indigo, Scott invited up Morris and together they did John Prine's "The Late John Garfield Blues."
It's funny, no stage rush. Wearing masks, all of us experienced the show socially distanced apart, and yet we couldn't have been closer. Thank you, Scott Miller ,for that, and my guess is by now you've got those rolled hay bales baking in the fields of late summer. With fall calving coming up, might there be a new album too? 
Kelly Shipe is an actress, writer, producer and filmmaker. Originally from East Tennessee, she lived in Southern California for several years before returning to Knoxville where she formed, with fellow producer and indie film director Leigh Ann Jernigan, the production house, CamperSky Creative. Kelly's projects include collaborations with Academy Award winner Octavia Spencer and Tony Award winner Shuler Hensley. Here are her film credentials. Kelly also loves live music and enjoys writing about her festival and concert experiences.
Photos are by Kelly and Bill Foster.
---