THROUGH THE LENS: Two Arizona Festivals Celebrate Joyous Return of Live Roots Music
---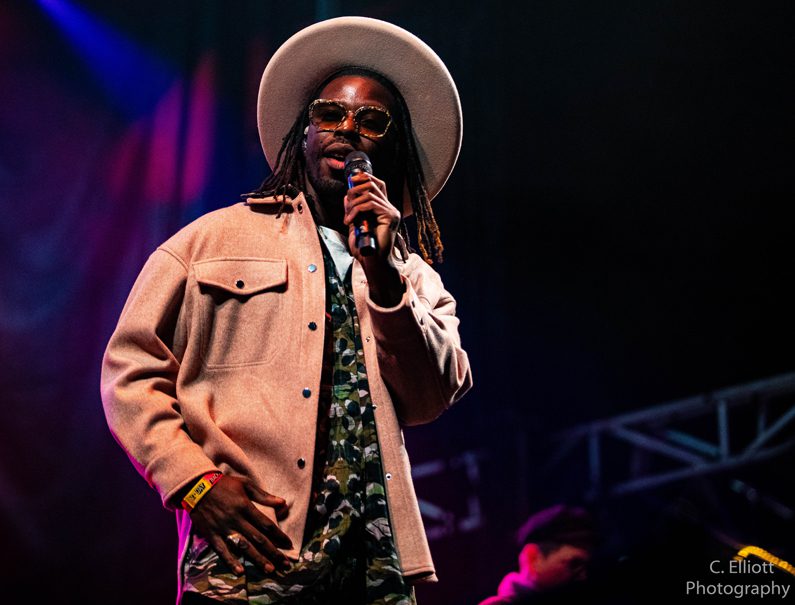 Eric Burton of Black Pumas - Innings Festival 2022 - Photo by C. Elliott
Astute readers of this column will note that the last time these two festivals were covered was in 2020, just before the country entered its COVID-19 shutdown.
After that two-year delay, our Arizona correspondent, C. Elliott, was chomping at the bit to once again cover these two festivals that took place in back-to-back weekends. The first, Innings Festival, is held in Tempe, Arizona, and the second, M3F (formerly known as the McDowell Mountain Music Festival), less than a dozen miles down the road in Phoenix. Here now are C. Elliott's reports, and as always, photos in the gallery below.
Innings Festival
Even though there was no Major League Baseball spring training this year (that's where the name of this fest comes from), the Innings Festival went on without a hitch. In only its fourth year, the fest drew thousands of attendees to see 20 musical acts, including headliners Foo Fighters, St. Vincent, Tame Impala, and The War on Drugs. However, I spent my time catching the roots-oriented artists.
The festival's home, Tempe Beach Park, remains a prime location. While the walk between the two stages is a long one, there's not the usual sound bleed-over you hear at other festivals with multiple stages. As the promoter, C3 Presents, runs such an efficient fest, there's an adequate break between the acts so you can get to the other stage, if you want, in time to catch that act.
Billy Strings: In 2019 Rolling Stone called this progressive bluegrass flat-picking phenomenon, infused with some psychedelia, the "Bluegrass Star You Don't Want to Miss." Well, as ND readers well know, they were a bit late to the game. I'd seen Strings, a multiple-IBMA award winner, including Entertainer of the Year in 2021, a few times before in smaller venues, and his traditional and soulful country ballads were just as joyous on a big stage in front of a huge crowd as they were in a club.
Caamp: As a result of being hit by a car the night before the show, guitarist Taylor Meier was out of commission, playing-wise, with his arm in a sling, but Evan Westfall admirably filled in. The downside was we did not get to hear Westfall's fabulous banjo playing. It was a true "the show must go on" moment and, all in all, it was good to have this Ohio folk group back at the festival. This is a band to keep your eye on.
Black Pumas: These winners of the Americana Music Association's Duo/Group of the Year Award in 2021 were the last act on Sunday night, drawing a crowd of several thousand. Lead singer Eric Burton is everything you've heard: a soulful, charismatic vocalist who jumps from the stage onto the speaker stacks with gleeful ease. Their blend of psychedelic soul and traditional rhythm and blues had the crowd moving and grooving.
Jade Bird: In her music, Bird, ND's Spotlight Artist for August 2021, combines acoustic guitar with a gritty alternative edge. At the end of her set she brought out two other musicians with whom, she said, she had never performed with in front of an audience. Their spot-on harmonies were a real treat.
M3F
Formerly known as McDowell Mountain Music Festival, the nonprofit M3F has raised $3.2 million for charity since its 2004 launch, including $1.1 million donated in the last two years alone. The family-friendly festival aims to promote social principles including belief, community, culture, and charity.
Leon Bridges: This neo-soul sensation's set was full of funk and soul with some well-timed slow burning ballads for good measure. At one point, when the stage lighting unexpectedly went out, Bridges spontaneously asked for the massive crowd to light him up with their cell phones, then continued singing. At another juncture, he asked his bassist, "Can you play something so funky so that they can smell it all way in the back?" As if on cue, he did.
The Higgs: This tight four-piece band was the only one in Saturday's lineup that was in keeping with the festival's jamband roots. They incorporated all of the elements of all the genres you'd expect from a jamband. I didn't see any tapers but the audience was dancing and swaying to the music.
Click on any photo below to view the gallery as a full-size slideshow. 
---