THROUGH THE LENS: The Roots of Americana in 10 Albums
---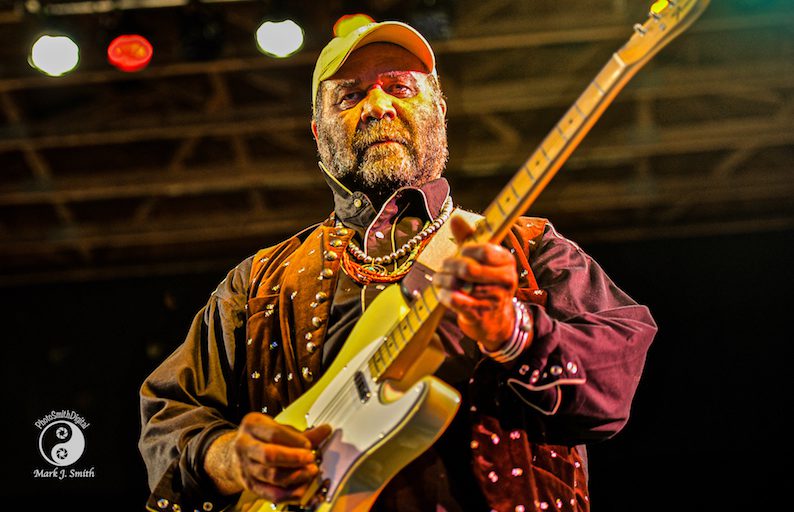 Otis Taylor - Photo by Mark J. Smith
In January a writer-acquaintance did a piece on what he sees as the 10 all-time best Americana albums. While I have given that some thought over the years, I decided to look at it from a bit of a different perspective: 10 albums that are precursors to what Americana is today. 
The roots of Americana are as diverse as roots music itself, some may even call them the same. But wherever you come down on that there is no mistaking that there is considerable overlap. While none of the artists below are obscure, you will note that some of the more well-known names and their albums are absent. Those will be saved  for another day. Now, in chronological order, is my take.
Judy Collins – In My Life (1966) 
When this album was released there was a bright dividing line between folk music and rock/pop. Collins at this point had made a name for herself with five exquisite albums in the folk tradition. But she broadened her view when looking at the songs themselves and what they were saying, not who wrote them or their "genre." Much like Dylan when he went electric, Collins was committing heresy when she not only recorded a song by The Beatles (who were the anthesis of "folk" music at the time), but she also titled the album after it. It was a clear act of defiance, and a statement of who she was as an artist. The wall soon came tumbling down when other folkies followed her lead.
Ry Cooder – Chicken Skin Music (1976) 
Nobody was doing what Cooder did in the 1970s, when with every new record he effortlessly crossed cultural boundaries. Here, with Flaco Jimenez, he fuses gospel, Hawaiian, folk, blues, and Tex-Mex for a sound that's as fresh today as it was 45 years ago.
Various Artists – 'Til Things Are Brighter: A Tribute To Johnny Cash (1988) 
While Jon Langford had infused country music into his English punk band The Mekons a couple years before, this album brought together other punk rockers, plus Michelle Shocked, to pay tribute to the Man in Black. Cash approved the project, and its proceeds went to AIDS victims. Langford's hardcore insurgent country continues to demonstrate that the roots of country and punk are not all that different. 
Tracy Chapman – Tracy Chapman (1988) 
The release of this album by a Black lesbian activist at the zenith of the Reagan-Bush years was a small miracle. But to be commercially successful and win a bunch of Grammys was an inspiration to many like-minded artists who were bubbling beneath the surface. Chapman performed "Talkin' 'bout a Revolution" from this album last year the night before the election on Late Night With Seth Meyers. 
The Neville Brothers – Yellow Moon (1989)
With producer Daniel Lanois providing the atmospheric background, the New Orleans band's spirituality was highlighted as never before. The repertoire is a tour de force of styles: two of Dylan's gravest songs, Sam Cooke's "A Change Is Gonna Come," "Will the Circle Be Unbroken," and a fiery take on Link Wray's "Fire And Brimstone."
Rosanne Cash – The Wheel (1993)
In the midst of the hard banging alt-country sound that was going down at the time, Cash went the other way with a more considered, literary approach. In "Sleeping in Paris" she writes: "There's a desperation on wild street corners / But I think you're just waiting for me / And soon we'll be sleeping in Paris / And we can set those wild ones free." Henry James in a song.
Various Artists – Chippy (1995) 
This is the music from the 1994 play Chippy, written by Jo Harvey and Terry Allen. While it features a who's who of Texas music of the past 40 years (Terry Allen, Joe Ely, Butch Hancock, Robert Earl Keen), it highlights two things that have been woefully neglected. First, the role that women, e.g., Jo Carol Pierce and Jo Harvey, played in that scene, and still do. Second, the vital role the other arts play in Americana.
Donna the Buffalo – Positive Friction (2000)
With a Dead-like following called The Herd (of which I have long been a member), and citing Bob Marley and Ralph Stanley as major influences, this group incorporate bluegrass, zydeco, old-time fiddle music, and rock that rolls 'em easy like no other. I am not a fan of jammy bands, but their jams are full of ideas, a utopian, aspirational togetherness. They are the epitome of Americana as a lifestyle.
Various Artists – Por Vida: A Tribute to the Songs of Alejandro Escovedo (2004) 
When Escovedo was diagnosed with hepatitis C in 2003, the Americana community came together to pay tribute to his unique sound, "a peculiar melange of punk rock, chamber music and corrida that sounded like a Norteno version of the Velvet Underground," according to this ND review at the time. The album demonstrated the strengths of Escovedo's songwriting and his significance. The album's proceeds went to offset medical bills.
Otis Taylor – Recapturing the Banjo (2008) 
While Rhiannon Giddens deserves all the credit she's gotten for revitalizing Black string band music, Taylor's contribution should not be overlooked. Having grown up playing the banjo, he invited other Black artists, such as Keb'Mo', Alvin Youngblood Hart, Guy Davis, and Corey Harris, to record an album that simultaneously honors the instrument's African roots while taking it in new directions. DownBeat magazine named it the best blues album of 2008. If you are looking for one person who best exemplifies the depth and breadth of Americana and roots music, it's Otis Taylor.  
Now, photos of the artists. 
---