THROUGH THE LENS: The 4th Annual Insider's Guide to AmericanaFest
Posted On September 6, 2019
---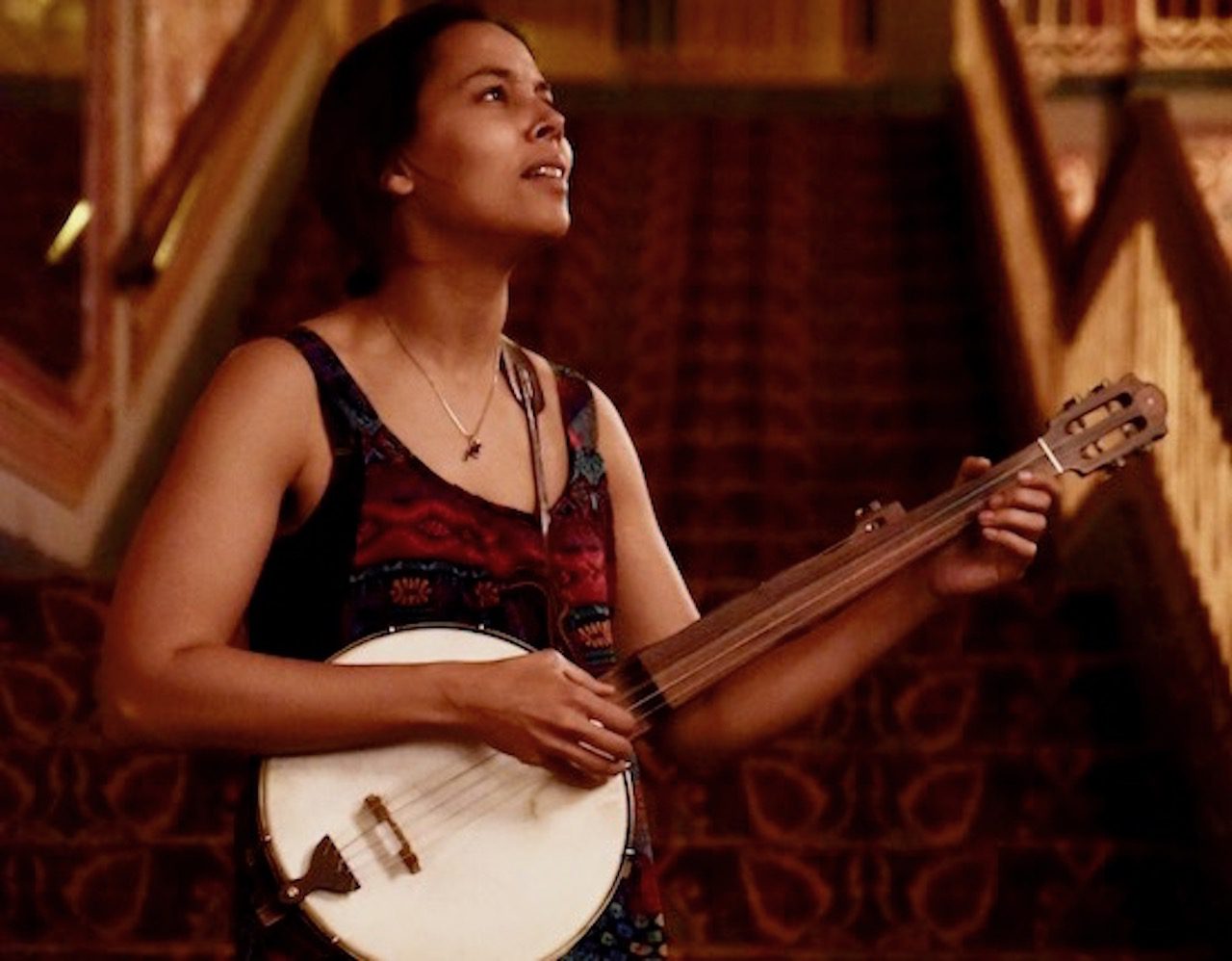 Rhiannon Giddens - Co-Recipient of AmericanaFest's 2019 Legacy of Americana Award - Photo by Amos Perrine
Now in its 20th year, AmericanaFest is celebrating in style. The first thing I noticed is, even more so than in previous years, the Americana Music Association taking its role as curator extremely seriously. They've done a superb job of mixing in artists you should hear with those you already know about.
The fest kicks off Tuesday and runs through Sunday. To get your head around the enormity of everything going on, you could break it down in terms of CBGB — country, bluegrass, and blues. The organizers have noticed a certain ferocity in those realms of roots music lately, and this year's showcases and other events fully demonstrate that.
As before, the artists highlighted below are mostly those who have yet to attract wider media attention, those who have been bubbling beneath the surface, ready for their close-ups. 
While I have also noticed that this year's conference panels more thoughtfully address the wants and needs of the Americana community, in terms of both panel members and subjects, they are not included here as members know what their interests are. Nor are ticketed events, free or pay.
Unless noted otherwise, all sets are scheduled to last 45 minutes. Many of the artists listed below also play daytime events, so please check the app for that additional information.
All noted artists and events below are in chronological order. There are conflicts, as always. However, that demonstrates the depth and breadth of this year's edition. Above all, take Todd Snider's advice: "Enjoy yourself."
THE BASICS
Download the app and check it frequently, as folks and events are added and sometimes dropped or rearranged.
With so many new venues this year, you'll want to print, or store on your phone, a list of the ones you plan to visit and their addresses so you'll have that info when you drive, taxi, or Uber/Lyft to a venue. Unfortunately, while the app has a map that shows you where the venues are, addresses are not directly provided. Instead, you have to highlight one venue and enter the name of another venue when asking for directions to that other venue before getting addresses for either. 
For the showcases, consider staying in one place for the evening: Determine what venue has most of what you want, and stay there. With more people than ever expected to attend this year, it may be harder to get in to a venue as the night goes on. Plus, cutting down on travel time means you won't miss as much.
Use the daytime events as an opportunity to explore and see folks you'll be reading about in a few years. As the weather forecast is hot hot hot, dress and hydrate accordingly.
ABSOLUTELY NOT TO BE MISSED
Alvin Youngblood Hart's Muscle Theory – See and hear why Hart has been called the cosmic love child of Howlin' Wolf and Link Wray. (Tuesday, 10 p.m., 3rd & Lindsley)
Tami Neilson – A Canadian by way of New Zealand, Neilson doesn't make it to the States very often. She can effortlessly slip from outrageous R&B into a hard-edge country croon, sometimes combining the two in the same song,. Think Roy Orbison meets Screamin' Jay Hawkins. (Tuesday, 11 p.m., TRUE Music Room at Cambria; Thursday, 2 p.m., War Memorial)
Martha Spencer – Her first album was my pick for best country album of 2018. She's worth being late to the awards show, just a short walk away. (Wednesday, 6 p.m., ACME Feed & Seed)
Anthony da Costa – Da Costa, everybody's co-writer of choice and an in-demand musician/producer, not only has his own showcase (Friday, 8 p.m., The 5 Spot), he's also the ringmaster of his FOMO Party (Wednesday, 7-9:30 p.m., Analog at Hutton Hotel) that serves as counter programming to the Honors & Awards show at the Ryman that night. These promise to be very special indeed.
Kelsey Waldon – Waldon grabs you by the throat and says, in an unapologetic, in-your-face, hard-edged Kentucky-voice, "If you're listening to me, you're hearing country music as it was meant to be." (Wednesday, 10 p.m., 3rd & Lindsley; and part of six daytime events)
Billy Strings – Strings approaches the bluegrass guitar like McCoy Tyner does the piano. If you don't know jazz legend Tyner, think Tony Rice on steroids. As Strings and Molly Tuttle have been guesting with one another, she just might show up. Talk about dueling guitars! (Wednesday, 11:30 p.m., Cannery Ballroom)
Amy LaVere – Bassist-vocalist-songwriter LaVere and husband Will Sexton make the most sublime music you will ever hear, on a par with Welch and Rawlings. While they do not have a showcase, they have a set at the Nine Mile Records Day Party (Thursday, 3:30 p.m., Drifters); and are part of the BETTER TOGETHER: That Memphis Groove n' Grind extravaganza (Tuesday 8 p.m.-1 a.m., Basement East)
20th Anniversary Celebration of ANTI- Records – If you are looking to stay in one spot for Thursday night, this is it: Darrin Bradbury and Jeremy Ivey, both of whom have excellent debut solo albums coming out AmericanaFest week; The Frothy Pitt: Wynonna Judd & Cass McCombs; and bluesman Son Little. (Thursday 7 p.m.-1 a.m., Mercy Lounge)
Roseanne Reid – Profiled in a previous Lens column as an "Artist on the Verge," courtesy of Carol Graham, Reid brings her spine-tingling Scottish voice, simultaneously gentle and gritty, to the City Winery Lounge on Thursday, 8 p.m.
Buddy Miller & Dirk Powell, with Stuart Duncan & Maria Muldaur – Miller's collaborative set with Kentucky-born fiddler/banjoist Powell (part of the House Band at the Awards show), who has long been immersed in Cajun culture, promises to be a one-of-a-kind experience. Add fiddler Duncan along with Muldaur, and you get four legends on a single stage. This is a no-brainer. (Thursday, 8:30 p.m., The Basement East)
Molly Tuttle – I hope this is the last time I have to recommend the two-time IBMA guitarist of the year and AMA Instrumentalist of the Year for 2018. Along with Billy Strings, they are the future of bluegrass. Strings could show up for a number or two as they've been sitting in with one another of late. She'll also be at guest at least five other events, including a panel, so check the app. (Thursday, 9:30 p.m., City Winery)
Lula Wiles – There are other female trios out there with bigger names and more firepower, but the organic nature of Eleanor Buckland, Isa Burke, and Mali Obomsawin, who bridge tradition and the future, is the one to catch. (Thursday, 9:30 p.m., ONE)
Rising Appalachia – I first saw the Smith sisters at FloydFest some 10 years ago when they were a duo, and now they are a full band incorporating rhythms of the world far outside their namesake region, and they were ND's May Spotlight band (story here). (Thursday, 11 p.m., 3rd & Lindsley; Friday, 1 p.m., War Memorial)
Che Apalache – See firsthand what the fuss is all about as this multi-national/dimensional bluegrass band takes flight. You read about them right here as they were ND's August Spotlight band. (Friday, 2 p.m., War Memorial; and part of Queer Roots, Thursday, 5 -7:30 PM, The Crying Wolf)
Nicole Atkins – Atkins is hard to pin down, both in life and music it seems. Sliding from blues to psychedelia, she channels Roy Orbison via Leonard Cohen. (Thursday, 10:30 p.m., City Winery)
Bobby Rush – With the soul of Little Walter, Grammy-winning Rush is the definition of the blues, and perhaps the last link to the Chicago scene of the '40s and '50s. Miss him at your peril. (Friday, 7 p.m., 3rd & Lindsley; and part of  two other events)
Eilen Jewell – The Queen of the Minor Key will be playing songs from her stunning new album, Gypsy (review).(Friday, 8 p.m., The High Watt)
Dixon, Easter & Stamey – You had me at Don Dixon. Anything this songwriter-musician-producer extraordinaire is involved with is always something special. Add longtime collaborators Chris Stamey and Mitch Easter, who have similar credits, it becomes even more exciting. (Friday, 9 p.m., Mercy Lounge)
Bruce Robison & Kelly Willis – The first couple of Texas music will be doing songs form their superb new album, Beautiful Lie (review), featuring Robison's unmistakeable Texas drawl and Willis' head-swimming twang. They don't leave home much, so catch them here. (Friday, 9 p.m., EXIT/IN; and one daytime event) 
Steve Poltz – Poltz is the Robin Williams of Americana; he can take off and riff with the best of them. Since his appearance at last year's fest he's wooed crowds as he's crisscrossed North America and shows no sign of slowing down. (Friday, 10:30 p.m., City Winery; and three daytime events, including a panel)
Saturday Night at Mercy Lounge – This could be subtitled Kicking Out the Nashville Jams, as you'll get the best overview of what's happening by those who are taking back country music. Highlights include:
1) Sierra Ferrell, who has a fierce vulnerability that is irresistible. As June did Johnny, you'll fall for her like a child. She'll be doing some songs from a forthcoming album for Rounder; I've heard them and they will take your breath away (7 p.m.)
2) Orville Peck, who has a persona that channels gay culture and cowboy imagery behind the fringed mask he always wears. Add the tenderness of his voice in contrast with the feverish energy of his music and you'll be hooked. (10 p.m.)
In between them you've got Aubrie Sellers and Jade Jackson, and afterward Amy Ray and Jason Hawk Harris.
Erin Rae Presents We've Only Just Begun: Music of The Carpenters & More – With folks like Natalie Prass, Tristen, and Adia Victoria who are not necessarily associated with Americana added to the mix of East Nashville's finest, including Lilly Hiatt, JP Harris, Kristina Murray, and Michaela Anne, this promises to be the party to end all parties. (Saturday, 10 p.m. 'til whenever, The 5 Spot)
Red Dirt Boys – If they're good enough to back up Emmylou Harris, you should catch these longtime Nashville stalwarts, featuring Will Kimbrough and Phil Madeira. (Saturday, 10:30 p.m., 3rd & Lindsley)
EMERGING ACT OF THE YEAR NOMINEES 
This is always the most intriguing category, especially this year as four of the nominees have showcases: 
Erin Rae – An ultimate East Nashville insider, Rae's smooth, self-assured voice serves to underscore some of the darkness lurking beneath the surface of her music. (Tuesday, 8 p.m., Mercy Lounge, and six other events, including the Awards show and a panel)
Jade Bird – The UK continues its Americana streak with Bird, who often cuts to the chase: "Acting big and talking shit, get over yourself … But I hate to inform you're still living in your mother's house." (Wednesday, 11:59 p.m., Mercy Lounge, and the Awards show and a panel)
J.S. Ondara – Even before moving to the US six years ago at age 20, Kenyan Ondara had soaked up a substantial portion of American music. Now he returns the favor with a unique look at this country's promises and betrayals. (Thursday, 8:30 p.m., Station Inn, and the Awards show)
Yola – As with Erin Rae, Yola (from the UK) has played every living room, backyard, and club in Nashville, resulting in one of the best albums of the year and a self-assured stage presence. Catch her in an intimate setting while you still can. (Thursday, 11:30 p.m., City Winery, and the Awards show and a panel)
TAKING BACK COUNTRY MUSIC
In addition to the acts highlighted above, these are just some of the folks making noise in the ever-expanding definition of country music today:
Jamie Lin Wilson, Tuesday, 7 p.m., ACME Feed & Seed
Alice Wallace, Tuesday, 8 p.m., TRUE Music Room at Cambria
Jaime Wyatt, Tuesday, 9 p.m., ACME Feed & Seed
Dori Freeman, Thursday, 5 p.m., Musicians Corner at Centennial Park
Locust Honey, Thursday, 6 p.m., ACME Feed & Seed
The Sea The Sea, Thursday, 11:59 p.m., The Basement
Strung Like a Horse, Friday, 11:59 p.m., The High Watt 
Leslie Stevens, Saturday, 7 p.m., EXIT/IN
Michaela Anne, Saturday, 7:30 p.m., City Winery
Dawn Landes, Saturday, 9 p.m., The 5 Spot
THE FUTURE OF BLUEGRASS
I have seen the future of bluegrass, in addition to the ones highlighted above, and a couple of veterans. They include:
The Way Down Wanders, Wednesday, 10 p.m., ONE
Sierra Hull, 7:35 p.m., Lee-Haw Brewing Co.
Hawktail, Thursday, 8:30 p.m., ONE
Chatham County Line, Thursday, 11:59 p.m., 3rd & Lindsley
Mark and Maggie O'Connor, Friday, 10:30 p.m., Station Inn
Gibson Brothers, Saturday, 7:30 p.m., Cannery Ballroom
Missy Raines, Saturday, 7:30 p.m., Station Inn
Della Mae, Saturday, 8:30 p.m., Cannery Ballroom
Mile Twelve, Saturday, 9:30 p.m., Station Inn
THE MANY FLAVORS OF THE BLUES
In addition to the blues artists highlighted above, check out: 
Janiva Magness, Tuesday, 9 p.m., 3rd & Lindsley
Ana Popovic, Tuesday, 11 p.m., 3rd & Lindsley
Jontavious Willis, Wednesday, 10 p.m., City Winery
Bette Smith, Wednesday, 11 p.m., TRUE Music Room at Cambria 
The Marcus King Band, Thursday, 8:15 p.m., Musicians Corner at Centennial Park
Son Little, Thursday, 9 p.m., Mercy Lounge
Bonnie Bishop, Friday, 8:30 p.m., Cannery Ballroom
Todd Albright, Saturday, 8 p.m., City Winery Lounge
MEMPHIS, MEMPHIS, MEMPHIS!
The city of Memphis has been featured in a daytime event each year since 2016, and each one has been a delight. This year there are two, one evening, one day:
BETTER TOGETHER: That Memphis Groove n' Grind – Includes Chuck Mead, Sarah Potenza, Amy LaVere, Luther Dickinson, Aaron Lee Tasjan, John Paul Keith, and two dozen more. (Tuesday, 8 p.m.-1 a.m., The Basement East)
The Pure Memphis Happy Hour – If you want to see and hear why Memphis is poised to be the next music city ready to break out, this is another event you want to attend. (Friday, 5 p.m. – 8 p.m., Little Harpeth Brewing)
DEE'S COUNTRY COCKTAIL LOUNGE
Sometimes the venue itself is worth the trip. Such is the case, and way more, for this throwback 1970s country lounge in Madison, nine miles from downtown Nashville. On Wednesday, 10 p.m.-12:30 a.m. it's The Unofficial AmericanaFest featuring Jaimee Harris, Roseanne Reid, and more. On Thursday, 7-9 p.m. is Lizzie No's Americana Kickback featuring herself, Sunny War, and more. 
But Friday is the night of nights with three nonstop events:
1) The 6th Annual Wild Ponies Happy Hour featuring The Wild Ponies (if you've never caught this southwest Virginia duo, do so now), Della Mae, and more. (5-8 p.m.)
2) The California Shake Up, where Californians party hardy with their Nashville counterparts. (8-10 p.m.)
3) D. Striker's RR zine, a reverent, yet frequently comedic and satirical look at country music, featuring Striker and two of West Virginia's best, Annie Neely and Hello June (10 p.m.-1 a.m.). As not all of this is on the app, for more information go to the Dee's Lounge website.
DAYTIME EVENTS
Hillbillies & Hot Dogs – While this kickoff has been discovered, it is certainly the singular place to be before a night at the Ryman. Co-sponsored by No Depression, Compass Records invites you into its studio to hear Molly Tuttle, Steve Poltz, and more of their artists in a most intimate setting. Conference registrants only, who'll need to RSVP. (Wednesday, 11:30 a.m. – 2 p.m.)
The Proper Music Party – Molly Tuttle, Amy Speace, Gretchen Peters, and Matt Andersen are set to perform. (Thursday, noon – 2 p.m., Nashville Underground)
Lost Buffalo & Market Monkeys' Fourth Annual Bloody Mary Party – This may be its fourth year, but it's the first time on the app. Lula Wiles, Della Mae, Mark Erelli, Ana Egge, and six other artists are scheduled. Conference registrants need to RSVP to access the location. (Thursday, 1-7 p.m.)
Nine Mile Records & Touring Happy Hour – This is a first for the Austin record label, and features Amy LaVere, Patrick Sweany, and David Wax Museum, among others. LaVere, who'll be doing songs from her superb new album, Painting Blue (review), is worth the visit alone. (Thursday, 3-6 p.m., Drifters)
NPR, World Cafe & WMOT Roots Radio AmericanaFest Day Stage – While one could easily camp out at this three-day mini-fest, Friday is the day, in this order: Della Mae, Rising Appalachia, Che Apalache, Aubrie Sellers, Molly Tuttle, and Tanya Tucker. As the daily lineups are not on the app, see the full line-up here. (Thursday-Saturday, noon-6 p.m., War Memorial Auditorium)
Thirty Tigers Presents AMERICANA-ROO-STOCK-PALOOZA – Kelsey Waldon, The Wood Brothers, and Chris Shiflett are set to perform. (Friday, 3-8 p.m., Center 615)
Fourth Annual Bloodshot Records Backyard Bash – The original insurgent country label from Chicago never fails to be a blast. This year it's a personal fave, Ruby Boots; my discovery band of last year, Vandoliers; Sarah Shook & The Disarmers; Banditos; and Jason Hawk Harris, who's promoting a new album (review). (Friday, 5-8 p.m., The Groove)
The Aussie BBQ – The Aussies always have several events during the week, but this is the one I make a point to hit. You may not have heard of most of the 12 folks set to perform, but that's the point. And they throw one helluva party. (Saturday, 11 a.m.- 7 p.m., The 5 Spot)
Blue Corn Music & Nick Loss-Eaton Media's Finely Tuned Day Party – This may give the Aussies a run for their money, and perhaps will be a bit more intimate and less rowdy. The legendary Kevin Gordon, Gary Nicholson, Rebecca Loebe, and others are scheduled to perform. (Saturday, noon-5 p.m., Tennessee Brew Works)
SUNDAY
If you're still in town and able to get around, here's the deal:
The Ninth Annual Gospel Brunch – This offers up the best blues of the week in Delbert McClinton, Bobby Rush, and Bonnie Bishop, Open to conference registrants only, and get there early. (11 a.m. – 1 p.m., City Winery)
Sunday School – If you want to go to church, you've never seen one like this, featuring Sarah Potenza and Christine Ohlman. You'll be speaking in tongues, but in a good way. (1-4 p.m., Analog at Hutton Hotel)
Elizabeth Cook, who's also at the Winery Brunch, is set for the two dueling afternoon extravaganzas, both beginning at 1 p.m. and ending whenever: 1) JP Harris' Sunday Morning Coming Down (919 Gallatin) and 2) Wildwood Revival Presents: Sundown Social (Sundown Social House). It's a toss-up; so you can't lose wherever you go. 
Brandy Clark closes out the week as the headliner for Nashville Sunday Night at 3rd & Lindsley, 9 p.m.. She's the best thing to happen to country music since Roger Miller.
Special note: The Tennessee Titans have a Sunday home game that kicks off at 1 p.m., so some traffic patterns could be hectic. Plan accordingly.
---