THROUGH THE LENS: Taste the Wide-Ranging 'Box of Chocolates' Aboard the Outlaw Country Cruise
Posted On February 25, 2020
---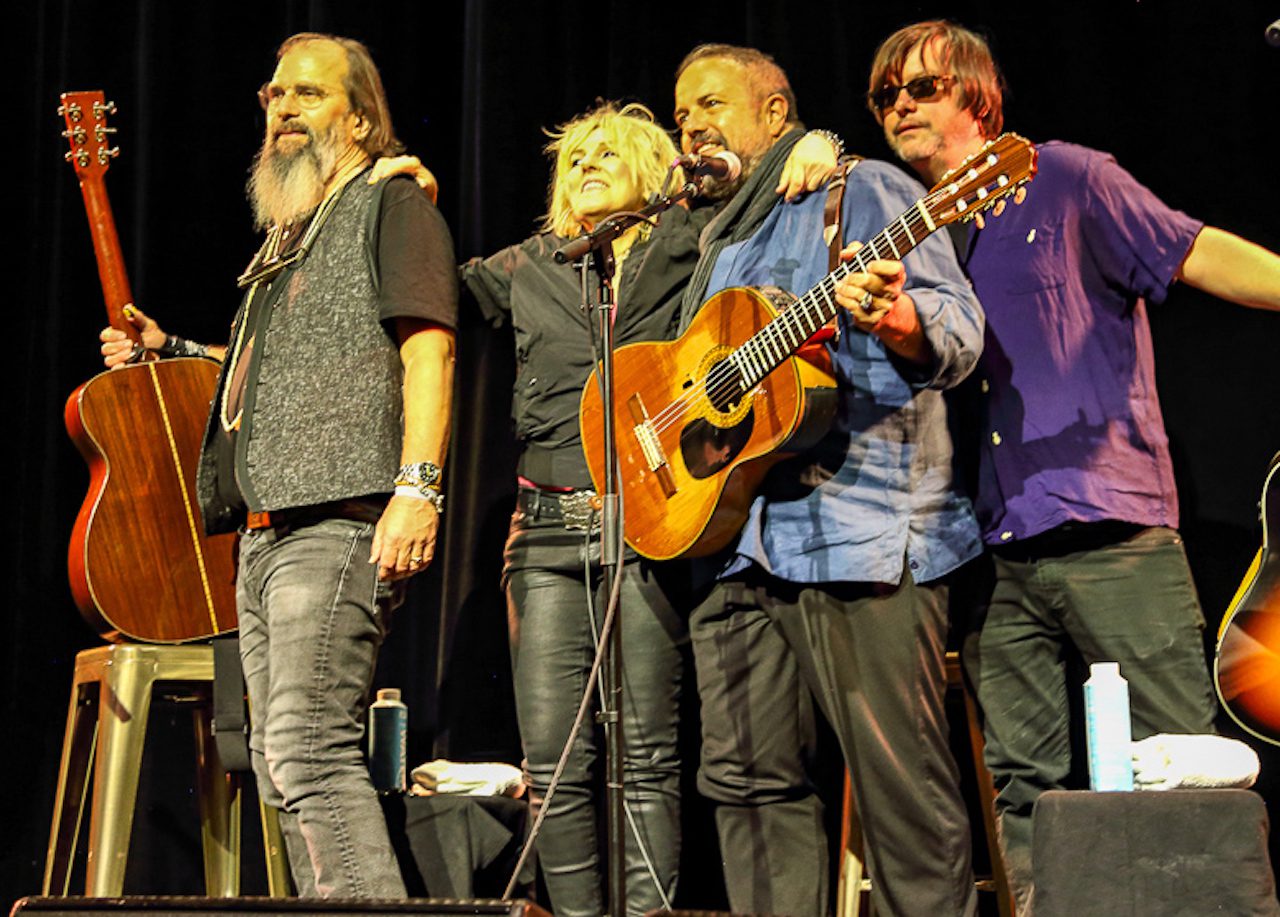 Guitar Pull: Steve Earle, Lucinda Williams, Raul Malo & Jay Farrar - OCC 5 - Photo by Lisa Costantino
"Like a box of chocolates."
That was Raul Malo's reply to Lucinda Williams when she remarked that the songwriters on stage for the final guitar pull on the 2020 Outlaw Country Cruise made "a good combination up here," reports our correspondent Lisa Costantino.
The same can be said for the Outlaw Country Cruise itself: The cruise, which everyone called OCC5 since it was in its fifth year, embodied that sweetheart's selection of intense flavors and tasty treats. Sailing out of midwinter Miami for five days of serious boat-rocking, OCC5 brought together trad stalwarts such as Dale Watson and Carlene Carter, alt-country's Lucinda Williams and Steve Earle, Americana standouts Son Volt and The Mavericks, story masters Robbie Fulks and Ray Wylie Hubbard, and a poignant concert by, and a heartfelt tribute to, one of the cruise's namesakes, the great Kris Kristofferson. Add Elizabeth Cook, Laura Cantrell, Jon Langford, and more, and that box just got way bigger.
This column was fortunate to have three photographers on board: Boom Baker and Larry John Fowler, both of whom also photographed Cayamo for us, and Lisa. Lisa also provides the narrative portion of this week's column. If I ever do a roots music cruise, I want it to be with these three fine folks.
From Lisa, whose photography work can be found here as well as in the photo gallery below:
The Experience
The pool deck was the place to be, with ample room to dance and multiple vantage points from the deck above. Sail-away shows by Steve Earle and the Dukes, Shooter Jennings, and The Mavericks all sent the ship out of port like a slingshot, with the latter's Cuban-spiked dance tunes not the least slowed by Raul Malo's injured leg. He couldn't dance, but his bandmates and the packed crowd certainly did.
The Stardust Lounge made songwriter shows intimate and hard-rocking bands loud. Son Volt had the audience out of their seats and grooving to the band's mix of fuzzy guitar, pure pedal steel, and Jay Farrar's plaintive vocals. Lucinda Williams got the crowd's collective heartbeat pumping with old favorites, new songs both stinging and soulful, and intriguing covers (ZZ Top's "Jesus Just Left Chicago," for one). She was backed by her interstellar instrumentalists, Buick 6, who performed their own adrenaline-fired sets.
Smaller venues aboard the boat were packed: The Spinnaker opened up its dance floor for two-stepping to Rosie Flores and rocking out to The Long Ryders, while the two-deck Atrium offered bird's-eye views of late-night shows and Magnum's overflowed into the hallways. 
There were also port stops. This year's were Key West and Falmouth, Jamaica. Many ventured off-ship for sandy beaches, while others took Steve Earle's tongue-in-cheek advice: "It's the Apocalyptic Cruise — never get off the boat."
But wait, there's more, including an art workshop with dub master Lee "Scratch" Perry, Steve Earle's Camp Copperhead at Sea for songwriters, autograph sessions, tai chi with Jim Lauderdale, and casino DJ sets by Shooter Jennings and Jesse Malin.
The Artists
OCC cruise regulars included outlaw personalities Steve Earle, Shooter Jennings, Elizabeth Cook, Mojo Nixon, Paula Nelson, Dallas Wayne, and Roger Alan Wade, all of whom hosted collaborative shows, some recorded for broadcast on Sirius XM.
Mojo Nixon's Sessions at Sea topic, "Alt Country: Whatever That Is" (more than an obvious nod to No Depression's early days), was a fair reflection of the artists on board. Paula Nelson, Sarah Gayle Meech, Waylon Payne, Laura Cantrell, Jaime Wyatt, and Jim Lauderdale provided the more traditional sounds, while country rock-and-rollers Jesse Dayton, The Bottle Rockets, The Yayhoos, and The Supersuckers added motion to the ocean. 
More alt than country: The Mastersons, whose release party for their new album, officially out March 6, debuted songs of peace and love; Jesse Malin, eschewing the twang for an energetic '80s sound; Sarah Borges' rootsy sass; Larry Campbell and Teresa Williams' musical romance; and the high-kicking cowpunk Waco Brothers, led by the head honcho, Mekon Jon Langford.
Kris Kristofferson
For many, the highlight was the legendary Kris Kristofferson, who performed a single, stunning set with The Strangers (Merle Haggard's band that Kristofferson has adopted). The 83-year-old singer/songwriter/actor's vulnerable voice still resonated with gruff tenderness, and his smiling thumbs-up to co-vocalist and fiddler Scott Joss after each song only heightened the audience's loving applause. 
Musicians inspired by Kristofferson's songwriting later paid tribute in a rousing show that included Waylon Payne's "Help Me Make It Through the Night" (a hit for his mother, Sammi Smith), Raul Malo's "For the Good Times," and the legend himself performing "Please Don't Tell Me How the Story Ends" and "Why Me, Lord."
The Collaborations
Shooter Jennings' gathering of renowned artists' offspring traded childhood stories and off-color jokes, while Elizabeth Cook chatted cozily with Carlene Carter, who would later host an artists' party at the one-time Carter family estate in Jamaica, an event to be released on video. Perhaps most enlightening was the Steve Earle-hosted session-at-sea, in which Sid Griffin, Larry Campbell, Kinky Friedman, and Larry "Ratso" Sloman regaled the Stardust with tales from Bob Dylan's epic Rolling Thunder Revue. Both Griffin and Sloman authored books about the tour, and the latter hosted a reading with guest narrators. Later, Friedman would read from his memoir, a rare moment free from his trademark ribaldry.
The guitar pulls brought together a handful of musicians, each giving background to a particular song and then performing it. The first pull saw Ray Wylie Hubbard, Carlene Carter, Robbie Fulks, and Jason Ringenberg touching both hearts and funny bones, while the final pull, with that chocolate box of Steve Earle, Lucinda Williams, Jay Farrar, and Raul Malo — rock's Pavarotti — performed a stellar set of songs, capped by a rousing "This Land Is Your Land."
Mavericks & Friends was a party that dug up a 1960s treasure chest, with the Mavs, backed by Warner Hodges, welcoming Paula Nelson, The Waco Brothers, The Supersuckers' Metal Marty, and others to perform sizzling gems like "Brown Sugar" and "Born on the Bayou." It was a delicious finale that satisfied everyone's musical sweet tooth.
Now, the photos — 114 of them. 
---