THROUGH THE LENS: Spirit of Acceptance and Positivity Shines Through at Bonnaroo 2022
---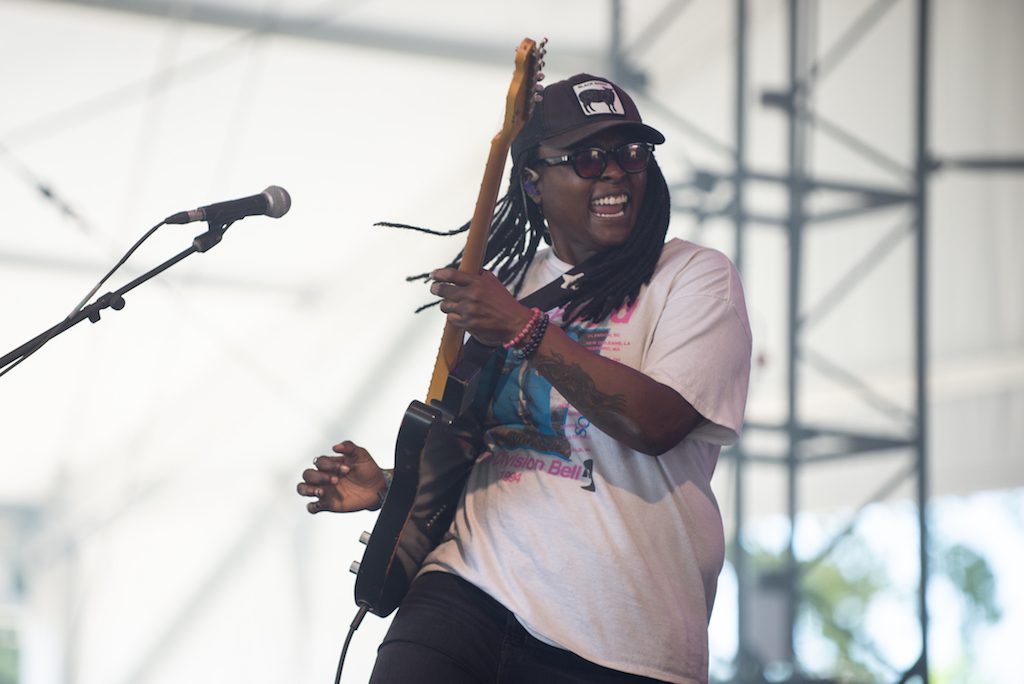 Joy Oladokun - Bonnaroo 2022 - Photo by Victoria Holt
After being canceled first by COVID-19 in 2020 and then by flooding from Hurricane Ida in 2021, the Bonnaroo Music & Arts Festival, a four-day fest held on a farm in Manchester, Tennessee, returned this year for the first time since 2019. The festival has spent the past 20 years embracing multiple musical genres and encouraging folks to try new things while fostering a spirit of acceptance and positivity. With an attendance this year of about 40,000, down by half from prior peak years, the vibe was even more apparent this time.
We are extremely fortunate to have had photojournalist Victoria Holt there to cover it for the Through the Lens column. As it is her first time as a guest for this column, a short bio is below. Here is her report.
Bonnaroo 2022 by Victoria Holt
Billy Strings perhaps summed it up best when, in the fading Saturday evening light, he looked out at the sea of faces before him, savored the moment, and said, "We were supposed to play this thing like three fucking times, and it kept getting canceled, so we are so glad to be here." Then breaking his gaze he exclaimed, "And when I get this guitar back in tune, I'm gonna rip you a new one!" He did and we went wild.
Bonnaroo is Southern, country, roots-y, and twangy, but it's also silly, colorful, open, and joyful. During this year's edition ravers could be seen twisting and twirling their fiber-optic light-up dance whips around their bodies not only to dance acts such as Disclosure, Flume, and Dillon Francis, but also to the breakneck bluegrass of Strings and the bigger-name roots artists: Robert Plant & Alison Krauss, The War on Drugs, Stevie Nicks, and Herbie Hancock.
In addition to music on its 12 stages, there are campground plazas where you could find everything from yoga to movies to dance parties. There are even shady spaces for hammocks, complete with a giant 24-foot disco ball, a spaceship-shaped stage, and 300 disco balls hanging throughout where DJs worked the crowd to such a fever pitch that at times you could taste the dust being kicked up from the ground.
The radical combination of love, acceptance, and community present at Bonnaroo made it clear that the festival's reputation goes beyond mere lip service and branding. The "Bonnaroovian Code" includes five basic precepts, but none is more apparent than the agreement to "Radiate Positivity." Interactions at the festival are punctuated with calls of "Happy 'Roo!"
What you have heard is true: Bonnaroo is not just a festival, it's an experience like no other. While there was a lot to see and many highlights, I've narrowed it down to three roots artists who were the most inspiring.
Sierra Ferrell
Sierra Ferrell's opening set on Sunday morning felt like stumbling across a Depression-era town square performance à la O Brother Where Art Thou? I was transfixed by Ferrell's captivating, time-bending presence with a voice and a lyrical depth to her songs to match. Within a single tune her vocals can float between a soft lover's lament — "I hope I'm in your dreams / The way you are in all of mine" — and deeper, existential woes: "I know it's hard how we're thrown into this life / Then one day we must die."
"West Virginia Waltz" inspired a crowd sing-along, ending with all four band members holding an ever-rising high note that garnered a crescendo of cheers from the crowd. It was an indelible moment. While Ferrell has been nominated by the Americana Music Association for the 2022 Emerging Act of the Year Award, I'd say she's arrived. Ferrell is, as I had heard, like no one else out there.
Joy Oladokun
Joy Oladokun started Saturday afternoon off right with a healthy dose of dark, ironic humor, saying that she was excited to be the "Vibe Captain" at her favorite festival in the world, before after a pregnant pause, adding, "So, we're gonna sing songs about my mental illness! Fun!"
Oladokun offered support to anyone struggling with mental health in songs such as "Look Up" with its lyrics: "Don't tell yourself it's raining, the clouds are in your head … Hold on, cause somebody loves you. You know that trouble's always gonna be there. Don't let it bring you to your knees. Look up." Then she added, "If this is a lifeline for you from some really fucked up thing, this is for you. And if you're just here to vibe, this is for you too. Have a Happy 'Roo, I love you so much."
Billy Strings
Billy Strings strums, picks, and plucks at breakneck speed, some have likened him to Tony Rice on acid. His prowess with both his guitar and voice was evident as the band wove seamlessly between bluegrass foot-stompers and slower ballads. After a particularly melancholy tune, he said, "OK, now we'll play a little 'grass for you. I know that's what you're eager for!" The band broke into "Red Daisy" to raucous applause from the audience.
The set ended with "Hide and Seek," a sobering tune with dark and dissonant undertones of suicide. As with Joy Oladokun's song, the song nodded to the sometimes crushing weight of one's own mind. Without commentary, the song featured an extended instrumental breakdown and a triumphant, explosive reprise. This sent the crowd into a dazzled state of adoration, like bursting into the light after traveling through a long tunnel.
Originally from San Francisco, Victoria Holt completed her Bachelor of Fine Arts in photography at Seattle University and now lives in Brooklyn. Her passion is making live music look as great as it sounds, and she has a particular interest in DIY spaces. Her work has been featured in numerous publications such as The Stranger, The Seattle Weekly, City Arts Magazine, Paste, the Seattle Met, KEXP, and Live Music Blog. You can see more of her work here at victoriaholtphoto.com.
Click on any photo below to view the gallery as a full-size slide show.
---