THROUGH THE LENS: Soul-Lifting Fun Aboard the 2023 Outlaw Country Cruise
---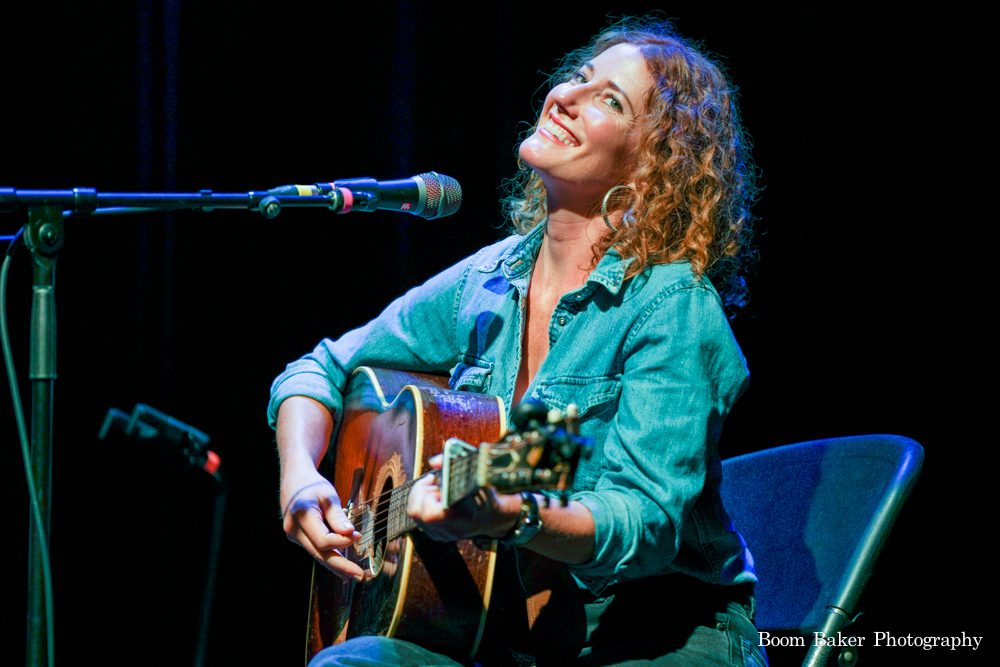 Kathleen Edwards - OCC 2023 - Photo by Boom Baker
The Outlaw Country Cruise (OCC), like the Cayamo cruise that's the subject of last week's column, is a self-contained music festival on a ship, but with an emphasis, as its name suggests, on outlaw country. By all accounts of those who have been on board, it is the vacation of a lifetime.  
Originated by Sixthman (who also presents Cayamo and other music-themed cruises), and in partnership with Renegade Circus (a promotion and production company) and satellite radio provider SiriusXM, this year's OCC sailed out of Miami. The six-day Caribbean cruise began Feb. 21 on the Norwegian Pearl, with stops at Cozumel, Mexico (well known by scuba diving enthusiasts) and Great Stirrup Cay, a 268-acre island in the Bahamas owned by the Norwegian Cruise Line.  
The column is fortunate to have a OCC veteran, Boom Baker, to report on the cruise. As you may recall from last week's column, Boom also was aboard the Cayamo cruise. My hat is off to him just for attending two cruises back to back. His photos, along with those of first-time OCC cruiser Jean Van Devanter White, are featured in the gallery below.
Outlaw Country Cruise 7 by Boom Baker
It is always a thrill to get on the boat the first day. As we left the Port of Miami, we raised our glasses to the upcoming six days of music and fun in the sun, beginning with the "Sail-Away" show hosted by one of the best party bands on land or sea, The Mavericks. They are so fantastic it's hard to believe that they once disbanded. 
The mood on board was one of celebration, with high expectations for the spine-tingling musical collaborations that awaited us. There is just no way to fully appreciate that feeling unless you have been on a Sixthman cruise. No one does it better.
While there were numerous shows by big-name artists, such as Lucinda Williams, Steve Earle, Kathleen Edwards, Carlene Carter, and Elizabeth Cook, what stood out to me were the special events: guitar pulls, the SiriusXM Sessions, and other collaborative sessions.
Guitar Pulls
A guitar pull is a group of musicians sitting in a semi-circle swapping stories and songs. There were three during this OCC sail: 1) Sarah Borges, Bonnie Whitmore, Jon Langford, and Bobby Bare Jr.; 2) Raul Malo, Rhett Miller, Carlene Carter, and Robbie Fulks; and 3) Steve Earle, Lucinda Williams  (with Stuart Mathis on guitar), Kathleen Edwards, and John Anderson. While the one-of-a-kind stories between songs were quite memorable, and there were many, Carter put things in perspective when she noted that it's all about the song. So true, and the songs were marvelous.
SiriusXM Sessions at Sea
Earle and Cook have their own shows on SiriusXM's the Outlaw Country channel. They did interviews before packed crowds that will be broadcasted later on their respective shows. Earle interviewed Edwards, Tommy McLain, Joe King Carrasco, and Augie Meyers, who talked mostly about Doug Sahm. Cook interviewed John Anderson, who had a plethora of stories to share.  Fellow SiriusXM show host and musician Mojo Nixon had an exciting session with Raul Malo and The Mavericks that also featured several performances.
Collaborative Sessions and Special Programs
There are many special shows throughout the cruise. One of the first celebrated the legacy of Jerry Lee Lewis, featuring his sister Linda Gail Lewis, Jason D. Williams, and a rather dapper Pete "Wet Dawg" Gordon. 
A Doug Sahm Tribute was hosted by Carrasco and Meyers. The biggest all-star tribute was the "Wild & Blue: Outlaw Tribute to John Anderson" with Joshua Ray Walker, Borges, Jesse Dayton, Fulks, Rhett Miller, Bill Kirchen, Carter, Cook, Earle, and Williams performing Anderson's songs. Anderson himself joined the group to perform a rocking rendition of "Swingin'." 
Sunday featured two special shows: 1) Tommy McLain and C.C. Adcock hosted the Gospel Brunch, where Lewis and Bill Kirchen also performed; and 2) "The Mavericks and Friends" with oh-so-many friends showing up, and showing off, to the most demonstrative crowd on the cruise.
Other programs included songwriting sessions with Earle; Backgammon Knockout with The Mastersons, The Whitmore Sisters, and The Dukes (ND photographer Jean Van Devanter White played against Chris Masterson); yoga; Meet the Maker song paintings with Jon Langford; Renegade Cinema films Without Getting Killed or Caught and Sir Doug & The Genuine Texas Cosmic Groove; autograph opportunities; a Women for Sheriff fashion show hosted by Cook; a guitar workshop with Kirchen and Redd Volkaert; and a DIY Trucker Hat Station. Never a dull moment on board.
One fan summed the cruise up this way: "It's one of the most magnificent, soul-lifting vacations one could ever have." I second that emotion. Up, up, and away to 2024!
Click on any photo below to view the gallery as a full-size slideshow. 
---